As those following Expedia (NASDAQ: EXPE) should know, the company spent a lot of cash in 2015 on some big time acquisitions. Those included Orbitz, Travelocity and HomeAway. The three major acquisitions ended costing Expedia a little under $6B. The company is still in the process of fully integrating these companies into the Expedia business model, but the potential synergies at hand could be very beneficial to Expedia on a long-term horizon. These additions are expected to lead to large growth in revenue which will allow Expedia to invest more in capital expenditures as well as dividends and stock repurchase programs. As global uncertainty looms, online travel booking continues to increase (see graphic below) and it appears this trend will continue into the future. Expedia also is showing solid fundamental metrics.
The previously mentioned three factors help Expedia's outlook look quite promising. The HomeAway transaction appears to have the most potential as Expedia gained the world's most popular vacation site, which includes the well-known VRBO. HomeAway had close to $15 billion in bookings just last year alone and the vacation rental market allows Expedia to tap itself further into yet another travel based market.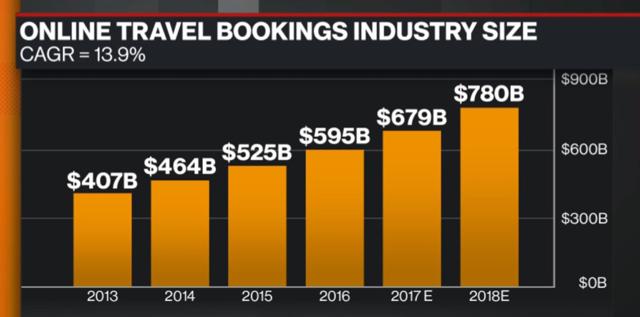 Click to enlarge
Courtesy of Bloomberg
The metrics for Expedia are quite promising. The company currently boasts a trailing twelve month P/E ratio of 27.28 which is just below the industry average of 27.6. Expedia also has seen a 10-year average of revenue growth of 14.79% and that percentage is expected to increase in the future. Earnings over the next five years are projected to grow 20.10% annually.
The integration of the company's recent acquisitions will play a pivotal role in this revenue growth forecast, but I'm confident Expedia will be able to smoothly recognize the synergies that made these recent deals worth the time and most importantly, worth the money. Expedia also has done quite well in outperforming the market over the past five years (see graphic below) and indications point toward this trend continuing. Expedia also is the only online travel payer to pay a dividend which is currently at 0.82%.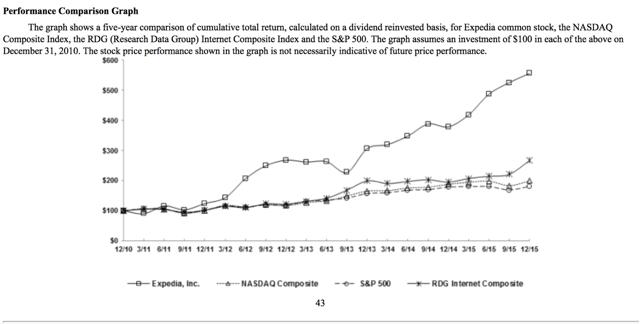 Click to enlarge
Courtesy of: Company 10-K
So what exactly is driving this revenue growth for Expedia? Current global situations may be having a questionable impact on travel in the short term, but overall the long-term model for travel growth looks the same as I mentioned earlier. I'm sure you were all waiting on it to be mentioned, but what about Brexit? Expedia surprisingly does not have a large amount of exposure in Europe, especially when compared to competitors Priceline (NASDAQ: PCLN) and TripAdvisor (NASDAQ: TRIP). As of late 2015, Priceline received 88% of its revenues from overseas markets compared to just 43% for Expedia. Expedia also benefits from the continued increase in online consumer spending as the trend of booking trips online continues to increase.
The core business of Expedia grew by 33% in 1Q16 in terms of Gross Bookings. Gross Bookings overall for Expedia have seen at least a double-digit percentage increase in each of the last four years. 58% of Expedia's sales come from hotel bookings and Expedia is doing a great job at marketing both of those brands - Expedia and Hotels.com. The company has benefited quite nicely from the Hotels.com loyalty program which allows customers to get a free hotel room after every ten hotel rooms booked. After taking a look at the operating metrics of Expedia, it is pointed out that the average hotel stay has increased in each of the last three years. This continued increase could lead to more revenue growth for Expedia in the hotel sector.
Due to the overall growth potential for the online travel industry, the market is seen as very opportunistic. Expedia and Priceline are viewed as industry leaders, but there are other existing organizations with recognizable market share along with disruptors in the market. Industry leaders are consistently making moves whether it is making an acquisition, striking an important partnership, or just continuing to be more innovative than competitors. Although Expedia made some big moves in 2015, they must continue to stay a step ahead of others in the industry. The recent moves from Expedia make me strongly believe they will continue to be active enough in the future to remain to do just that.
Today, we are seeing more hotels and airlines use their own websites to steer customers away from online travel sites. This could be why we see Expedia spending such a large increased amount on advertising. This move is to undoubtedly capture market share in the industry and also battle the hotels and airlines previously mentioned. One thing Expedia and others in the industry will continue to be able to offer is the diversification of booking options available. This is why I believe Expedia and the online travel agency industry as a whole will continue to be a major player in the travel industry for years to come.
Airbnb (Private:AIRB) is a disruptor in this industry that has seen a great deal of growth in the past couple years. It is seen by many that Expedia's acquisition of HomeAway is going to be a way for Expedia to fight Airbnb in the vacation market. Expedia is expected to heavily ramp up marketing for HomeAway in the next three years which should benefit the company quite well. Airbnb can definitely be seen as a long-term threat to Expedia and others in the industry, but the overall reputation and legal backing Expedia has will not allow Airbnb to take away a large portion of market share for the foreseeable future.
So how about the dividends I mentioned earlier? As previously stated, Expedia is the only major competitor in the industry that pays a dividend. Expedia's dividend yield is well below the S&P average of 2.1%, but it is a nice benefit for those deciding to hold the equity for the long term. The company has a strong payout ratio of 20.89%. This information, along with consistent dividend increases, leads me to believe Expedia is still able to hold strong cash flow while paying out these dividends. It does not appear that the dividend program for Expedia is hurting the company in terms of maintaining a healthy positive cash flow.
Another impressive metric for Expedia is that the company has managed to cut its cost of sales as a percent of revenue in each of the last four years (see graphic below). My research indicates Expedia will continue this trend in the future as the company continues to exploit the cost benefits of running an e-commerce business. 1Q16 results for Expedia back this belief as the company lowered its cost of revenue percentage from 1Q15 by roughly 2%.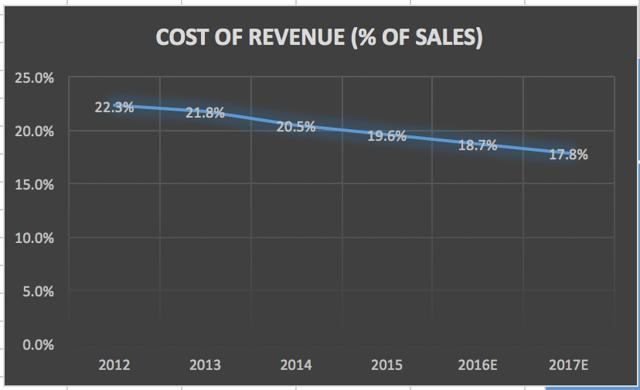 Click to enlarge
Graphic created by author
In summary, the revenue growth potential along with the strong overall metrics for Expedia make the company an appealing equity for a current investment. According to CNN Money, the average one-year target estimate for Expedia is $135.50 (see chart below). The integration of recent acquisitions will allow Expedia to recognize synergies and continue to pull itself away from the company's main competitors. There are some potential risks and challenges involved with Expedia, but it is important to recognize the volatility of the risks at hand. Expedia has done a great job in the past in terms of dealing with challenges in the industry and there is no strong information that leads me to believe that this trend will falter anytime soon. The travel industry continues to grow and booking a trip is going to continue to be part of the process for travelers. I believe those travelers will continue to go with the industry leader Expedia and that is why I think Expedia has a great future ahead.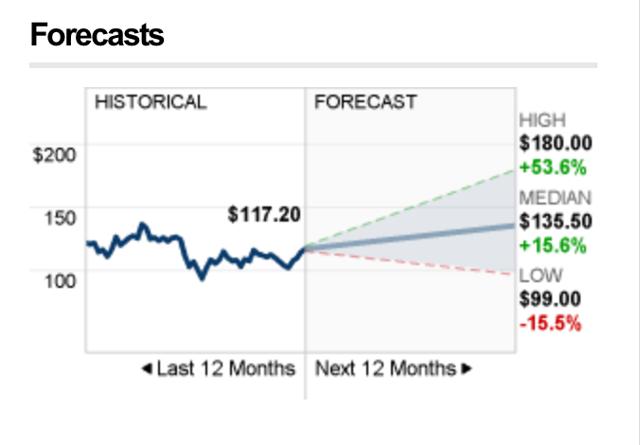 Click to enlarge
Courtesy of: CNN Money
Disclosure: I/we have no positions in any stocks mentioned, and no plans to initiate any positions within the next 72 hours.
I wrote this article myself, and it expresses my own opinions. I am not receiving compensation for it (other than from Seeking Alpha). I have no business relationship with any company whose stock is mentioned in this article.