Three weeks in a row. After six months of consistent production declines, we are finally witnessing the turning point for oil (NYSEARCA:USO). It is earlier than I expected, but there is no arguing with the numbers.
Crude Inventory Rises
EIA's report on Wednesday was bearish across the board. The surprise inventory buildup was the headline. Crude stocks rose by 1.7 MMbbl as opposed to the analyst expectation of -2.3 MMbbl. This was the biggest miss in recent memory. While a 1.7 MMbbl increase is still within my definition normal (-7 to +3 MMbbl), it is no doubt close to the threshold. Thankfully, it was a positive surprise for bears.
Supply Glut?
Domestic production increased by 21 Mbbl/day for the week ended July 22 nd. This growth is much more robust than last week's increase of 9 Mbbl/day. This confirms my suspicion that production decline could end much sooner than what many are currently anticipating. Note that this has occurred during a normal time for lower crude production, hence this is strong supporting evidence for a bear thesis, even though the production increases were not in the 100s Mbbl/day territory.
All signs are pointing to an eventual increase in domestic supply (or at least a deceleration of decline) sooner rather than later, given higher rig counts and now three weeks of rising production; yet some investors are still adamant that since Alaska has been the sole driver of production increases, rising production should be discredited. Rising Alaskan production is a fact that I do not disagree with. However, Alaska is still a part of the U.S., and frankly, it does not matter where the oil comes from (which is why we look at imports as well). As long as it enters the U.S., it will affect supply. For that reason, investors should not dismiss Alaskan production. Year over year, average Alaskan production from May to July has increased by 16 Mbbl/day from 464 Mbbl/day to 480 Mbbl/day
Lower 48 production is still declining, but the tide is turning.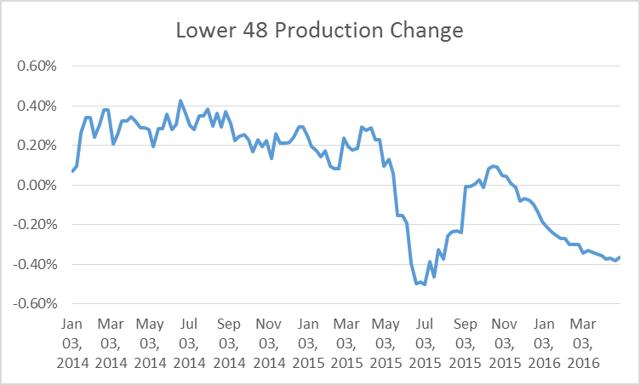 Click to enlarge
Source: data from EIA
The above chart illustrates the 12-week average of the change in Lower 48 production. As you can see, the rate of change has bottomed out, and we are seeing a very slight uptick at the very end. This supports the view that production declines are slowing.
In conjunction with higher domestic production, imports also experienced the second week of increase, rising from 7.536 MMbbl/day to 7.76 MMbbl/day.
Correction In Futures Market
After a month of strange behavior (read Futures Signal Turning Point), the futures market is finally reverting to what to what should be the norm (i.e. lower spreads between longer dated futures and shorter dated futures). Previously the market did not seem to understand that surging rig counts and the persistent increases in imports are not good signs for future oil prices, yet longer dated futures appreciated anyways. But now, the trend is breaking: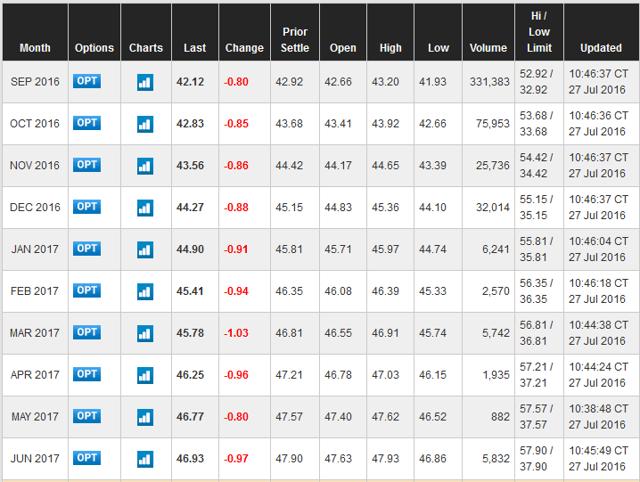 Click to enlarge
Note that longer dated futures declined more in value
Source: CME
Conclusion
I believe that oil will continue to be under pressure in the near future. Three weeks of consecutive increases in domestic production is a very bearish signal. Even if we look at just Lower 48, production decline has been slowing. I also believe that the futures market is finally realizing that the aforementioned fundamental factors will significantly impact supply down the line, hence longer dated futures will continue to fall relative to shorter dated futures.
Click the "Follow" button beside my name on the top of the page to be updated with my latest insights. To learn more about the V20 Portfolio, whose goal is to compound capital at 20% over the long term, I encourage you to read the introduction to my investment process. Premium subscribers get full access to the V20 Portfolio.
Disclosure: I/we have no positions in any stocks mentioned, and no plans to initiate any positions within the next 72 hours.
I wrote this article myself, and it expresses my own opinions. I am not receiving compensation for it (other than from Seeking Alpha). I have no business relationship with any company whose stock is mentioned in this article.