Earnings growth is not the standard in today's environment, since companies have to face a couple of headwinds, including unfavourable currency rates, higher wages and an overall not very strong economy. It thus is not surprising that the S&P 500's earnings declined over the recent past: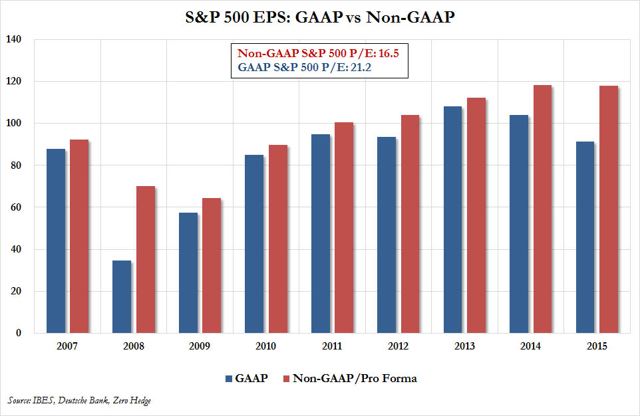 Click to enlarge
As we see in the above chart, GAAP earnings for the broad index have come under pressure over the last years, adjusted (non-GAAP) earnings remained flat over the last year. Last week Johnson & Johnson (NYSE:JNJ) reported second quarter 2016 results which beat estimates, but showed that even one of the biggest consumer/pharma/medtech companies faces headwinds sometimes: JNJ's earnings dropped by a double-digit amount in comparison to the prior year's quarter. Why did that happen?
Johnson & Johnson's operations are split into three divisions: Consumer, which saw revenues drop 1.8% yoy to $3.4 billion, medical devices and diagnostics, which saw revenues of $6.4 billion (up 0.8% yoy) and the pharma business, which grossed revenues of $8.7 billion (up 8.9% yoy). The strong performance of JNJ's pharma operations allowed for top line growth of 3.9% (to $18.5 billion, beating estimates by $500 million). The strong performance of the pharma business can be attributed to a number of factors: Immunology sales grew by an astounding 19% to $3.0 billion on a year-on-year basis, Oncology sales grew by an even better 29% to $1.5 billion. Other businesses, such as OTC (over the counter), cardiovascular/metabolism and other showed results that were pretty much in line with comparable results from the prior-year period. Stelara, for the treatment of psoriasis, recorded sales of $800 million (up 41% yoy), and Xarelto, developed together with Bayer (OTCPK:BAYRY) (OTCPK:BAYZF), showed strong growth as well, hitting sales of $590 million (up 26% yoy). Remicide, JNJ's biggest drug, saw sales of $1.8 billion (up 7% yoy) and is now sporting an annual run rate of more than $7.0 billion. One weak point was Johnson & Johnson's HCV business, where its drugs Olysio and Sovriad are facing huge competition from Gilead's (NASDAQ:GILD) Harvoni/Sovaldi as well as from AbbVie's (NYSE:ABBV) Viekira Pak and Merck's (NYSE:MRK) Zepatier.
Olysio/Sovriad sales totaled $43 million (worldwide) in the second quarter, which means a drop of more than $200 million (or 84%) in comparison to the prior year's second quarter. With a run rate of less than $200 million annually JNJ's HCV business does practically not impact the company's results any more - this means further HCV market share loss will not hurt JNJ's top line in the future (at least not in a meaningful way). We can summarize that JNJ is doing very well on the sales/revenues side of the business, with HCV sales being the only negative (the decline was not a surprise, though). Why did JNJ's earnings drop despite a good top line performance?
The company's gross margin was not the problem, JNJ was able to keep the costs of goods sold flat despite growing sales by $800 million - a great result, which shows the company's ability to benefit from higher operating leverage and to keep costs under control. SG&A expenses were down $200 million (about 4%) year on year, which is great news as well, since it means that JNJ was able to keep the top line growing despite reducing sales expenses - the result of great brands, a strong moat and good positioning in the markets JNJ is active in. R&D expenses were up slightly (by $150 million), which can be seen as an investment into the company's future products, thus I don't see higher R&D spending as a negative.
The big difference in comparison to the prior year's quarter came from a $1.5 billion change in JNJ's other income/other expenses column: From $930 million (positive) in Q2 2015 to $560 million (negative) in the most recent quarter. Not surprisingly, JNJ's adjusted earnings were up on a year-on-year basis ($4.9 billion versus $4.8 billion last year), adjusted earnings per share were up 2% as well (to $1.74).
At the beginning of the article, I mentioned that a lot of companies are facing declining GAAP earnings, and that non-GAAP earnings are holding up barely. For JNJ, the GAAP number declined as well, but this can be solely blamed on a change in the company's other income/expenses column. JNJ's adjustments mainly consist of litigation expenses and intangible asset amortization expenses, adjusting for these seems justified since those are one-time costs that are not even affecting cash flows in the case of the intangible amortization expenses. Adjusting for other impacts, such as currency rates, is more questionable, but JNJ did not do this.
Based on JNJ's guidance, which calls for FY 2016 earnings per share of $6.70, the company's shares trade at 18.6 times earnings right now, which seems like a rather fair valuation. JNJ's shares have been a lot lower over the last year, thus buying here is less attractive on a relative level to how the company was valued in the past, but JNJ is still rather inexpensive in comparison to the broad market's valuation, with the S&P 500 trading at 25.1 times trailing earnings.
In order to calculate a fair value for Johnson & Johnson's shares, I used the DCF model from finbox.io, which got me to a fair value of $122, just a hair below the current share price: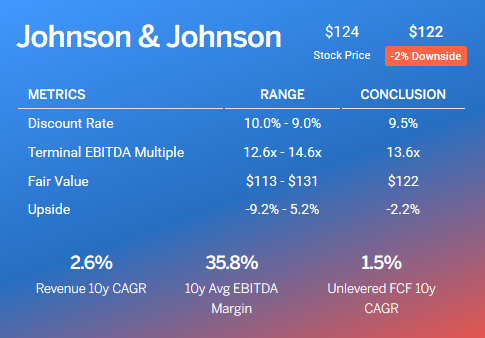 With a revenue growth rate of 2.6% (2/3 of the most recent revenue growth rate), an exit EBITDA multiple of 13.6 (slightly lower than the current EBITDA multiple of 14.2) and a discount rate of 9.5%, I made rather conservative assumptions to calculate a conservative fair value. If one changed the discount rate to a lower level (e.g. 8%-9%), the fair value would be above the current share price level. The above calculation thus should be interpreted as in: Even when we make conservative assumptions about the future, Johnson & Johnson trades around fair value right now.
With its fortress balance sheet (which makes JNJ one of only two companies with a AAA rating globally), a dividend yielding 2.6% (and thus providing a higher yield than the broad market as well as 30-year treasuries) and a diversified, non-cyclical business Johnson & Johnson looks not unattractive, although the stock has seen much better buying prices over the last year.
Takeaway
A lot of companies face declining GAAP earnings, but in JNJ's case, this can be wholly blamed on changes in other income/expenses; the company's operating numbers are all moving into the right direction.
With conservative estimates, JNJ is trading around fair value right now, and the stability, dividend and security JNJ offers to its owners means that JNJ is not unattractive yet, despite its share price increases over the last months.
Disclosure: I am/we are long GILD.
I wrote this article myself, and it expresses my own opinions. I am not receiving compensation for it (other than from Seeking Alpha). I have no business relationship with any company whose stock is mentioned in this article.