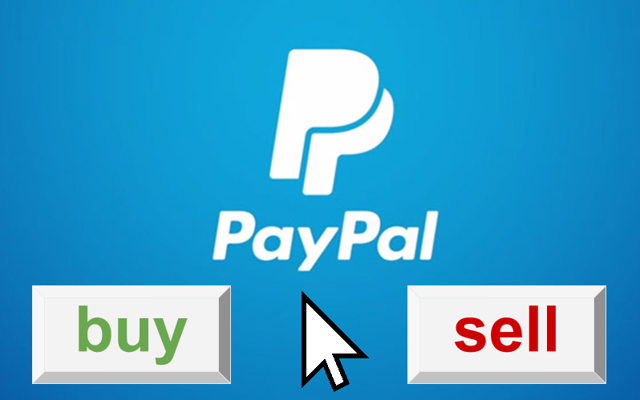 Click to enlarge
I want to take advantage of the current drop in prices of PayPal (NASDAQ:PYPL) shares and buy them as a long-term investment. But, as is often the case, after deciding to buy, you tend to exaggerate the positive moments, and underestimate the risks. Next, I will outline the key factors that have pushed me to the decision to purchase, and hope to see some constructive feedback.
Payments market as a whole and mobile payments market in particular are, in my opinion, influenced by the network effect. The demand for services, provided by PayPal, increases with every new active account. In my opinion, it is less risky to invest in such companies, taking into account their inner momentum of growth.
Over past two years, the number of active PayPal accounts has been growing steadily. Moreover, the growth rate of total payment volume even tends to accelerate. But, in my opinion, this is only the beginning.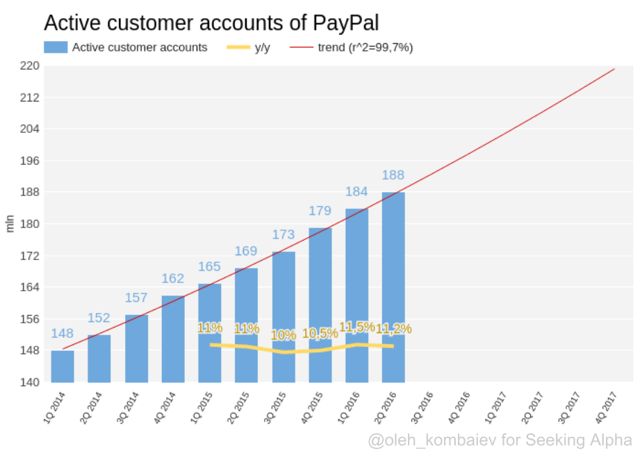 Click to enlarge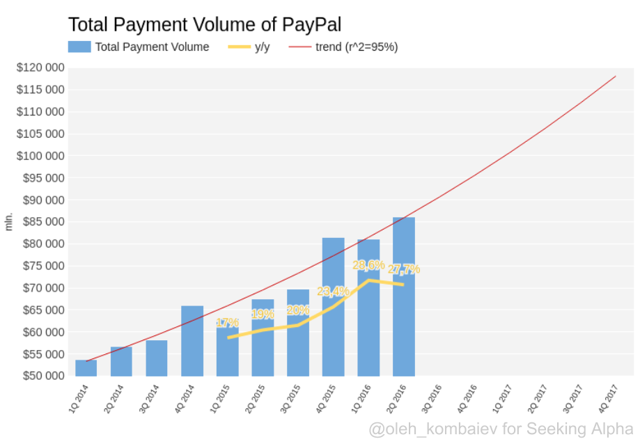 Click to enlarge
As I said, the whole market PayPal is operating in is affected by the network effect, and yet, the critical mass of users is not reached. This means that the most rapid growth of the entire market is yet to come. This can be explained primarily by the fact that the preferences of consumers of financial services are changing slowly, and sometimes, it takes a generation for new trends to appear. Although I hope, we'll not have to wait for so long.
The Ovum forecast on the global growth in the number of mobile payments is one of the evidences. According to Ovum's analysts, the global user base of all types of mobile payments will reach 4.8 billion by 2019, while in 2014, its estimated size was no more than 700 million.
At that, the most rapid growth is expected among the users of mobile proximity payments. It is estimated that their number will grow tenfold over the next three years. It should be noted that the most rapid growth will start in 2017.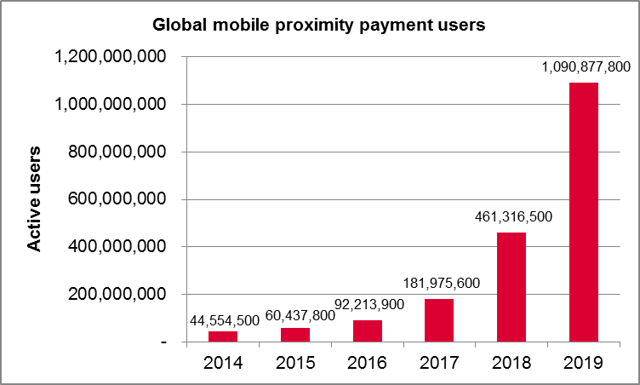 Click to enlarge
Source: Ovum
According to Datanyze, PayPal and Braintree are installed as payment systems on 82% of websites. In my opinion, the growth of the global e-commerce market is still far from its plateau, and the leading position of PayPal in this segment evidences the confidence in the brand, which is a key factor for the payment system's continued growth. It is interesting to note that, according to Datanyze, two months ago, a similar share of PayPal and Braintree was only 67%.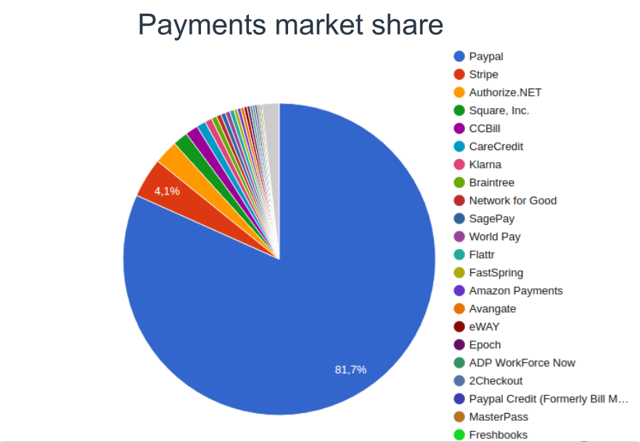 Click to enlarge
Source: Datanyze
Many analysts now point to the growing competition on the part of Alphabet (NASDAQ:GOOG) (NASDAQ:GOOGL), Apple (NASDAQ:AAPL) and Square (NYSE:SQ). This will probably reduce the profitability of PayPal but is unlikely to affect the leading positions of the company. As has been said, the market is only beginning to grow. Moreover, PayPal has already made the right investment in the acquisition of Venmo and Modest that effectively varied the range of the company's services.
Now I'll tell you what worries me. At the beginning of 2016, PayPal announced a buyback program amounting to $2 billion. The company already purchased its own shares for $590 million in Q1 and $300 million in Q2, while the long-term debt balance is still zero. This means that PayPal buys back its shares at its own expense, unlike Apple that takes advantage of low rates on long term borrowed financial resources for its buyback program.
It seems to me that PayPal should have spent its own funds on acquiring prospective developing companies, rather than buying back its own shares. While on the other hand, it will improve PayPal's financial performance, and independence from the borrowed adds financial flexibility to the company and reduces the likelihood of bankruptcy.
Conclusion
There is a saying: In a long distance race wins not the one who runs faster, but the one who runs out first. Perhaps, in the context of financial indicators, PayPal Q2 reports fell short of expectations, but the leading position of PayPal has not changed, and the peak growth of the global payments market is still to come.
Disclosure: I/we have no positions in any stocks mentioned, but may initiate a long position in PAYPAL over the next 72 hours.
I wrote this article myself, and it expresses my own opinions. I am not receiving compensation for it (other than from Seeking Alpha). I have no business relationship with any company whose stock is mentioned in this article.