Highlights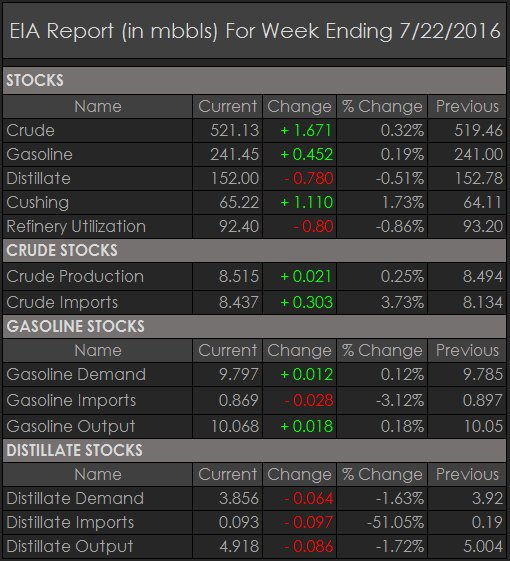 Source: EnergyBasis
The oil markets were not happy to see the builds in crude and gasoline. Crude stock went up 1.671 million bbls and gasoline stock rose by 0.452 million bbls. Cushing also saw a build of 1.11 million bbls. Refineries cutback utilization down to 92.40% and is sitting below last year's utilization. Gasoline demand rose, but wasn't enough to draw down gasoline.
U.S. production rose again this week by 21k b/d, mainly thanks to Alaska. The maintenance around this time of the year should be completed, so we should see Alaska production stay flat over the next several reports. Lower 48 production, however, continues to decline but only modestly this week at -12k b/d.
Imports really spiked again this week, rising by 303k b/d. Traders we spoke to point to high imports as the cause, from floating storage built during the glut. Shipping volume from oil exporting countries would point to much lower imports, but excess floating storage is what's causing imports to be much higher than expected. They think we should start to see lower imports by end of this year.
Looking at some key figures compiled by John Kemp, we can see that the gasoline glut is mostly on the East Coast.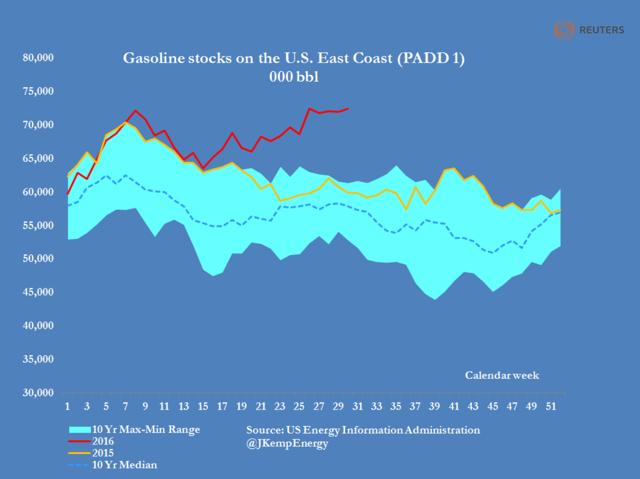 Click to enlarge
Overall gasoline stock is oversupplied by about 30 million bbls.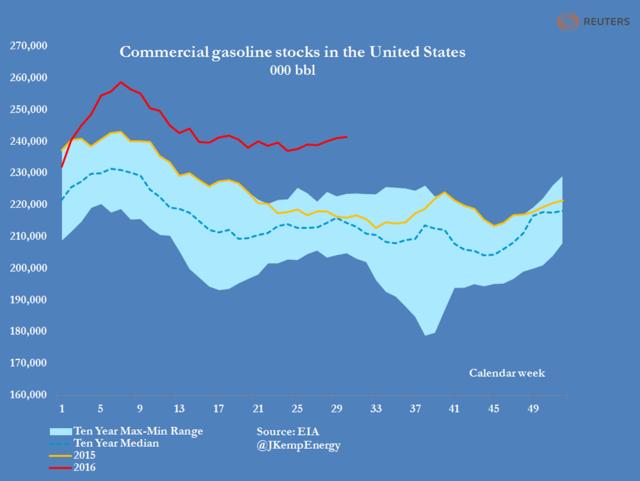 Click to enlarge
Going forward, this is the key indicator we have to pay attention to.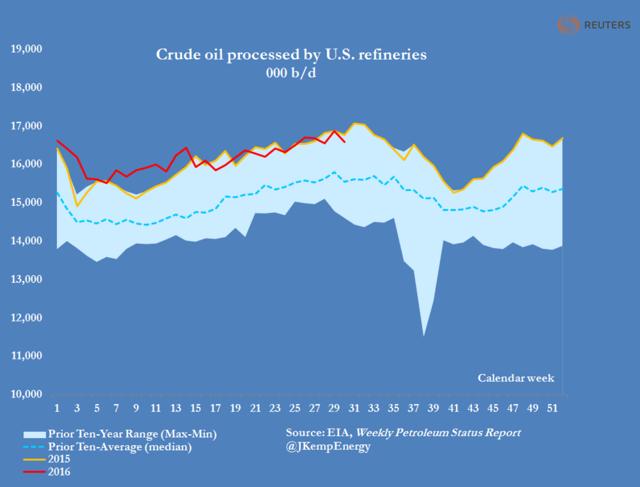 Click to enlarge
Traders we spoke to think that refineries in the U.S. could enter the maintenance season earlier than expected this year. Utilization just needs to be around 15 million bbls/d, and it should draw down the excess gasoline storage over the span of two months. But that would mean crude stock would see builds.
One thing we keep saying is that if imports start to fall, then we could see simultaneous crude draws and gasoline draws. But now that we know the increased imports are mostly from floating storage, the situation could continue.
Overall, this wasn't a report the bulls would want. We continue to monitor the gasoline glut situation and refinery utilization. If we start to see refinery utilization going down, we should start to see gasoline stock draw, but crude stock would build. This could pressure crude prices while propping up gasoline prices.
We hope you enjoy our weekly oil (NYSEARCA:USO) inventory reports. Be sure to check out some of our old articles, and click on the follow button above if you would like to receive our "Oil Markets Daily" articles. In addition, we also have a premium subscription platform that's tailored to long-term value-oriented investors. We provide recommendations of stock ideas and portfolio composition. We look forward to you joining the HFI platform.
Disclosure: I/we have no positions in any stocks mentioned, and no plans to initiate any positions within the next 72 hours.
I wrote this article myself, and it expresses my own opinions. I am not receiving compensation for it (other than from Seeking Alpha). I have no business relationship with any company whose stock is mentioned in this article.