EDIT NOTE: In 2014 Q2 shares were issued that resulted in NAV decline from $15.12 to $12.65. As per the article I am not worried about a secondary offering at present due to the large discount to book.
Fifth Street Senior Floating Rate Corp (NASDAQ:FSFR) is a small BDC that is focused on providing floating rate secured loans to middle market client companies that management believes are low-risk. Only two Seeking Alpha articles have been written about FSFR in the past year. Many readers may be unfamiliar with this deeply discounted BDC issue. Like many other BDC issues, FSFR has had some problems with credit quality.
Investors often lump FSFR together with its larger sister company Fifth Street Finance Corp (NASDAQ:FSC). Both companies are managed by Fifth Street Asset Management (NASDAQ:FSAM). Some of the investor hatred for FSC has carried over to FSFR. As a result of these problems, FSFR is now trading at a 26% discount to NAV. Note that FSFR has significantly better asset quality (about half the level of non-accrual loans) as compared to FSC. FSFR Average Portfolio Company EBITDA is $58.9 million compared with FSC's $39.5 million
History
Since mid-2014, FSFR's NAV has suffered a staggering 26% decline from $15.12 per share to only $11.18 per share. This is worse then its FSC peer which fell 15% during the same period. This is surprising given FSFR's lower risk level. according to quarterly conference calls going back to 2014, this is largely attributable to "the net effect of credit and yield movement in the portfolio" or in my own words, movements in the high yield market. FSFR reduces portfolio risk by focusing on larger client companies than FSC. The law of large numbers would suggest FSFR ($245 million equity market capitalization) may outperform FSC ($793 million equity market capitalization) in the coming months and years. Shareholder losses have been compounded as FSFR has gone from trading at a 1% discount to NAV to a 26% discount. FSFR has a short history, having just gone public in 2013. On average, it has traded at an 18% discount to book value. Prior to 2013, many similar BDCs such as FSC typically traded at around book value (excluding the 2008 financial crisis period). With high yield bonds rallying sharply in Q2 which readers can check for themselves in a chart of a ETF such as iShares iBoxx $ High Yid Corp Bond (NYSEARCA:HYG), BDC NAV should follow.
Dividend coverage
FSFR seemingly set the bar too high with its dividend at 30 cents a quarter or 10 cents a month since late 2014. FSFR cut its dividend 25% from 10 cents a month to 7.5 cents a month on 8/5/15. As can be seen in the latest investor presentation below, there has not been a single quarter where they had NII of 30 cents. It probably didn't help that they raised the dividend shortly before the high-yield crash. In the past four quarters, FSFR has covered only 94% of the dividend payout. Dividend coverage was only 89% for Q2 2016. Net investment income would have covered the dividend on a per share basis for the third consecutive quarter if adjusted to exclude the higher professional expenses related to preparation for FSFR's annual meeting according to the latest conference call.
Click to enlarge
Management transparency and fees
FSFR has a reasonable fee structure. There is a 1% base management fee on average gross assets, 20% incentive fee with a 6% hurdle rate and 50% catch-up provision. This is much better than FSC with a fee structure of 1.75% base management fee on gross assets, 20% incentive fee with a 8% hurdle rate and 100% catch-up provision. To be fair, as a lower-risk BDC it does have lower yields on its portfolio. Management owns about 11.5% of the common stock. I would like to see more insider buying or an active share buyback program.
Management is very transparent with easy infomation in its SEC fillings in regards to non-accruals, reported credit quality, PIK interest and even the leverage of its portfolio companies.
Portfolio quality
89% of the portfolio at fair value consists of senior secured floating rate debt investments. 11% is comprised of subordinated notes and equity interests of the FSFR Glick JV (a third party leverage tool). No single company accounts for more than 4.9% of the portfolio (other then FSFR Glick JV). There are a total of 62 client companies. The portfolio is diversified across 29 different industries and nine different sectors. The top three sectors are 29% Information Technology, 16% Consumer Discretionary and 14% Healthcare. The allocation to consumer discretionary may provide FSFR a boost in light of the Pokemon Go frenzy. Players may spend more money at centers of commerce. FSFR has no significant energy exposure and no CLO exposure. CLOs are leveraged packages of often low-grade corporate debt. Many BDC issues such as Prospect Capital (NASDAQ:PSEC) use them to artificially increase balance sheet leverage. Some BDC investors are concerned about CLO exposure. BDCs have some similarities to the complex collateralized mortgage instruments that contributed to the 2008 financial crisis.
Reported credit quality was stable over the last quarter. Only 2.2% was in non-accrual status and there is no material PIK (payment in kind) exposure which is just 0.40%. FSC on the other hand has 4.5% of NII coming from PIK Interest. Many BDC investors are concerned about PIK payments where a portion of the interest is paid in additional debt rather than cash.
Balance sheet leverage of 0.89X is currently at the upper end of their targeted leverage range of 0.8x to 0.9x. A diversified BDC such as FSFR has many options for managing their leverage. For example, the pace of new investments may be reduced as interest and principal repayments are received. FSFR could sell some of its assets to the FSFR Glick JV to lower its legal statutory leverage. FSFR Glick JV has $63.7 million available on its credit lines. FSFR could apply for a SBIC license like its sister company FSC. The weighed average yield on the senior secured loans is 8.4%. Also, 97% of the portfolio is rated 2 out of 4, with 1 being the best. The weighed leverage of the portfolio companies measured by debt/equity is 4.55. This is a high level of leverage for portfolio companies. Note that most BDC issues do not disclose this metric likely because they are worse.
What is the FSFR Glick Joint Venture?
87.5% of the economic interest in FSFR Glick JV LLC is owned by FSFR, GF Debt Funding owns 12.5%. There are four board members, half appointed by each side. FSFR Glick JV has total capital commitments of $100.0 million, $87.5 million of which was from FSFR and the remaining $12.5 million from GF Equity Funding and GF Debt Funding. FSFR Glick JV has a senior revolving credit facility with Credit Suisse AG of $200 million, of which $136.3 million is drawn. There are 33 portfolio companies with a weighed yield of 6.82%. 87.5% of $136.3 is $119.3 or a additional 0.40x of leverage. Note that FSFR's liability is limited to their investment and can only lose the 10% of the portfolio they have allocated.
Rising interest rates would be a positive catalyst
Management has built a variable rate portfolio to better position itself for rising interest rates. However, a 100 basis point increase will not impact it much. NII will only really begin to take off at 200 basis points.
As it stands right now, if interest rates rose 1%, NII would decrease by 3 cents per share. However, if interest rates rose 2%, NII would rise by 6 cents per share. With a 3% interest rate rise, NII would rise a stunning 15 cents per share. While quarterly NII can be lumpy, it would probably get slightly better coverage of the dividend from a 2% rate increase and it would be well covered with a 3% increase. A 200 basis point increase may not be too far off. The market reacted way too violently to the Brexit vote. Britain is likely to leave the EU but stay in the EEA. They will have accomplished nothing, while losing their vote. Politicians will claim to have responded to the masses, while effectively doing absolutely nothing. Politicians love the opportunity to do nothing but present themselves as doing something.
Management ought to move more liabilities to fixed interest rates. This would make FSFR more of a true floating rate issue. As things stand now, variable rate interest costs on the bank credit line will increase if interest rates rise. This would limit the increase in net interest margin resulting from higher interest rates.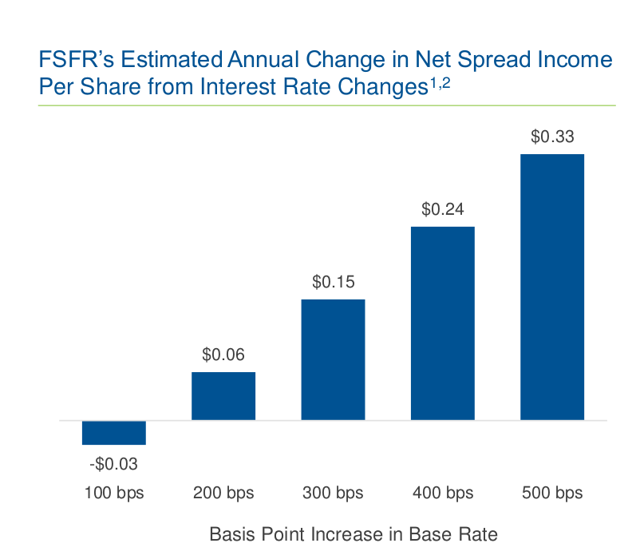 Click to enlargeWhat are the risks?
Trouble at FSC could hurt FSFR. Both FSC and FSFR are managed by FSAM. Even though they are separate companies, their stocks are correlated. Problems at FSC can impact trading in FSFR.
Dividend coverage is a concern. Management could continue to fail to cover the dividend. While I think they are likely to cover with the new dividend cut, it is true they have done a terrible job historically. If interest rates do not rise, investors may do better with a BDC betting on a low interest rate environment.
There is some usage of third party leverage. This may be a concern to some investors. Loopholes around financial regulation have a history of ending badly. Even with the usage of third party leverage, FSC has a lower 10.8% yield than some peers such as FSC which now yields 13.2%. There is a trade-off between the quality of portfolio holdings and yield. The lower yield of FSFR could present a risk to investors in meeting their financial goals.
What about the risk of a secondary offering priced below the current trading price? Additional share sales can hurt existing BDC investors. Fortunately, this is unlikely to happen with FSFR trading at such a large discount to NAV.
Should you buy?
FSFR has had some trouble, but the market has overreacted in my opinion. The large discount to book value signals to me that FSFR is a buy. FSFR is lower risk then its sister FSC, but has lost more NAV. The "law of reversion towards the mean" says this should reverse. Credit quality is stable as of late. The high-yield bond market has been improving and this should feed into BDCs. Management is working hard to get better dividend coverage with the latest dividend cut allowing them to cover the dividend in the past three quarters when adjusting for unusual management costs. As time moves on and more liabilities are rotated to fixed rate, I imagine the positive impact on NII of rising interest rates will increase. It would be hard for interest rates to go down or even remain near current historic lows. FSFR provides a 10.83% yield. I do not expect a dividend cut as management has already greatly cut the dividend and is working hard to maintain it.
Note: Panick Value Research Report subscribers received an advance look at this article. The Panick Report is focused on preferred stocks, exchange traded debt and other high-yield issues. Continued coverage is provided for all of the issues written about here. Readers are invited to check out the two-week free trial in the Seeking Alpha Marketplace.
Disclosure: I am/we are long FSFR, FSC, PSEC 6 JAN 2017 PUTS AND SHORT PSEC 7.5 JAN 2017 PUTS.
I wrote this article myself, and it expresses my own opinions. I am not receiving compensation for it (other than from Seeking Alpha). I have no business relationship with any company whose stock is mentioned in this article.
Editor's Note: This article covers one or more stocks trading at less than $1 per share and/or with less than a $100 million market cap. Please be aware of the risks associated with these stocks.