The observations below are based on trends in the Energy Information Administration (EIA) data for the weeks ending July 22nd.
Although there was a slight uptick in Alaskan oil production, which is not model-based, unlike the lower 48 number, the crude production trend has decayed to the 2014 level for this time of year.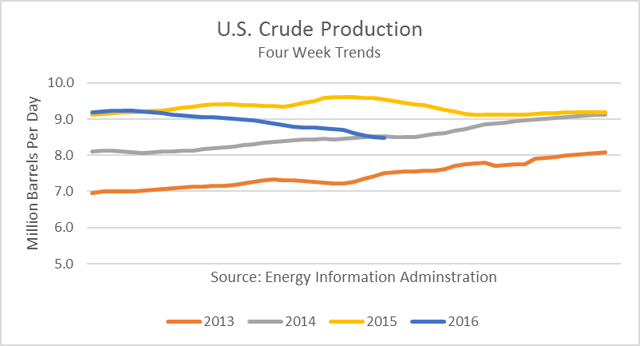 Click to enlarge
But as a result of a rise in "other" petroleum supplies, primarily natural gas liquids...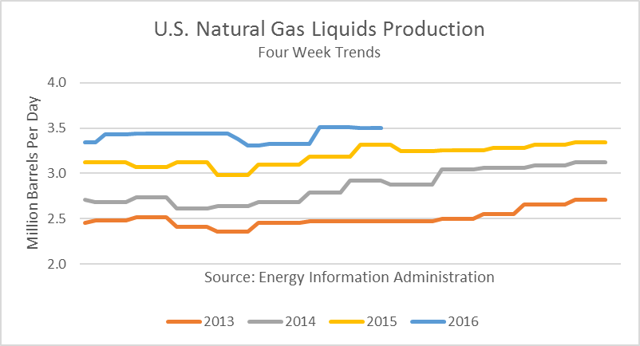 Click to enlarge
... the decline in total production is not quite as fast as it may appear, looking at crude only.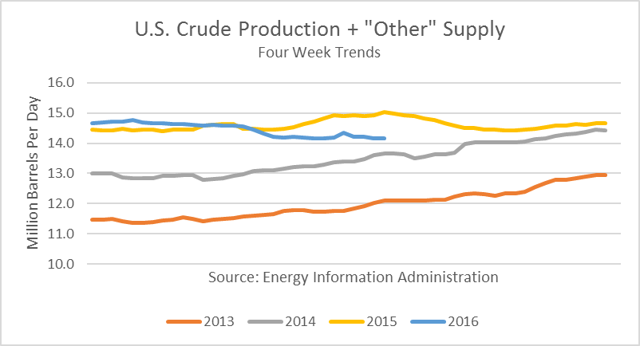 Click to enlarge
Despite an estimated rise in crude oil exports...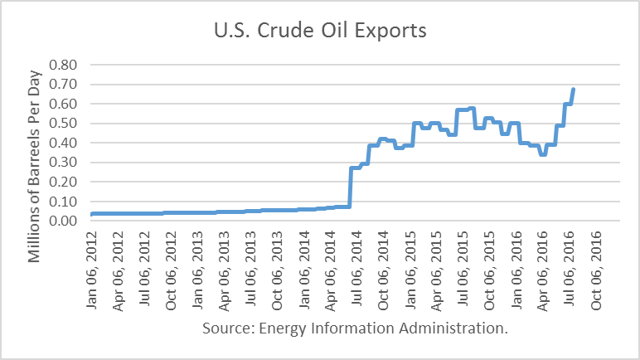 Click to enlarge
... net U.S. oil imports are the highest they have been since 2013 for this time of year.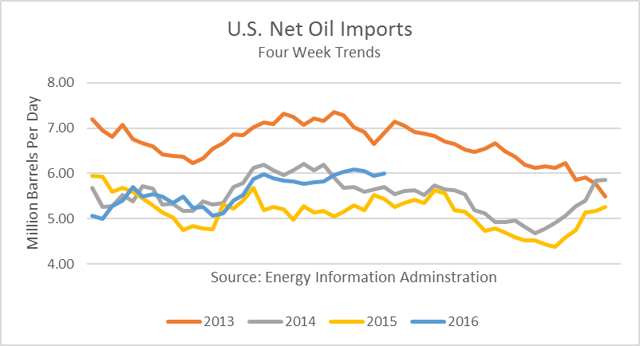 Click to enlarge
Demand for crude at U.S. refineries has been strong. It dropped off nearly 300,000 b/d last week, resulting in a 0.6% decline versus last year. It appears refinery utilization has peaked for the summer season due to declining refinery margins.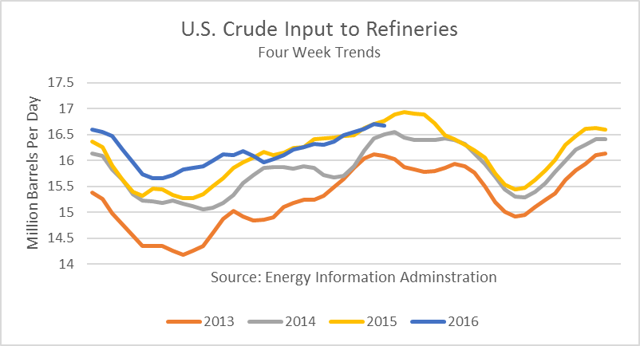 Click to enlarge
Crude oil stocks therefore increased last week, reversing the draw trend.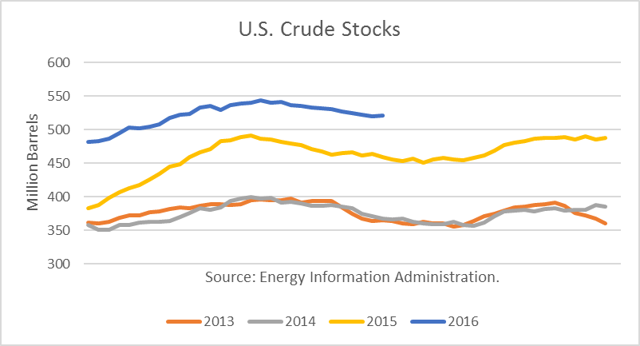 Click to enlarge
Petroleum product demand was up just 0.7% over the past four weeks versus last year.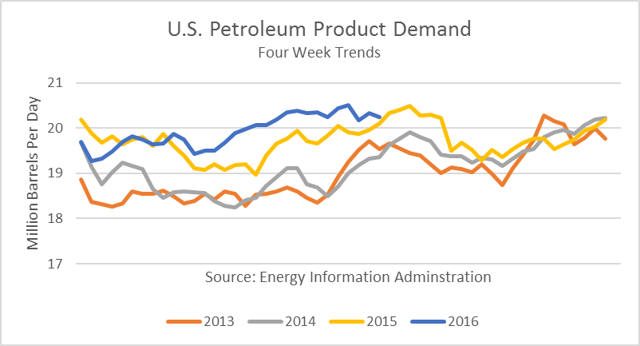 Click to enlarge
Gasoline demand has been strong, up 2.6% over the past 4 weeks...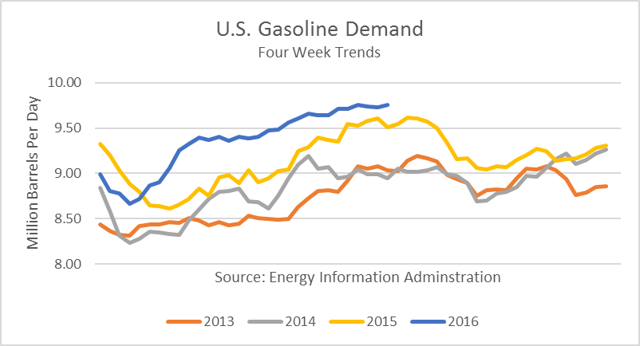 Click to enlarge
... but distillate demand, which includes both diesel fuel and heating oil, was up just 0.2%.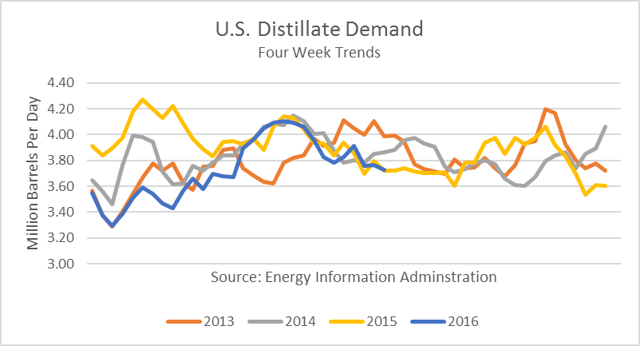 Click to enlarge
As a result of high refinery outputs and blending, inventories of petroleum products reached record highs...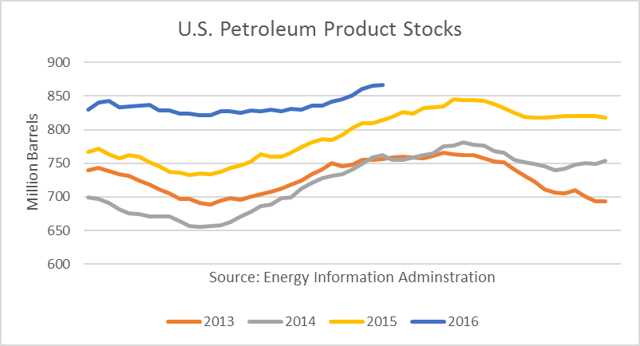 Click to enlarge
... and so have total U.S. oil stocks.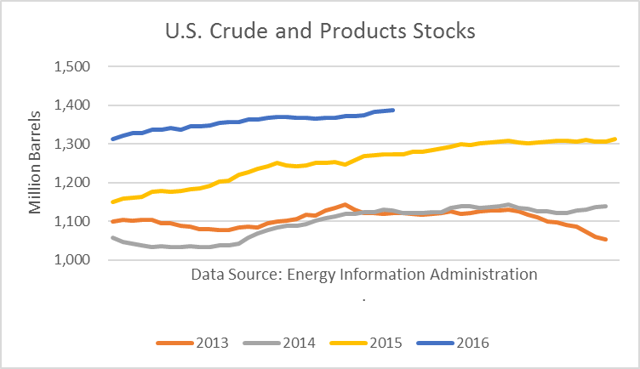 Click to enlarge
Conclusions
Many analysts attributed the recovery in prices this spring to an anticipated rebalancing of supply and demand, and so, there was a growing belief that crude prices could go to $60 or $70 by the end of this year as the rebalancing continued.
But I do not think that is what was behind the price recovery, as I have explained. It was primary due to short covering, as the risk-reward of being short was altered by "headline risk." Given the deflation of headline risk and ability of the U.S. oil industry to overproduce, the market is being oversupplied once again.
Soon, crude demand at refineries will be dropping further and crude stocks are likely to build further. Now, the risk has shifted to the longs, who I expect will begin covering (selling).
Disclosure: I/we have no positions in any stocks mentioned, and no plans to initiate any positions within the next 72 hours.
I wrote this article myself, and it expresses my own opinions. I am not receiving compensation for it (other than from Seeking Alpha). I have no business relationship with any company whose stock is mentioned in this article.