Facebook Jumps on Earnings Romp
Earnings per share estimates of 82 cents were handedly beat by Facebook (NASDAQ:FB), which reported 97 cents per share in earnings for the second quarter. Revenue of $6.44 billion beat estimates by $420 million and soared almost 60% year-over-year. Monthly active users of 1.71 billion were up from 1.65 billion last quarter and up 15% YOY. Daily users now stand at a whopping 1.13 billion.
Although the company sported a pre-earnings market cap of almost $350 billion and a PE ratio of 75, watching it churn out sales growth of that magnitude is simply quite impressive.
As of this writing, shares are up almost 7%, but that could change - for better or for worse - following the conference call.
Advertising revenues, 84% of which were from mobile, climbed 63% on the year while net income soared 186% YOY to $2.055 billion. Although Facebook had made new 52-week highs in Wednesday's session, showing investor confidence was strong, these results were likely more than many had expected.
In fact, the highest estimates on the Street were looking for EPS of 90 cents on $6.22 billion in revenue. That helps put this beat in perspective, as Facebook handedly topped both.
Facebook had a similar market cap to Amazon (NASDAQ:AMZN) before the print, but will have one larger than it by Thursday morning should the current after-hours gains hold up. Amazon though will have its chance at climbing above Facebook when it reports on Thursday after the close.
It will do so alongside Alphabet (NASDAQ:GOOG) (NASDAQ:GOOGL), and if the two of them can make repeat performances like that of Apple (NASDAQ:AAPL) and Facebook, the PowerShares QQQ ETF QQQ and likely the overall market should have further upside from here.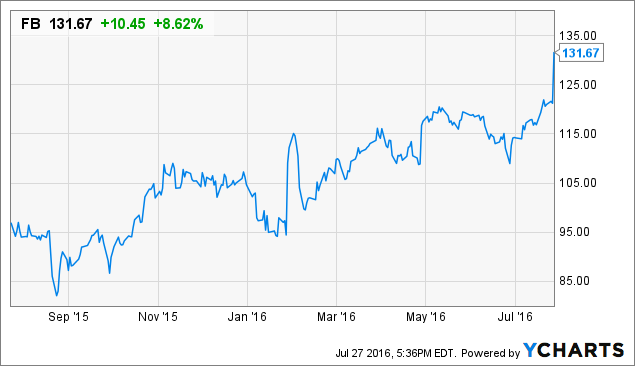 FB data by YCharts
Twitter Fails to Impress, Stock Price Pukes
Jeez, going through Twitter's (NYSE:TWTR) earnings report seems a lot more depressing after seeing Facebook's results.
The revamped strategy at Twitter will apparently take one more quarter. Well, at least one more quarter, after the company saw its stock crater 14.4% Wednesday. Twitter beat on earnings, but missed revenue guidance.
Given that the stock was down almost 50% over the past year heading into the report, investors would have likely overlooked the revenue miss and paltry year-over-year U.S. MAU growth of 1% (+4% growth for global MAUs) for the quarter had guidance been better.
Guidance came in sharply below expectations, with the midpoint of management's revenue outlook coming in at $600 million - sharply below the consensus of $678 million for next quarter.
Although the results weren't promising, investors are clinging to Twitter's tweaks and improvements, along with streaming deals involving the NFL, NHL, NBA and MLB, along with other networks.
On the plus side, the company did grow revenues 20% YOY and saw ad engagements were up.
As we said last week, the stock has very much become a "prove me" name and this quarter didn't do much proving. The hope now will be that the Olympics and future streaming deals (most of which will kick in towards late-summer or fall) will be enough to re-accelerate user growth and push revenues higher.
The other hope is that Twitter gets acquired.
For more insight, check out Orange Peel Investments' piece, Twitter: Buy On Dips Despite Poor Earnings.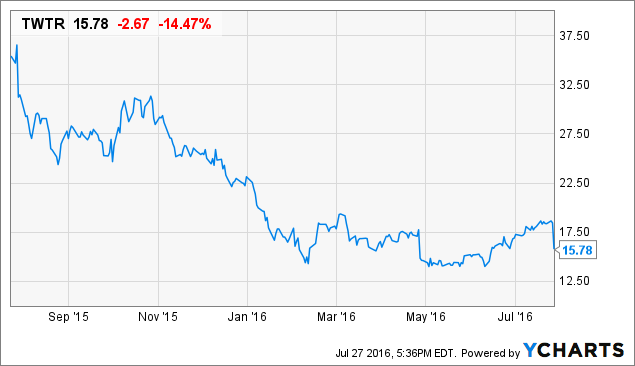 TWTR data by YCharts
Tesla's Master Plan Won't Come Without Competition
Not all that long ago, Tesla Motors (NASDAQ:TSLA) CEO Elon Musk unveiled his Master Plan: Part Deux. Part of that master plan, which included its integration with SolarCity (NASDAQ:SCTY), centered on the expanding electric vehicle market.
However, Musk was looking beyond the car, truck and SUV space that most of us think about when we consider electric vehicles. In fact, he was focused on heavy-duty trucks and buses.
Given that Tesla's currently large task is completing the Gigafactory and mass producing the Model 3, along with working out a deal for SolarCity and integrating the two companies, big trucks and buses seem a ways off.
And while Musk has welcomed competition in the past, because it would grow the public's knowledge over the EV industry, waiting too long perhaps may not be in its best interest.
We already highlighted how BYD (OTCPK:BYDDF) is making moves in the electric bus market, but there's a more well-known player emerging in the electric trucking market: Mercedes-Benz.
The company unveiled the Urban eTruck Wednesday in Stuttgart, Germany. Why urban? The truck only has a range of 124 miles, which takes long-hauling out of the equation, unless truckers want to stop every few hours to recharge.
While we already know that's unrealistic, it's impressive to see the first steps being taken in this industry. Wide-scale production won't happen until around 2020 or so, so Tesla's still got some time to catch up.
Impressive, nevertheless.
You're Buying Apple for Its Services Business, Right?
A lot has been made of Apple's most recent earnings report, and some investors are focused on the company's services revenues, which climbed 19% from the prior year.
Shares rose 6.5% in Wednesday's trading session, likely angering a lot of investors that looked at Apple's shortcomings. These included revenues that fell 14.5%, lower gross margins, and an EPS drop of ~23%. The company sold 40.4 million iPhones with an ASP of $595 per device. That's down from the 47.5 million-ASP $660 stat line Apple put up in the same quarter a year prior.
But there was a number of upside surprises this quarter, and as we said in yesterday's column, it's all about expectations. In this case, the bar to hurdle was low and that played to the bull's advantage today.
Anyway, back to services. The App Store hit its highest revenue figure ever, and while it's unlikely to be felt immediately Pokémon Go is expected to boost its results as well due to the revenue split, (perhaps up to $3 billion).
Another notable tidbit was that CEO Tim Cook said roughly 75% of contactless payments made in the U.S. are done via Apple Pay. This could be driven by consumers looking to reduce their checkout times at pin-and-signature terminals, or it could be an uptick in usage for in-app purchases (like Hotel Tonight, for instance).
Either way, it bodes well for Apple. The upside to services is that it commands far higher margins than some of its other products. So although the revenue is not nearly as high as its overall sales, it can still add an attractive amount to the bottom line.
Smartphone Sales Are Back, Baby
In the first quarter, there were some concerns on the future of smartphones after the industry saw its first year-over-year decline of shipments. Well, the concern wasn't really over the future of smartphones. It was mostly about the companies that made them.
If the smartphone market was drying up, who would be buying BlackBerry (NASDAQ:BBRY) or Google's Android devices? What would happen to Samsung (OTC:SSNLF)? And who the heck would need a high-end smartphone like Apple?
Some fears, at least temporarily, even hit investors over companies that see a lot of their revenues come from mobile devices (i.e Facebook, Twitter, etc.).
Alas, those fears have quieted somewhat. On Tuesday Apple said it sold more than 40 million iPhones in the most recent quarter (although down YOY), while Huawei reported that its smartphone shipments were up 25% year-on-year for the first half of 2016. On Wednesday, we got more news: Canalys, a research firm, reported that second quarter smartphone shipments climbed slightly vs. the second quarter of 2015.
While that may not seem all the encouraging, it's at least an improvement that investors can hang their hats on. Among the leaders in sales were, as previously mentioned but this time in order, were Samsung, Apple and Huawei.
It circles back to the great debate on smartphones. While many will argue about saturation, there's still the continual need (read: desire) to upgrade from our current devices to the latest and greatest.
At some point, perhaps that will end. But as long as the economy isn't in the crapper, the population continues to grow and underdeveloped nations continue to improve their technological landscape, smartphone sales shouldn't fall off a cliff any time soon.
Disclosure: I/we have no positions in any stocks mentioned, and no plans to initiate any positions within the next 72 hours.
I wrote this article myself, and it expresses my own opinions. I am not receiving compensation for it (other than from Seeking Alpha). I have no business relationship with any company whose stock is mentioned in this article.
Editor's Note: This article discusses one or more securities that do not trade on a major U.S. exchange. Please be aware of the risks associated with these stocks.