The Federal Reserve shocked no one today when it decided to hold its key short-term interest rate between 0.25% and 0.5%, where it has been since December 17, 2015.
But the Fed also sent a message that increases in its Federal Funds rate could be coming later in 2016. Do we believe that? I have doubts, but let's look at what the Fed actually said in its Federal Open Market Committee statement:
The job market is improving.
Information received since the Federal Open Market Committee met in June indicates that the labor market strengthened and that economic activity has been expanding at a moderate rate. Job gains were strong in June following weak growth in May.
Inflation remains weak, but heading toward the 2% target.
Inflation has continued to run below the Committee's 2 percent longer-run objective, partly reflecting earlier declines in energy prices and in prices of non-energy imports. ... Inflation is expected to remain low in the near term, in part because of earlier declines in energy prices, but to rise to 2 percent over the medium term. ...

In light of the current shortfall of inflation from 2 percent, the Committee will carefully monitor actual and expected progress toward its inflation goal.
The economy is solid and improving.
The Committee currently expects that, with gradual adjustments in the stance of monetary policy, economic activity will expand at a moderate pace and labor market indicators will strengthen.
Increases in short-term interest rates are coming, but they will be small and gradual.
The Committee expects that economic conditions will evolve in a manner that will warrant only gradual increases in the federal funds rate; the federal funds rate is likely to remain, for some time, below levels that are expected to prevail in the longer run.
We're in no rush to hurt the economy.
The stance of monetary policy remains accommodative, thereby supporting further improvement in labor market conditions and a return to 2 percent inflation.
What was interesting in the statement was the lack of any mention of the uncertainty in the European Union. Why? Global stock markets have rebounded nicely from the initial shock of Brexit. If that hadn't happened, I assure you the Fed would have been leaving no hint of rate increases in 2016. Here was the Fed's nod to Brexit:
Near-term risks to the economic outlook have diminished.
As it stands, the Fed left the door open to rate increases, but it's a door they've been very unwilling to walk through, beyond the initial increase from zero in December 2015. Could a rate increase come in September? The Wall Street Journal speculated that it could:
If job growth and other key measures of the domestic economy's health continue to improve between now and the September FOMC meeting, the central bank could follow through with its long-held plans to increase borrowing costs this year.
What does this mean for holders of TIPS and iBonds?
Rates on nominal Treasurys have reached all-time lows in recent weeks, at the same time U.S. stock market hit all-time highs. Both of these trends can't continue - and won't continue. I think the key factor the Fed can't ignore is inflation, which has been ticking upward in recent months. While 'headline' inflation is up only 1.0% over the last 12 months, 'core' inflation - which strips out energy and food - is up a solid 2.3%.
Inflation probably can't continue to rise without improvements in the job market, especially with the dollar strong against most foreign currencies. If you see job numbers continue to improve and inflation continue to tick upward, the Fed will be forced to increase short-term rates.
But... Nominal yields continue to be held down by extremely low - or negative - yields on government debt in Europe and Japan. That creates strong demand for US Treasurys. If short-term rates rise in the U.S., the dollar will get even stronger, and that will make Treasurys even more attractive. There is no guarantee that a Fed move to raise short-term rates would have a dramatic effect on medium- and longer-term Treasurys.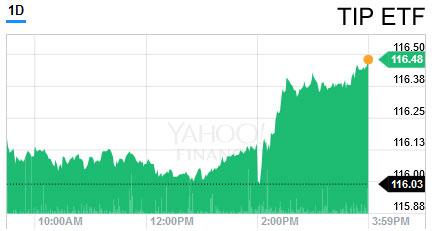 I think TIPS and iBonds are very attractive in this environment. The market seems to agree with me - take a look at how the TIP ETF reacted after the Fed's announcement at 2 p.m. Thursday.
When the Federal Reserve is desperate to re-ignite inflation, it makes sense to use a portion of your portfolio to hedge against future, unexpected inflation. TIPS remain at bargain prices against nominal Treasurys, and iBonds are even more attractive because of their flexible maturity and tax-deferral.
Disclosure: I/we have no positions in any stocks mentioned, and no plans to initiate any positions within the next 72 hours.
I wrote this article myself, and it expresses my own opinions. I am not receiving compensation for it (other than from Seeking Alpha). I have no business relationship with any company whose stock is mentioned in this article.