Overview
Kingtone Wireless (NASDAQ:KONE) shares have traded from $1.74 to 13.85 in just two days, between July 21 and July 22.
With no new SEC filings or news as to the reason behind this surge - which traded the company's float of a mere 1.4 million shares 12 times over - I feel a sense of duty to help shed some light on the company's recent events for those interested in the matter.
It is very important to note that I do not recommend trading KONE whatsoever, regardless if one is bearish or bullish, as there is high risk of losing money in the short term on both sides.
Company and Stock Information
KONE's underlying company, Kingtone Wireless, is a struggling mobile provider in China that trades as an ADS (American Depositary Share) on the NASDAQ Exchange, and has reported net losses in 4 out of the 5 past years.
KONE is a micro cap, which implies that its shares are very prone to manipulation, as anyone with a few million dollars has the ability to move KONE's prices dramatically.
Even at its $13.85 peak on July 22, KONE's market cap was still less than $20 million.
The company has only 1.4 million shares outstanding, and there has not been an insider purchase of KONE over the past 5 years. 71% of the float is also owned by retail investors.
Quick Timeline of Recent Events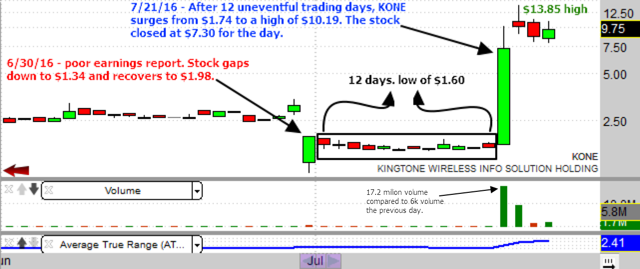 Click to enlarge
6/30/16 - KONE reports disastrous earnings.
Note: Kingtone Wireless reports its financial results bi-annually, as opposed to quarterly.
YOY Earnings Comparison (6 months ended March 31, 2015 and 2016)
| | | | |
| --- | --- | --- | --- |
| | 2015 | 2016 | Percent Change |
| Revenue | $8.5 million | $0.5 million | -94.1% |
| Net Income | $2.6 million | -$0.7 million | -73.08% |
Revenues decreased 94.1% YOY for the 6-month reporting period ending March 31, 2016 compared to the same reporting period in the previous year. The company's revenues were $0.5 million in the 2016 reporting period compared to $8.5 million in the previous year. The company was not profitable, reporting a net loss of $0.7 million this year's reporting period compared to $2.6 million net income in the previous year.
The company gave guidance for FY 2016 which projected revenues between $2 million and $4 million and a net loss between $0 and $1 million.
7/21/16 - After 12 uneventful trading days of consolidation, KONE suddenly surges from an opening of $1.74 to a high of $10.19 in a single day. The price settles at $7.30 for the day on 17.2 million volume. In comparison, the previous day's volume was only 6k.
7/22/16 - KONE hits a high of $13.85 and closes at $10.20 for the day.
Looking Forward
Since July 22nd, shares have traded between the $8 to $11 range. As I write this on July 27, 2016, the share price is currently $9.17.
With full year guidance of a net loss and anemic revenues which pale in comparison to its 2015 numbers, there is no fundamental reason to invest in KONE.
Suffice it to say, KONE is not trading on fundamentals but on momentum, by speculators playing the financial version of musical chairs.
Unless you are experienced and well-versed in trading this type of security and situation, and are managing risk appropriately, I suggest avoiding KONE altogether.
Disclosure: I/we have no positions in any stocks mentioned, and no plans to initiate any positions within the next 72 hours.
I wrote this article myself, and it expresses my own opinions. I am not receiving compensation for it (other than from Seeking Alpha). I have no business relationship with any company whose stock is mentioned in this article.
Editor's Note: This article covers one or more stocks trading at less than $1 per share and/or with less than a $100 million market cap. Please be aware of the risks associated with these stocks.