Introduction
The low copper price is hurting a lot of copper-focused companies, but Taseko Mines (NYSEMKT:TGB) is one of the companies that's being hit the hardest as it's relying on just one (high-cost) mine to service its substantial net debt position. Taseko has been trying very hard to reduce the production costs per tonne of ore that has been mined, but despite the reduced costs, the low copper price is still pushing Taseko's financial results into the red territory.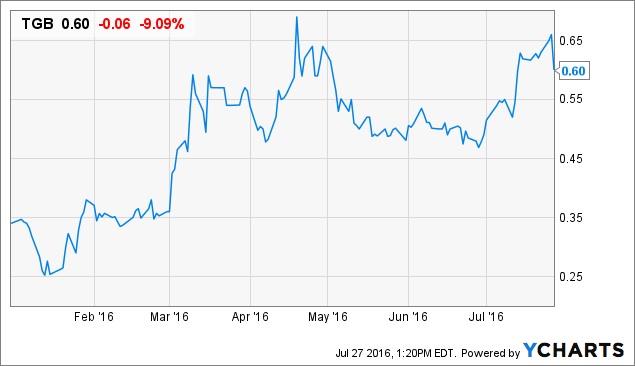 No rest for the wicked - the low copper price keeps Taseko on high alert
In the second quarter of this year, Taseko's Gibraltar mine has produced 30.6 million pounds of copper. That's approximately 6% more copper compared to the first quarter of this year, which is mainly due to the higher average grade of the ore that has been processed. Indeed, despite having milled just 7.2 million tonnes of ore in the quarter (compared to 7.5 million tonnes in Q1) and despite the slightly lower recovery rate of 84.1% (versus 84.4%), Taseko did produce approximately 1.8 million pounds more copper (on a 100% basis, Taseko owns 75% of the Gibraltar mine).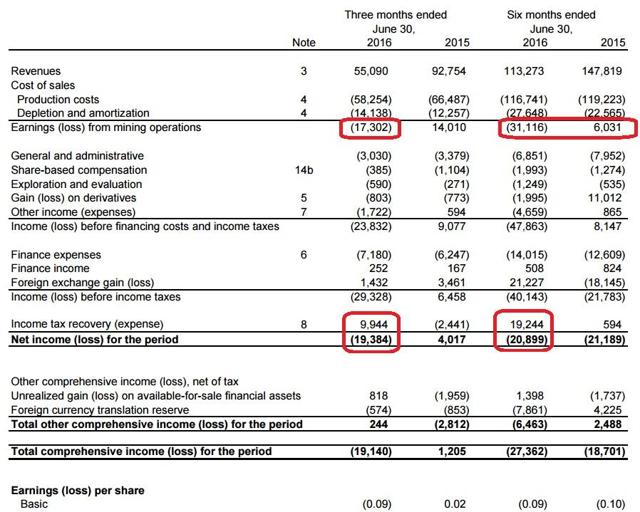 Source: financial statements
As I wrote in the introduction of this article, Taseko is hurting from the low copper price and the total revenue in the second quarter of the year was just C$55M, which wasn't even sufficient to cover the production costs (C$58M), resulting in a total loss from mining operations of C$17.3M in Q2 (and C$31M in H1 2016), despite the relatively low deletion expenses.
Taseko continues to try to reduce the cash drain and reduced its G&A expenses once again by 10%, but if you're already making a loss on the mine level, damage control really is the best description for what Taseko has been trying to do. Thanks to a tax recovery of C$10M, the net loss remained limited to C$19.3M in the second quarter of the year.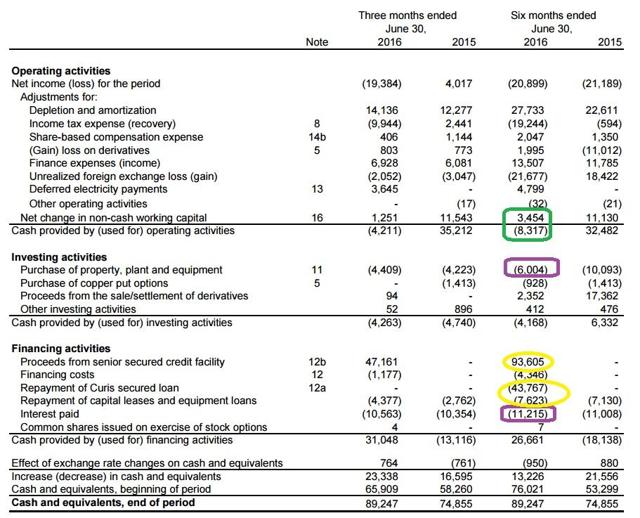 Source: financial statements
The net income doesn't really tell you the entire story when you're analyzing a mining company, as a large part of the expenses usually are non-cash expenses; but in Taseko's case, the mining operation was already losing money before the depreciation and depletion expenses were already taken into account! And indeed, the operating cash flow in the first six months of the year was a negative C$8.3M, despite a positive change in the company's non-cash working capital position to the tune of C$3.5M. On an adjusted basis, Taseko's operating cash flow would have been a negative C$12M (compared to a positive C$20M in H1 FY 2015).
The new credit facility helps the company whilst it's waiting for 2017
But it gets worse, as from the negative C$12M OpCF, you also need to deduct the capital expenditures (C$6M) and the H1 interest expenses (C$11.2M), which means the adjusted free cash flow was negative to the tune of C$29M.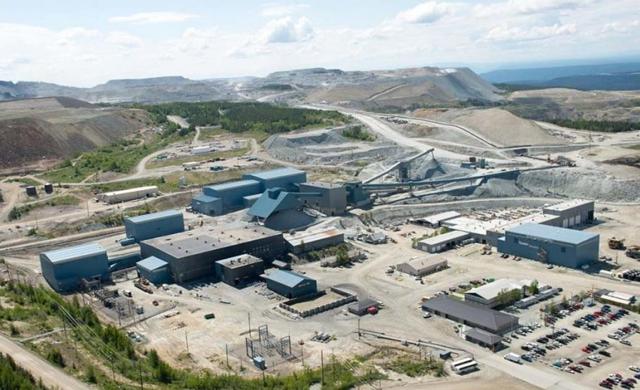 Source: company presentation
That's indeed very alarming, but fellow author Elephant Analytics correctly says Taseko's head grade will increase from next year on, towards 0.3% copper (whereas the company's average grade was just around 0.25% in the most recent quarter). This grade boost will very likely result in a copper production that could easily be 5-7 million pounds per quarter higher than the current production rate, which would have a very positive impact on the production cost per pound of copper (the fixed cost per mined tonne of rock can be divided over more produced pounds of copper). This has been confirmed in the company's AGM presentation where CEO Hallbauer literally said:
"Looking forward, we now have the Granite Pit setup very nicely for a lengthy run of low strip and good copper grades. We expect average grade in the second half of this year to be 15-20% higher than the year-to-date average. And while we still haven't finalized the 2017 operating budget, right now it looks as though we will be mining strong grades for all of next year."
So where is the cash to bridge the gap coming from? Well, Taseko obviously had some cash on its balance sheet, but it has also signed a credit facility with Red Kite earlier this year, whereby Red Kite agreed to make US$70M available for Taseko. This did provide the company with much-needed funds, but there obviously also was a 'catch.'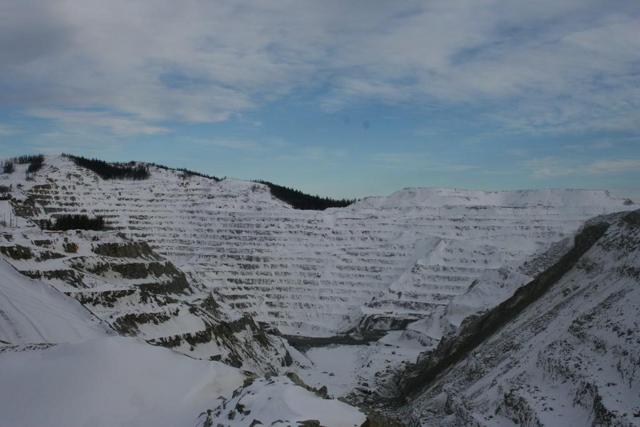 Source: company website
First of all, the interest rate is quite high, at LIBOR + 7.5%, and on top of that Taseko had to issue a call option to Red Kite, allowing the latter to purchase 7,500 metric tonnes of copper at a fixed price of $2.04 per pound. The debt definitely isn't cheap (considering all of Taseko's assets have been pledged as collateral), but Taseko didn't really have another option back then as raising $70M in equity would very likely have led to a dilution factor of 100%.
Investment thesis
Taseko won't run into cash issues anytime soon, but the company better get its act together as it will have to refinance the credit facility in 2019, and that's also the year when the US$200M in bonds will become due. If you do believe in the revival of the copper price which will secure Taseko's future, those bonds might be something you could have a look at as the 7.75% debt is trading at just 67 cents on the dollar, resulting in a yield to maturity of approximately 25%. This also means someone who invested in the company's senior debt after my article last year is already up almost 25%, as Taseko's bonds were trading at 54 cents on the dollar back then.
Taseko Mines is a speculative call option on the copper price. The company has just under three years to hope for a higher copper price. At $2.6 copper, TGB won't have any issues to refinance its debt, but it's doubtful the company will be able to refinance hundreds of millions of debt at acceptable terms as long as the copper price stays where it's at.
And perhaps the company should consider changing its corporate slogan as 'cash flowing today and positioned for the next cycle' isn't really fair, considering the negative cash flow situation as evidenced in the cash flow statements.
Disclosure: I/we have no positions in any stocks mentioned, and no plans to initiate any positions within the next 72 hours.
I wrote this article myself, and it expresses my own opinions. I am not receiving compensation for it (other than from Seeking Alpha). I have no business relationship with any company whose stock is mentioned in this article.
Editor's Note: This article covers one or more stocks trading at less than $1 per share and/or with less than a $100 million market cap. Please be aware of the risks associated with these stocks.