As many readers may remember, back in early July we wrote a piece entitled "Thirsty For REIT Yield: Mortgage REIT Preferreds", where we reviewed agency mREIT preferred stocks (hat tip to Colorado Wealth Management for pointing out that Armour Residential (NYSE:ARR) had a higher non-agency exposure than it had historically due to its purchase of Javelin). In that article, we stated:
There is, however, a safer way to get yield from the mortgage REIT sector, namely, the preferred stock.
Yeah, we know, this is not new from us. Recall we also explained how we carve up the universe:
We look at the mortgage REIT universe and lump the REITs into three broad categories:

Agency mortgage REITs - those mortgage REITs which are singularly focused on buying agency mortgage securities.
Residential mortgage REITs - those mortgage REITs that focus on mortgage securities secured by residential housing. These mortgages generally are "private label" or non-agency mortgages which may not conform to agency underwriting standards or amounts.
Commercial Real Estate mortgage REITs - those mortgage REITs that buy investments securitized by commercial mortgages or directly lend to commercial real-estate owners (balance sheet lenders).
There are differences between the three in terms of leverage (agency has higher leverage than the other two), prepayments (CRE has lower prepayments) and yield available (residential and CRE have higher yields which is why less leverage is required), resulting in investors being able to select their risk exposure.
There are also differences in liquidity of the underlying mortgages where agency mortgages are more liquid and the repo (financing) market is deeper. Liquidity in the other two assets is lower and dries up rather rapidly when markets lock up or come under stress.
At the time, we stated that we would be reviewing each sector of the mortgage REIT universe and giving investors information on the preferred stocks and our top pick.
As promised (if a tad delayed), today we will be looking at the residential mortgage REIT sector. Importantly, these are mortgage REITs which have a higher component of non-agency mortgages in their portfolio, the are not purely non-agency.
The following table lists the preferred stocks of residential mortgage REITs (including ARR, as we relocated it from agency REIT to residential REIT):

Click to enlarge
The bold and italicized issues are those we believe are the best choice where there are multiple choices per issuer. The selection is based on the stripped yield, yield to call and dollar price of the security. As the table above, and chart below, evidence, many of these preferred stocks can be had at or near the 8% level.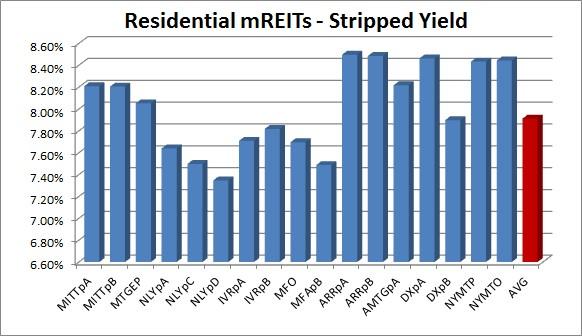 As many investors are also price sensitive, the following chart showing the stripped price should also be helpful: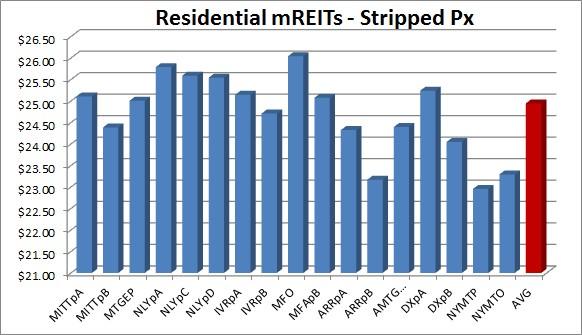 You will note that the majority of the residential mREIT preferreds trade below par (unlike the equity REIT preferred universe where a mere 8% of the universe trades below par.
Finally, A look at yield-to-call graphically: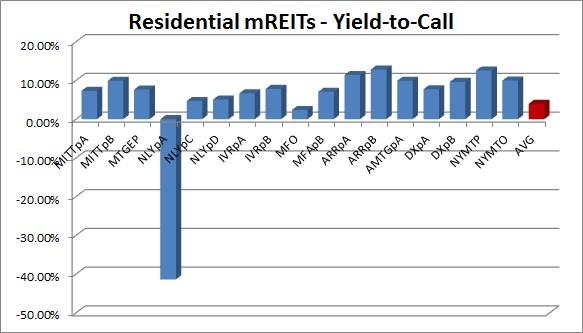 As the chart above shows, only the Annaly Capital As have a negative yield-to-call due to their premium dollar price and the fact that they are currently callable (30 days notice).
As we have often said, we use maintenance of book value as an indication of how good of a job management has done protecting the value of the company as measured through book value per share: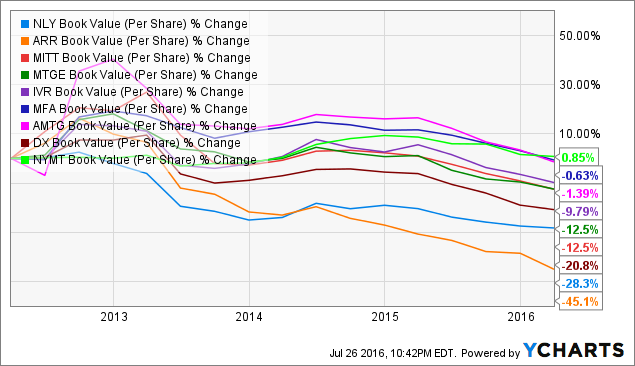 As the chart above shows, Annaly Capital (NYSE:NLY) and Armour Residential have performed the worst in this regard (despite Annaly having 800lb gorilla status). MFA Financial (NYSE:MFA), New York Mortgage Trust (NASDAQ:NYMT) and Apollo Residential (NYSE:AMTG) have placed at the top of the heap.
We also look at price/book value as the market's assessment of future book value and management's ability to maintain the book value: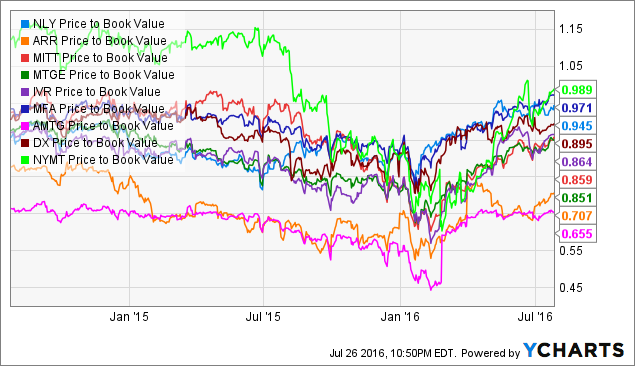 Here we see that NYMT, MFA and NLY are top dogs, while AMTG and ARR bring up the rear. Mixed signals between the two indicators
Next a look at the equity prices of these mortgage REITs, to see what owners have experienced and what they think of the prospects: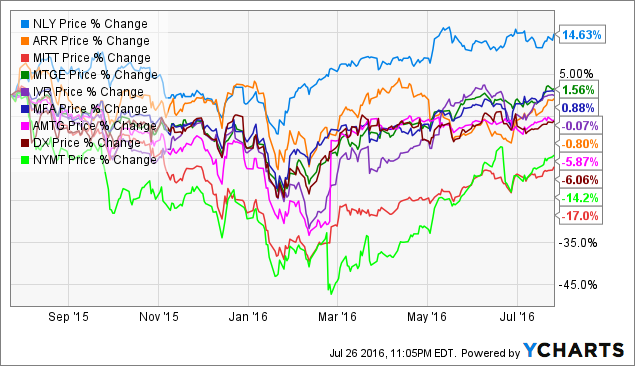 Perhaps things are beginning to look up, as the equities have rebounded from their lows earlier this year.
Finally, a look at the "cost of safety", or the spread between these mortgage REITs equity yield and preferred stripped yield: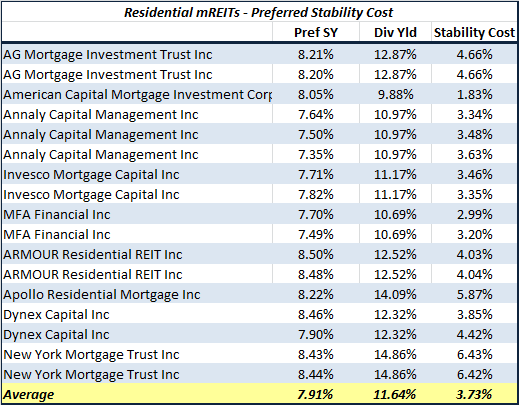 As the table above shows, NYMT and AMTG "pay up" the most for the safety of the preferred stock dividend.
Bottom Line: While ultimately an investor should choose the appropriateness of an investment based upon his/her risk tolerance specifically, we believe that NYMTP and MITTpB offer compelling opportunities for yield focused investors. For those with a lower risk tolerance MFApB and NLYpE at 7.50% stripped yield or better might be more appropriate (adjustable rate portfolio and portfolio management/depth).
Rubicon (who helped me write the article) is long: NLY common (with stops), NYMTO (NYMT preferred from a lower price) and MITTpB.
Author's Note: Brad Thomas is a Wall Street writer and that means that he is not always right with his predictions or recommendations. That also applies to his grammar. Please excuse any typos, and I assure you that he will do his best to correct any errors if they are overlooked.
Finally, this article is free, and the sole purpose for writing it is to assist with research (Thomas is the editor of a newsletter, Forbes Real Estate Investor), while also providing a forum for second-level thinking. If you have not followed him, please take 5 seconds and click his name above (top of the page).
Other REITs: (NYSE:IVR), (NYSE:DX), (NYSE:MTT).
Disclaimer: This article is intended to provide information to interested parties. As I have no knowledge of individual investor circumstances, goals, and/or portfolio concentration or diversification, readers are expected to complete their own due diligence before purchasing any stocks mentioned or recommended.
Disclosure: I am/we are long O, DLR, VTR, HTA , STAG, GPT, ROIC, HCN, OHI, LXP, KIM, WPC, DOC, EXR, MYCC, TCO, SKT, UBA, STWD, CONE, BRX, CLDT, HST, APTS, FPI, CORR, NHI, CCP, CTRE, WPG, KRG, SNR, LADR, PEB, BXMT, IRM, CIO.
I wrote this article myself, and it expresses my own opinions. I am not receiving compensation for it (other than from Seeking Alpha). I have no business relationship with any company whose stock is mentioned in this article.