While they haven't reached the U.S. or the UK yet, negative interest rates are spreading globally. They permeate government bonds in Europe and in Japan. They are a risk to the entire financial system because they destabilize banks, many of which are already burdened with a non-performing loan problem, and destroy capital. Banks get squeezed by them because it's difficult or impossible for them to give their depositors negative rates (why would anyone put money in the bank if they did), but they receive lower rates for their loans. In the long term, negative rates destroy available capital since each loan cycle means the borrower gets less and less back. In general, financially-related assets are not a good deal for investors in such an environment.
While there have been momentary negative rates on very short-term government debt during the Credit Crisis in 2008-09, the floodgates weren't opened until June 2014 when the ECB began its current negative rate policy. Central banks in Denmark, Sweden and Switzerland - all outside the Eurozone - are also engaged in NIRP (negative interest rate policy). The Bank of Japan followed in early 2016. The UK remained above the fray and still has positive rates, along with the U.S. Why the ECB needed to not only lower rates, but take the drastic and risky approach of lowering them below zero when an economic recovery had supposedly been taking place since 2009, is a good question.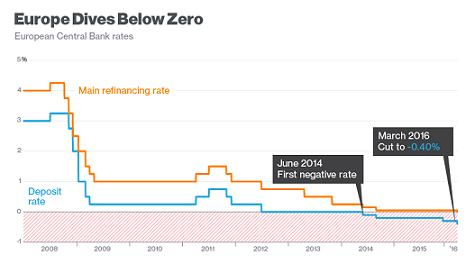 The number of bonds with negative yields increased steadily in Europe and in Japan, first on shorter maturities, then on longer and longer ones. By early July 2016, approximately $13 trillion in debt with negative yields existed in the world. This was over one-quarter and approaching one-third of the total. There is no reason to think that the destruction in yield is over or even will be soon. Brexit has lowered rates in the UK and it might be the next major country to succumb to them, leaving only the U.S. to hold back the tide.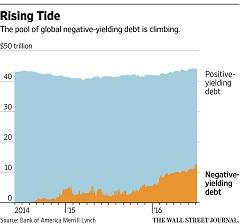 The chart below shows rates across the yield curve in a number of countries. While it is only a few weeks old, the situation has deteriorated since then. The most amazing development was a bond in Switzerland with a 50-year maturity went negative. Japan and Germany already had negative 10-year yields, and Austria, Denmark, France, the Netherlands, Finland, and Sweden were close to crossing the divide. Even countries that have poor credit risks, like Ireland, Italy, and Spain had short-term maturities with negative rates.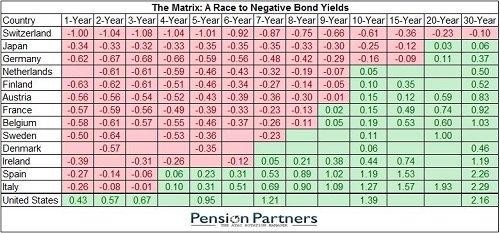 Negative yields are making the trouble worse for already troubled banks. These institutions blanket Europe and Japan (the zombie banks). Deutsche Bank's (NYSE:DB) Q2 2016 net earnings fell 98%, remaining barely positive. The stock is just above an all-time low. Credit Suisse (NYSE:CS) is expected to report a substantial loss for the quarter. It hit an all-time low in early July. British banks: Barclays (NYSE:BCS), Royal Bank of Scotland (NYSE:RBS) and Lloyds Group (NYSE:LYG) had their stock prices cut significantly after the Brexit vote in late June. No group of banks in Europe is in as bad a shape as the Italian banks though. Monte dei Paschi (BMPS in Italy) has traded as low as 25 cents - a screaming vote of no confidence from the market.
While bailouts are coming in Europe (actually bail-ins, since bondholders and depositors will get hit), the bigger risk is another major financial crisis. This would cause a safe haven move to bonds that could create almost universally negative yields throughout the world. Combined with the number of non-performing loans spiking, this could create a domino effect that pushes a large number of banks into insolvency (just like 2008). Would the already overextended central banks be able to handle this crisis this time around? Maybe not.
Conservative investors should avoid bank stocks, almost anywhere in the world, until the percentage of negative bond yields starts declining. More aggressive traders should look for shorting opportunities in this space.
Disclosure: I/we have no positions in any stocks mentioned, and no plans to initiate any positions within the next 72 hours.
I wrote this article myself, and it expresses my own opinions. I am not receiving compensation for it (other than from Seeking Alpha). I have no business relationship with any company whose stock is mentioned in this article.