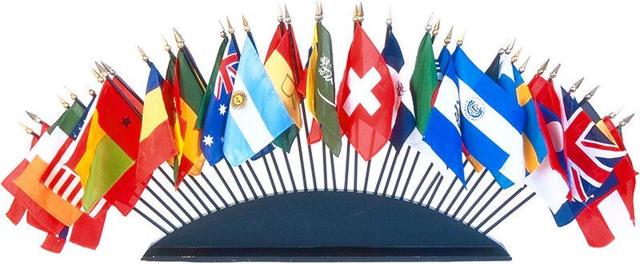 Click to enlarge
"Diversification is the only free lunch on Wall Street"
Investors and readers of Seeking Alpha have heard this refrain hundreds of times. Modern Portfolio Theory, which finds that investors can increase return and reduce risk simply by diversifying their portfolio across holdings with non-perfect correlations, has been fully accepted by investors across the world.
Studies that have expanded on MPT have found that the benefits of diversification are increased further by investing internationally.
Vanguard's 2012 report, "The role of home country bias in global allocation decisions" examined how, despite widespread affirmation of Modern Portfolio Theory, both professional and non-professional investors still tend to be over-allocated to home country equities.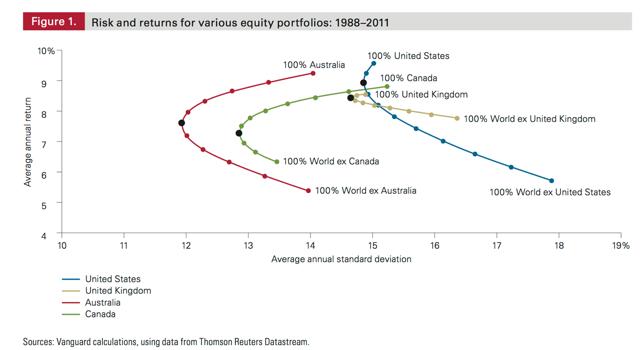 Click to enlarge
Vanguard's diagram above highlights the fact that US investors need a modest amount of international exposure to achieve portfolio optimization, likely in the range of 10-20% based on historical data. Canadian, UK and Australian investors, however, need more international exposure because home country equities in non-US countries tend to be less multinational and more domestic.
Despite this knowledge, portfolios continue to be persistently plagued by home country bias, and as a result, have less than optimal risk/return profiles. Vanguard concludes that, after considering taxes and other quality and corporate governance issues that favor domestic securities, US investors still tend to be slightly under-allocated to international equities.
We estimate that over 95% of US REITs' revenue (NYSEARCA:VNQ) comes from the United States versus 65% for the S&P 500 (NYSEARCA:SPY). It can be extrapolated that, because US REITs are almost entirely domestic-focused, that REIT portfolios may need even more international exposure than typical US market portfolios to achieve optimization.
Depending on an investor's current REIT holdings, we believe that a modest 10-25% allocation towards an international real estate ETF may be worth considering.
The Recent Underperformance of International Real Estate
Only a handful of US REITs have meaningful exposures outside the United States, making it difficult to construct a balanced REIT portfolio that captures an optimal amount of international exposure.
Prologis (NYSE:PLD) is an industrial REIT that derives roughly 30% of its revenue from overseas. American Tower (NYSE:AMT) is a cell-tower REIT that has roughly 33% international exposure. Simon Property (NYSE:SPG) invests about 10% internationally. Roughly 8% of Public Storage's (NYSE:PSA) portfolio is outside the United States. Five of Taubman Centers' (NYSE:TCO) 20 shopping malls are located outside the US.
Outside of these REITs, investors would be hard-pressed to find meaningful exposure to international real estate, but that has not necessarily been a bad thing. Over the past five to ten years, international real estate has woefully underperformed US real estate.
REITs like Kimco (NYSE:KIM) have divested entirely from international holdings due to underperformance relative to the United States. Prologis has greatly underperformed its industrial peers because of its exposure to Europe amid the Brexit vote. Taubman's Asian portfolio is a continued source of scrutiny for the mall REIT.
While the Vanguard US REIT ETF has returned 12.43% annually over the past five years, Vanguard Global ex-U.S. Real Estate ETF (NASDAQ:VNQI) has returned just 4.95% annually. The US REIT ETF also has a higher dividend yield of 3.3% versus the ex-US ETF which yields 3.0%.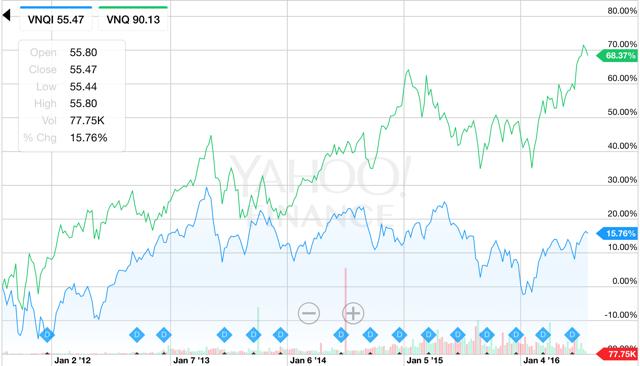 Click to enlarge
Why Invest in Underperforming International Real Estate?
So why would you want to consider allocating more to international real estate when it has been performing so poorly relative to US real estate? We published an article earlier this week, "Beat the REIT Index Using This Contrarian Strategy" where we found that contrarian investing in the REIT sectors has historically produced positive excess returns. The recent underperformance of international real estate compared to US REITs could exhibit a similar mean revision trend.
It is also important to consider international real estate returns in the context of international equity returns over the past five years, which have been dismal at best. Vanguard FTSE All-World ex-US ETF (NYSEARCA:VEU) has returned a paltry 0.39% annualized before taxes over the past five years.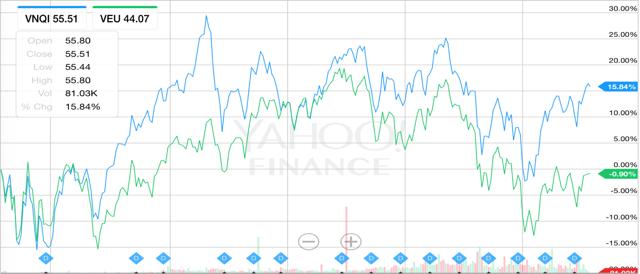 Click to enlarge
Looking at the performance of international real estate in that context paints a much different picture. International real estate outperformed international equities by a factor of more than ten (5% compared to 0.5%). While REITs in the US outperformed equities, the degree to outperformance paled in comparison.
REIT investors worried about yield sensitivity could also quell some of those fears by taking a modest position in international real estate. Domestic REITs have a moderately high correlation with movements in interest rates over the past three years, reflected by the .310 correlation in the chart below. International REITs, on the other hand, have negative correlation with interest rate moves, providing a hedge to the possibility of rising domestic yields.

Click to enlarge
International Real Estate ETFs
Investors should be aware that there are quite notable differences between these international real estate ETFs. While S&P 500 ETFs and other US market index ETFs are nearly identical between providers, these ETFs vary substantially in their holdings and continent exposure because they track slightly different underlying indices. All three ETFs we examine, though, are relatively low-fee, tax efficient and track their underlying index very well.
It is also important for investors to be aware that these ETFs are exclusively ex-US, while other "global real estate" ETFs include 50% or more of US exposure. Past performance metrics of those ETFs will appear far better because of the outperformance of US real estate.
The largest international REIT ETF is Vanguard's VNQI. This ETF tracks the S&P Global ex-US Property Index. With an expense ratio of just 0.18% per year, it has the lowest fees of any international real estate ETF. A reflection of its benchmark, VNQI is more concentrated in the Asian region than the other two ETFs, and relatively underweight Europe. It has a relatively minor exposure to the UK.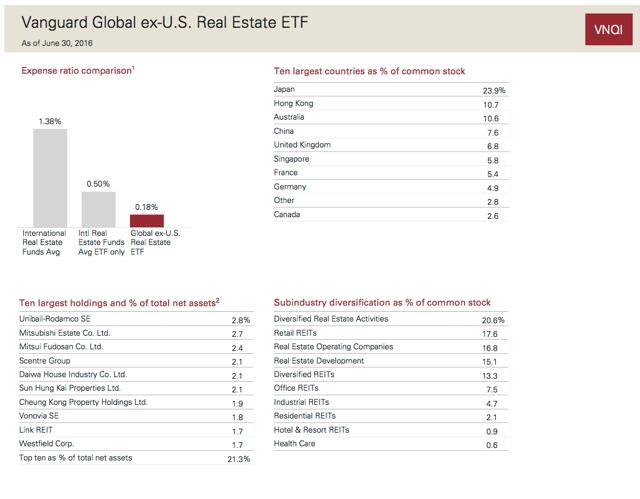 Click to enlarge
The second largest ETF is the SPDR Dow Jones International Real Estate ETF (NYSEARCA:RWX). This ETF tracks a slightly different benchmark, the Dow Jones Global ex-U.S. Select Real Estate Securities Index. The defining characteristic of RWX is its high exposure to Europe, particularly the UK, and its diversification across many more countries than the other two ETFs. RWX has the highest expense ratio of the three at 0.59%.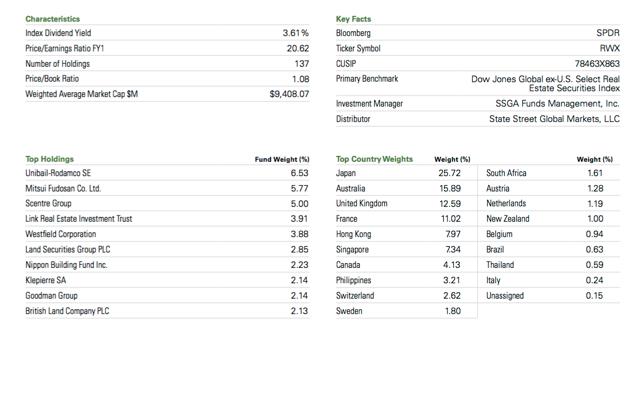 Click to enlarge
The third international ETF is the iShares International Developed Property ETF (NYSEARCA:WPS), which tracks the S&P Developed ex-US Property Index. Again, by nature of the different benchmark, this ETF has different continent exposures. Like the SPDR offering, WPS has more European exposure than Vanguard's ETF, but has its allocation balanced more evenly throughout Europe with minimal exposure to the UK. The expense ratio of WPS is 0.48%.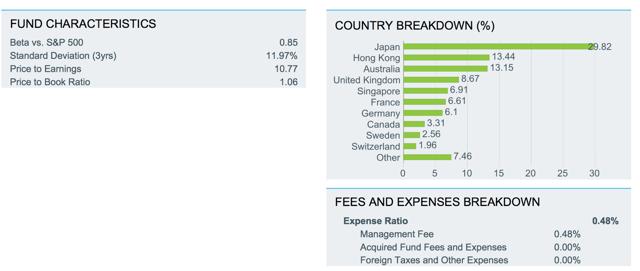 Click to enlarge
Despite the substantially different allocation across continents, these three ETFs produced essentially identical performance over the past three and five year periods. Below are the returns for VNQI. The performance data from the other two ETFs are within 100 basis points in each period.

Click to enlarge
Bottom Line: Three Good Options for Gaining Diversification
We would conclude that any of these three international real estate ETFs would be suitable for long-term investors who want to diversify their US-centric real estate portfolio for the potential benefits discussed above. We would tend to prefer VNQI for its lower fees and more moderate exposure to Europe.
Several US REITs have significant international exposure, but it would be difficult to achieve an optimal level of diversification with US REITs alone. Investors will likely benefit from the interest rate hedging properties of international real estate, and may capitalize on the contrarian mean-reversion effect seen in other REIT sectors.
The stellar investment performance of US REITs has given US investors good reason to have a "home country bias." The US continues to have the strongest economic outlook of the major developed economies, and we believe that the multi-decade rally in US REITs has room to run. It may be a good time, though, to consider adding some international balance to the REIT portfolio.
Disclosure: I am/we are long PLD, PSA, AMT.
I wrote this article myself, and it expresses my own opinions. I am not receiving compensation for it (other than from Seeking Alpha). I have no business relationship with any company whose stock is mentioned in this article.