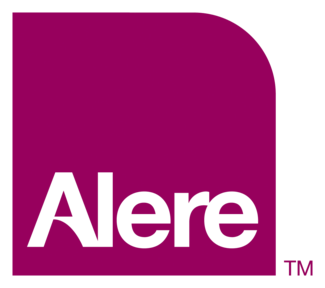 Reports surfaced on Thursday that Alere (NYSE:ALR) is facing a criminal probe over its Medicare and Medicaid billing. According to the Wall Street Journal:
The Justice Department's criminal-fraud section sent Alere a subpoena last month seeking patient-billing records, according to people familiar with the matter. It asked for information about Alere's efforts to collect copayments from patients, as well as forms submitted on their behalf to government programs such as Medicare, the people said.

Federal law bars health-care companies from covering the payments for patients insured by government programs like Medicare and Medicaid. The Justice Department also is investigating whether Alere made payments or delivered items of value to doctors who order the tests, the people said. The government considers such forms of assistance to be illegal kickbacks.
These reports follow news last month that the company received a subpoena from the DoJ seeking documents relating to its sales practices, as I talked about a few weeks ago. This doesn't bode well for the closing of the Abbott (NYSE:ABT) deal, especially after the Energy Transfer Equity (NYSE:ETE) and Williams Co. (NYSE:WPZ) deal was called off. Alere stock was down close to 30% today.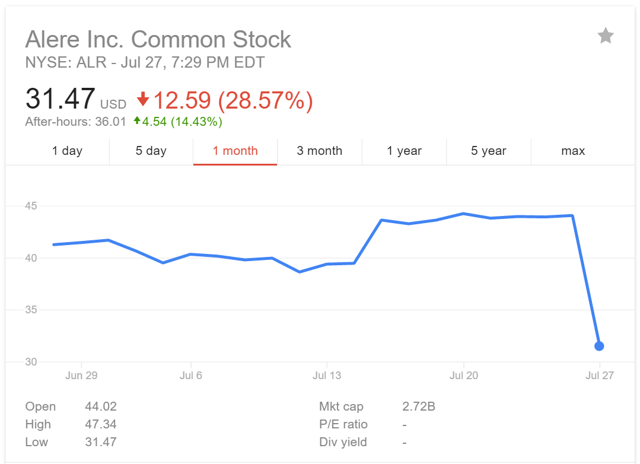 Why You Never Mess With the Government
While we have yet to know the extent of Alere's misdoing, there's a great example from a few months ago of a company which got a massive fine from overbilling the government for drug testing. Millennium Healthcare (OTCPK:MHCC) got hit with a $256 million fine for overbilling the government, as you can see below:
The government alleged that Millennium prompted doctors to order excessive numbers of urine drug tests without individualized assessments of patients in violation of federal healthcare program rules. It also alleged that Millennium gave free urine drug testing cups to doctors on the condition that the physicians would return the urine to Millennium for hundreds of dollars of additional testing in violation of the Stark law and anti-kickback statute.
The fine was even big enough to cause the company to file for bankruptcy. Anything related to kickbacks is always bad news. Who knows what the DoJ would do to Alere if it finds some sort of wrongdoing.
If the government finds some sort of wrongdoing, I'm sure that would be reason enough for Abbott to back out of the deal. If Energy Transfer Equity can back out based out a tax technicality, I'm sure Abbott would be able to do the same if there were a fraud issue.
How This Affects Shareholders
Alere's problems present investors with an interesting situation. The stock is trading well below its buyout offer of $56, but still has the potential to go much lower. If the DoJ finds criminal activity, I'm sure the company will get slammed with a fine and further restrictions. Depending on the size of a potential fine, that could cause problems with how much debt Alere already has.
Moody's already rates Alere at B2, only two notches above the dreaded C territory. On a Debt/EBITDA basis, leverage is already close to 6.0x. Dealing with a potentially large fine could cause some pretty severe liquidity issues. Like I said before, investors should try to stay away from the potentially large merger arbritage spread and remain on the sidelines.
Disclosure: I/we have no positions in any stocks mentioned, and no plans to initiate any positions within the next 72 hours.
I wrote this article myself, and it expresses my own opinions. I am not receiving compensation for it (other than from Seeking Alpha). I have no business relationship with any company whose stock is mentioned in this article.