3M (NYSE:MMM) declined slightly after the company reported another sluggish quarter and management lowered its full year sales guidance. Sales fell 0.3%, missing estimates by $40 million, and 3M now expects organic growth of 0-1% for FY16, down from the previous forecast of 1-3% growth. Nevertheless, the stock still trades at levels that aren't justified by underlying performance. Thanks to buybacks, MMM is up more than 18% YTD. But organic currency adjusted sales were lower in each of the first two quarters compared to last year, and earnings have only improved modestly. Management has spent $2 billion on buybacks through the first two quarters, and plans to spend an additional $2-$4 billion on repurchases this year. 3M's financial health has worsened and there are no signs that economic conditions around the global are about to improve. The company is more exposed to a slowdown than in the past, and if interest rates rise the stock could be in trouble.
Figure 1: 3M Price Graph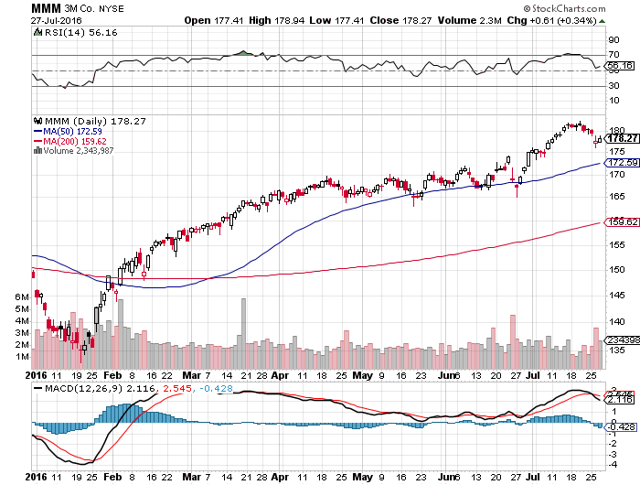 Click to enlarge
Source: stockcharts.com
The second quarter revenue miss is more worrying when you consider that management lowered its Q2 sales guidance last month. 3M was able to offset some of the decline through price increases (average prices rose 1.1%), but the 1.3% fall in volumes (which is a better indicator of end market demand) confirmed that economic conditions in MMM's biggest markets are not getting any better. Organic growth in the US (40% of 2015 revenues) was flat, as declining manufacturing activity and low oil and gas prices weighed on the firm's Industrial businesses. We expect the weakness in the energy sector to persist throughout the year as a result of record refined product inventories that will keep prices depressed, and that the strong dollar will continue to make life difficult for US manufacturers. But Asia-Pac (30% of 2015 sales) was predominately responsible for the poor performance, where a double-digit decline in electronics and energy drove regional sales down 5.4%. Management blamed "soft end-market demand for consumer electronics", but we think 3M lost market share instead. Asia-Pac is the fastest growing market for consumer electronics, and management blamed weak demand last year as well when sales fell, even though electronics spending in Asia increased.
While competitors have cut their budgets in response to weak global demand, 3M has maintained its spending levels. The company allocated 5.7% of sales to R&D in Q2 (unchanged from last year), and capex on a percentage-of-sales basis fell only 50 basis points year-over-year to 4.3% (and still sits at historical levels). In a way the strategy makes sense. During periods of economic malaise the company has to provide more innovative products in order to get customers to spend more, and 3M has advantages in technological expertise and scale that allow it to make investments that would be uneconomical for smaller firms. The logic is that it puts 3M in a better position relative to competitors for when demand recovers. The problem is that things aren't getting better, and in order to return more cash to shareholders 3M has had to increase leverage. OCF fell 3.1% last year, and declined again in Q1. Meanwhile D/E increased from 0.52 in 2014 to 0.76 in the latest quarter. Cash now accounts for just 4.6% of assets, compared to 8% in 2014.
Increased operating and financial leverage leaves 3M more exposed to a protracted period of economic weakness. But interest rate risk is still the biggest threat to the stock's valuation. 3M has benefitted from low interest rates in a number of ways: low rates have made the company's dividend more attractive, made it cheaper to borrow and fund share repurchases, and kept the firm's growing debt burden more manageable. We expect interest rates to remain low through 2017, and that MMM's valuation will stay artificially high in the short-term.
Conclusion:
3M is overvalued: the stock trades at a 29% premium to historical averages on a trailing earnings basis. Thanks to low interest rates and buybacks the stock has climbed higher this year. But performance hasn't improved, and the latest results confirmed that the global economy is still fundamentally weak in many areas. 3M has increased leverage and is now more exposed to a prolonged period of weakness. Investors need to keep a close eye on cash flows, but interest rates will big the biggest driver of the stock's performance over the coming months. We don't see them going high enough to drag down 3M anytime soon.
Disclosure: I/we have no positions in any stocks mentioned, and no plans to initiate any positions within the next 72 hours.
I wrote this article myself, and it expresses my own opinions. I am not receiving compensation for it (other than from Seeking Alpha). I have no business relationship with any company whose stock is mentioned in this article.