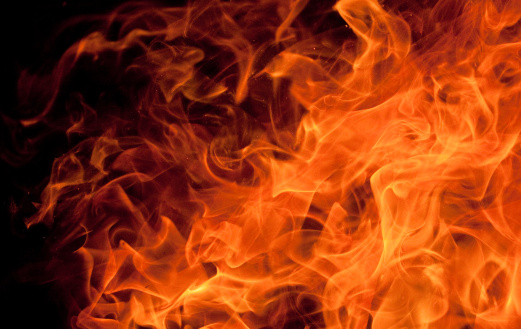 Introduction
Every week, we closely monitor net speculative positions on the COMEX as well as ETF holdings in so far as the historical economic behavior of gold prices suggests that over a short-term horizon (<3 months), gold prices are largely influenced by changes in the forward fundamentals, reflected in changes in net spec length, ETF holdings, and central bank reserves.
Speculative positioning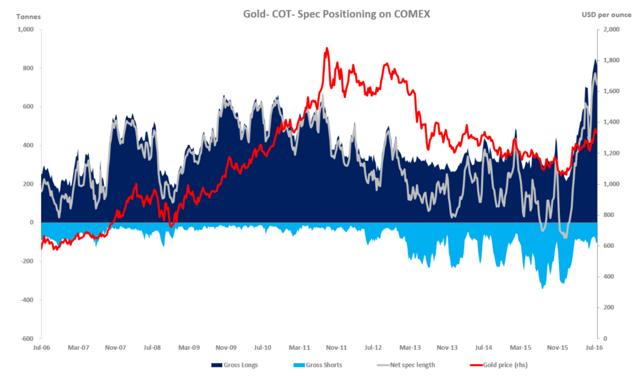 Click to enlarge
Source: CFTC.
Gold. According to the latest Commitment of Traders (NYSE:COT) report provided by the CFTC, money managers, viewed as a relevant proxy to gauge speculative activity, lowered their net long position for a second straight week as of July 19. Over the period covered by the data (i.e. July 12-19), the gold price was broadly unchanged.
The net long fund position decreased 19 tonnes or 3 percent week-on-week (w/w) to 715.53 tonnes. As a reminder, it reached an all-time high of 774.16 tonnes earlier this month (July 5) and started the year at 31.96 tonnes (January 5).
The weekly deterioration in the speculative positioning was driven by a combination of long liquidation (-24.92 tonnes w/w) that was partly offset by short-covering (-5.83 tonnes w/w).
Longs reduced their exposure by 24.92 tonnes for a second straight week. Still, the size of the gross long leg remains up in July, suggesting that long liquidation has been muted so far. It seems that weaker hands are exiting their bullish bets but buying on the dips could appear.
Shorts covered their positions slightly by 5.83 tonnes week-on-week for the first time in three weeks. Although we acknowledge that the gross short leg, currently at 99 tonnes, has deflated noticeably in the year to date, it is noteworthy that it is still below its long-term average of 85 tonnes. There is therefore room for more short-covering in the weeks ahead, especially in case of a renewed rally in gold.
The fall in the net speculative length over July 5-12 was, in our view, largely triggered by a negative macro backdrop for gold, including:
1)Higher US real rates - the yield on the 10-year US TIPS rose from 0.0139 percent to 0.0656 percent
2)A rising dollar - the DXY rose from 96.441 to 97.063
3)Lower risk-aversion - the VIX fell from 13.55 to 11.97 and SPDR S&P 500 Trust ETF ( SPY) reached a new all-time high- resulting in less safe-haven flows
4)Falling oil - brent crude fell from $48.47 per barrel to $46.66.
As we explain more in detail in the next section, we believe that current Fed's lack of conviction to raise rates is likely to pressure US real rates lower. This should therefore prompt speculators to rebuild long positioning in the coming weeks. But the higher the net long fund position, the higher the selling pressure once sentiment reverse. We expect renewed speculative selling later this year.
Investment positioning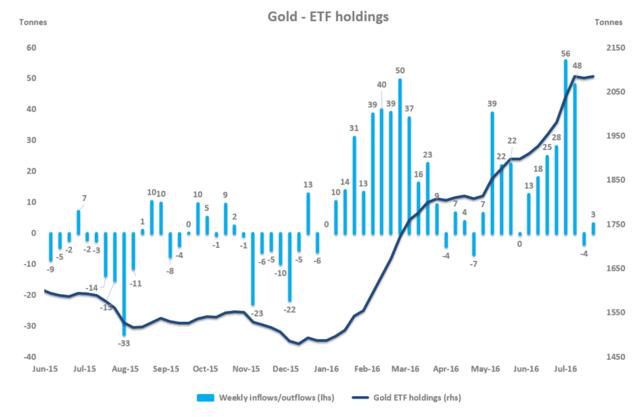 Click to enlarge
Source: FastMarkets.
Gold. ETF investors lifted slightly their holdings as of July 22, pushing ETF holdings up 3.18 tonnes or 0.2 percent w/w to 2,084 tonnes.
Gold ETF holdings have increased 70 tonnes or 3.5 percent in July so far after increasing 118 tonnes or 6.2 percent in June. In the year to date, holdings are up 603 tonnes or 41 percent, indicative of a very strong sentiment.
Similarly to speculative demand, gold ETF demand has risen sharply this year because US real rates have fallen noticeably. As can be seen below, the 10-year US TIPS yield dropped from 0.73 percent at the start of the year to a low of -0.06 percent early in July. The fall in US real rates has been entirely driven by a steep fall in nominal yields because inflation expectations fell over the period. And nominal yields have fallen for two reasons. First, from an external point of view, the expansion in monetary policy accommodation in major DM central banks has resulted in a steep compression of yields, which in turn has exerted downward pressure on US nominal yields. As seen below, almost 40 percent of all DM benchmark bonds pay a negative yield.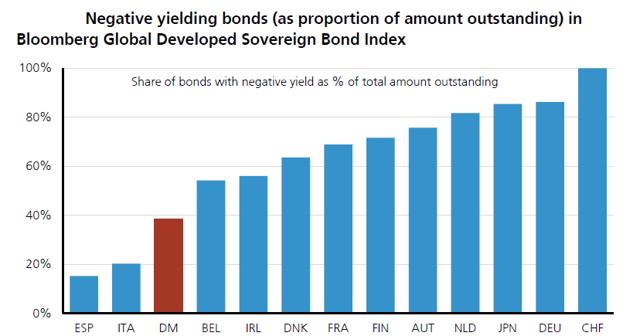 Click to enlarge
Source: UBS.
Second, from an internal point of view, the US economy has lost some growth momentum, judging by the downtrend in the index of leading economic indicators (NYSEMKT:LEI).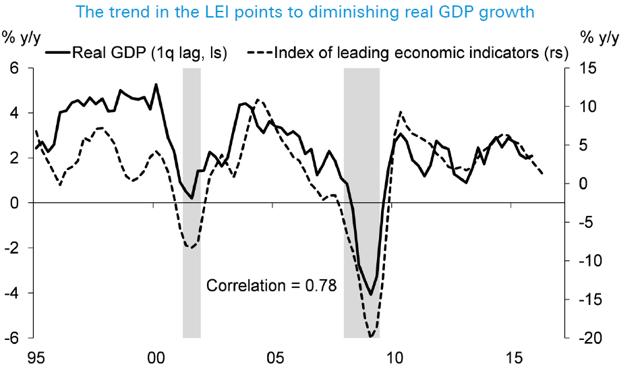 Click to enlarge
Source: DB.
As can be seen above, its year-on-year growth fell to 0.7 percent, its lowest since November 2009 (-2.6 percent). A negative year-on-year growth would raise dramatically the probability of a recession in coming months.
Against this backdrop, the Fed has had to revise steadily lower its US economic outlook in addition to take growing downside risks coming from abroad (instability in China, vulnerable EU banking sector, rising geopolitical tensions, deflationary spiral in Japan, and Brexit). The expected path of Fed funds rate has therefore become flatter, reflecting a slower removal of policy accommodation.
The cautious stance of the Fed has been once again been confirmed in the latest July FOMC statement. Although the Fed recognized that near-term risks to the economic outlook have diminished, it did not judge that economic conditions were sufficiently favourable to guide the market toward a steeper path of Fed funds rate. One of the major reasons behind Fed's lack of conviction to raise rates is in our view the deterioration in the inflation outlook. Measures of inflation, inflation compensation, and inflation expectations have softened (see chart below) while policy makers have become increasingly concerned about a desanchoring on the downside of inflation expectations.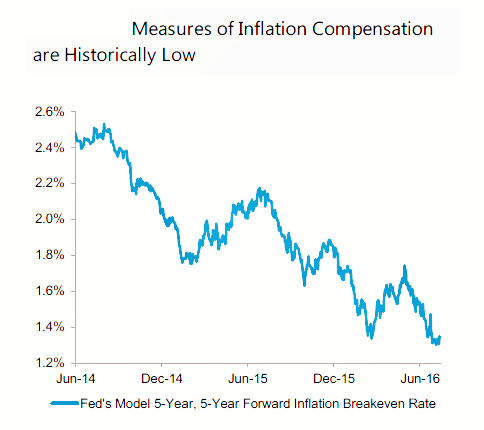 Source: Morgan Stanley.
In the near-term, the lack of conviction of the Fed, confirmed by the absence of hawkish vibes in its latest monetary statement is likely to push US real rates lower. As a result, ETF inflows are likely to accelerate, pushing gold prices higher.
But we think that the Fed will eventually be forced to become more hawkish at some point later this year, not necessarily because of the possible improvement in US economic conditions but because of much easier financial conditions. As we wrote in a previous article, the Fed is highly influenced by financial conditions, which is why the most dominant driver of changes in the Fed's Dots from one meeting to another has been changes in equity prices over the past three year, as the correlation analysis below suggests.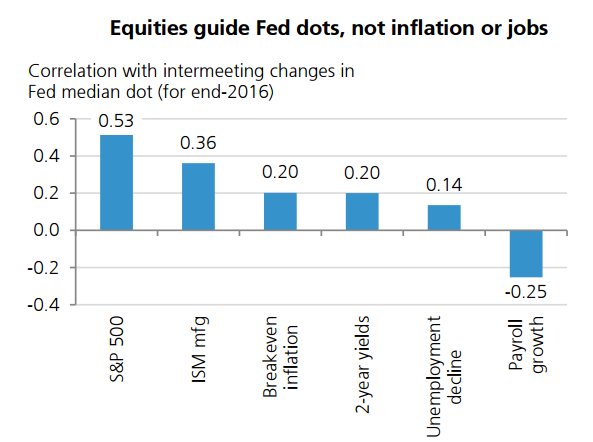 Source: UBS.
In this regard, we believe that the Fed is currently playing a dangerous game given already much easier financial conditions. A wave of hawkishness is highly likely in the coming months, which could force the market to revise upwardly the expected path of Fed funds rate, which in turn would provoke a clear-bottoming out process in US rates. Under this scenario, we would expect strong outflows from gold ETFs.
Spec positioning vs. investment positioning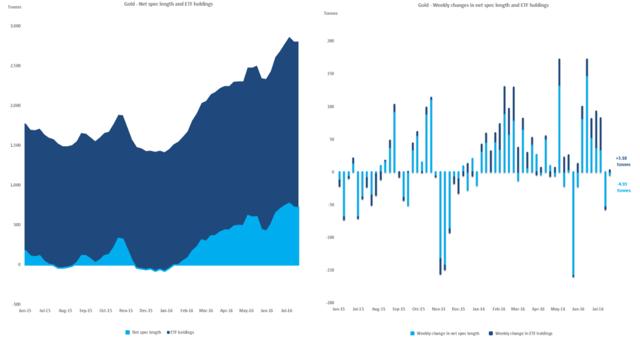 Click to enlarge
Source: MikzEconomics.
SPDR Gold Trust ETF (NYSEARCA:GLD) positioning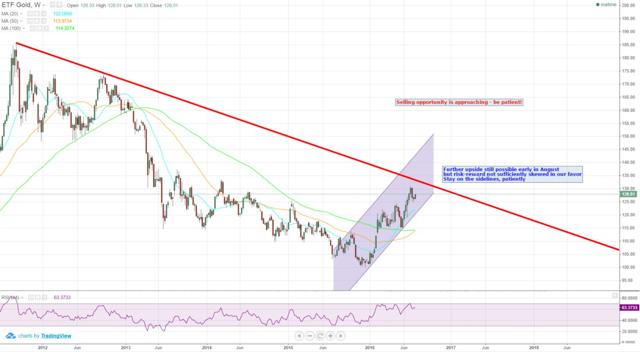 Click to enlarge
Source: TradingView.
SPDR Gold Trust ETF (GLD) was broadly unchanged in the week to July 22, down 0.43 percent. But it has rebounded sharply since Monday, up already 1.4 percent.
The recent increase in prices confirmed our initial intuition outlined in our previous reports - there is still further possible upside in the near-term so it is not worth taking a short position at the crucial juncture.
The technical picture remains sound - key daily moving averages are upward sloping and GLD continues to trade in its ascending channel.
The macro environment remains positive for gold - the July FOMC statement confirmed that the Fed is set to remain dovish in the near-term, so financial conditions may become still easier, pushing US real rates further lower, which in turn would provoke a rebuilding of long spec positioning on the Comex and ETF buying at a stronger pace than in the preceding two weeks. At the same time, we feel that the Fed is playing a dangerous game and may at some point burn its fingers once financial conditions will become too easy and the Fed will be forced to reguide the market. When this happens (probably later this year), a strong sell-off in gold may occur.
To sum up, we think that short GLD opportunities will be more rewarding that long ones in the second half of the year. But in the near-term, going short GLD may not be rewarding. Hence, patience is required, although the absence of taking action is not exciting. But we are convinced that our patience will pay off greatly later this year.
Trading perspective
We are not currently positioned in GLD but we are looking to implement a short GLD position.
Our three trading criteria (fundamentals, technicals, tone) need to be met before jumping on the short side.
For longer-term investors, we remain of the view that accumulating gold on a regular basis in a well-diversified risky portfolio with a horizon of 5+ years will be a rewarding strategy, especially for non-US investors (the dollar will remain king in the coming years). But shorting gold later this year could provide a decent hedge against a sudden sell-off in gold.
For the sake of clarity, please find below the track record of our trade ideas since the start of the year. We currently do not have active trade ideas.

Click to enlarge
Source: MikzEconomics
About: SPDR Gold Trust ETF, Includes: PowerShares DB Gold ETF (NYSEARCA:DGL),VelocityShares 3x Inverse Gold ETN (NASDAQ: DGLD), DB Gold Double Long ETN (NYSEARCA: DGP), DB Gold Short ETN (NYSEARCA: DGZ) SPDR S&P 500 Trust ETF (NYSEARCA:SPY)
Disclosure: I/we have no positions in any stocks mentioned, but may initiate a short position in GLD over the next 72 hours.
I wrote this article myself, and it expresses my own opinions. I am not receiving compensation for it (other than from Seeking Alpha). I have no business relationship with any company whose stock is mentioned in this article.