It seems like a beat on the top/bottom line had become a formality and an idea that most investors had taken for granted from Gilead Sciences (NASDAQ:GILD), but Monday's earnings report displays that there are valid concerns for the company moving forward after seeing HCV sales decline for a second quarter in a row on a sequential basis, despite beating Street estimates on both EPS and revenue this time around.
Core business metrics aside, Gilead still hasn't pleased the biotech world with its "next big" acquisition, while it watches its peers deploy capital left and right at public and private small-mid cap names in the biotech space. Price action has done more than its fair share for Gilead in terms of following the fundamental story, and the market seems to have accurately priced a company at ~7x forward EPS estimates with revenue only expected to decline or remain flat in the short term.
Pricing pressure remains a factor in HCV sales whether it'd be from a shift in payer mix, regulatory/government bodies, or competitive factors. With HCV revenue down ~19% on a y/y basis from Q2 2015 to Q2 2016, questions remain on how much longer the company can continue to drag on its narrative of developing its own organic pipeline in an environment that is kind only to those who are aggressive and either in-license compounds or simply outright purchase them.
I stand neutral on Gilead moving into the latter part of the year due to a lack and loss of investor confidence and patience in short-term plans and lingering competitive/regulatory pressure and headwinds surrounding the HCV business.
HIV Business Continues To Shine But HCV Underperforms For A Second Straight Quarter
Worldwide HIV sales growth of ~9% on a sequential q/q basis and 15% on a y/y basis was primarily driven by the recent launches of Genvoya, Descovy, and Odefsey, which are big moves for the company in terms of maintaining its footprint in the HIV market. Additionally, Genvoya seems to be relatively well received by providers and continues its growth, taking around ~18% of patients from Atripla in terms of switches per management commentary on the CC.
Interestingly however, despite the addition of the three new HIV compounds over the past year, U.S. treatment-naive market share has dropped from ~90% to ~76% from Q1 2014 to Q1 2016. With that in mind, I'm expecting revenue from Stribild, Complera/Eviplera, and Atripla to continue to decline on a sequential basis as more patients switch over to newer regimens, primarily Genvoya. In turn, Odefsey and Descovy should both see strong launches as they take patients away from older Gilead treatments.
Due to the nature of the HIV treatment market and the fact that the majority of patients continue treatment for life, I'm not in the camp of projecting a significantly gloomy NTM (next twelve months) for the company's HIV portfolio, primarily because of the strong launches of new TAF-based regimens and the progress of the Phase 3 compound B/F/TAF (includes Bictegravir) which is expected to read out in Q2 of 2017 and should be on the market in late 2017 to early 2018.
All remains well for the HIV business, but it may have to do more than its fair share of carrying the majority of Gilead's revenue growth or assist in offsetting declines in the short term.
The Q1 miss in HCV sales was surprising at first glance but understandable given normal seasonal trends across the biotech/pharma industry, but Monday's Q2 earnings did provide additional color that does indicate a problem with the direction that the HCV business is heading in.
The company did state that the 19% y/y decline and ~7% decline sequentially q/q was due to higher gross-to-net adjustments because of a shift in payer mix, a change that was expected but is indeed alarming if discounts continue to grow. Specifically, COO Kevin Young declined to break down public payer mix but did indicate that public payers accounted for ~45%, which was actually up from Q1 2016 and Q4 2015.
Further, Young also went on to say that the company has seen "increased competitive activity" in the Medicaid setting, which would force any of the major Hep-C players, namely Gilead or Merck (NYSE:MRK) to cave into lower pricing in order to sign/win contracts with the agency. As management has put it, HCV is a "curative market," and additional treatment advances will only increase the amount of options available for providers and patients, following the fundamental basics of supply & demand.
Additionally, the company admitted to witnessing some payers treating the products on the HCV market as commodities, which supports the view of having less appeal for a certain drug once supply rushes in. Management chimed in after Zepatier received its official label and pricing stating that payers would in fact take a look at the label and possibly prefer Harvoni or Sovaldi over Zepatier given the restrictions over testing.
With that in mind however, it's key to note that pricing was in fact renegotiated and gross-to-net adjustments have grown substantially but patient initiations still continue to lag after peaking in Q1 2015. Interestingly, the company seems to have enjoyed the lowest gross-to-net adjustment rate in Q2 2015 for US patients, and Q3 2015 for ex-US patients. Public payers have in fact stepped up and opened access over the past six months, but patient flow and initiations haven't exactly followed the same pattern, which ultimately is a big negative for the company if pricing continues to be an issue.
Moreover, average revenue per patient on a sofosbuvir-based regimen (Harvoni, Sovaldi) has declined ~24% on a y/y basis from Q2 2015 to Q2 2016 in the US and ~6% ex-US. Further pricing pressure will only cause additional downward pressure on this metric if patient starts don't shift towards the upside, which is likely the case going forward for US figures. Recall, management stated that they expect patient flow to be fairly stable throughout 2016, which translates to either flat growth or marginal declines in both Harvoni and Sovaldi revenues in the US.
Figure 1: US HCV Revenue Per Patient Treated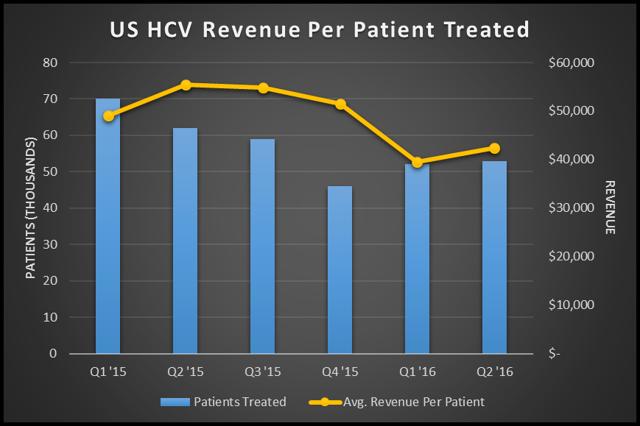 (Source: Company Q2 Earnings Slides)
Figure 2: Ex-US HCV Revenue Per Patient Treated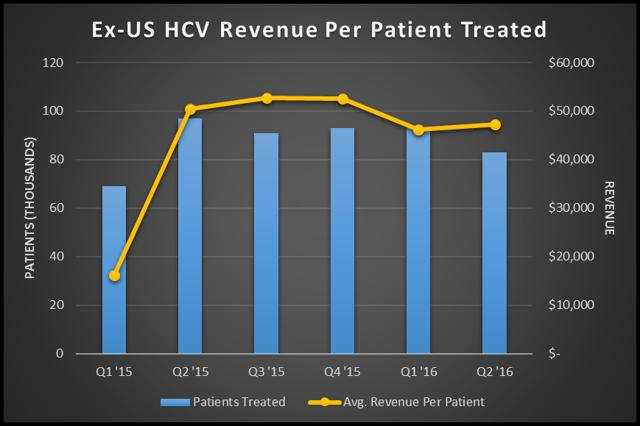 (Source: Company Q2 Earnings Slides)
Outside the US, Japan was a hit for a short period of time shortly after receiving approval for both Harvoni and Sovaldi but is now starting to look like a soft spot for the company moving forward. The company did guide for substantial price cuts across both HCV products due to government mandates, but a ~49% decline in Harvoni revenues on a sequential basis from Q1 to Q2 2016 isn't exactly what the doctor ordered, despite having low hopes coming into the report.
Furthermore, new patient starts shrunk over 60% to 19,000 from 31,000 in Q1, signaling either weak flow or a decrease in the warehousing of patients. This trend doesn't bode well for the company's plans on breaking into China in my view, and I don't see any major growth coming from the country in the event the drugs are approved there.
Competitive/commercial pricing pressure seems to have finally got to Gilead in terms of setting base WAC as evident by the lower than expected pricing of Epclusa at $74,760 per treatment. Management seems to have chosen to join the rest of the players as the market dynamics change and allowed for lower pricing if it meant that the company could maintain market share across both Harvoni and Sovaldi.
Merck reports Q2 earnings this Friday, July 29th, and it'll be interesting to see how Zepatier sales have come in after its weak pricing in early 2016. Merck reported $50 million in sales from the two months that Zepatier was on the market in the first quarter (roughly).
What Can Possibly Get Gilead Moving?
The company is set up to have a fairly busy third and fourth quarter with the potential approval of the TAF-based regimen in HBV, completion(s) of the Phase 2 study testing GS-9620 in treatment-naive HBV patients, Phase 2 studies testing Simtuzumab and GS-4997 (ASK1) in NASH, Phase 3 study testing Momelotinib in myelofibrosis (MF), and Phase 2 trial testing GS-5745 (anti-MMP-9) in Crohn's Disease. As a refresher, Gilead is also testing Filgotinib (partnered with Galapagos) in Crohn's Disease as well as RA and Ulcerative Colitis.
Figure 3: Gilead Notable Catalysts Remaining in 2016

(Source: Company Q2 Earnings Slides)
Just as the rest of the Street has been preaching for over one and a half years or longer now, I also believe that Incyte (NASDAQ:INCY) remains the best option for Gilead if the company is willing to expand in the inflammation space despite the company being relatively expensive at the moment. I think that the readout of the study testing Momelotinib in myelofibrosis and any pivotal data on Filgotinib will be key in determining if Gilead wants to pursue a potential Incyte deal.
Incyte's Jakafi is currently approved for the treatment of myelofibrosis and the company also has Baricitinib (partnered/licensed with Eli Lilly) which is awaiting approval for the treatment of RA. The market for the treatment of Rheumatoid Arthritis is expected to reach ~$9.3 billion by 2020 and the company could strike gold if any of its internal candidates demonstrate clinical benefit or in the event that the company decided to pursue a potential deal that would bring in a RA compound.
Valuation Summary
My model projects ~$30.3 billion in FY2016 revenue, which is in line with revised guidance of $29.5-$30.5 billion. For the third quarter, my model projects total global HCV revenue to come in around $3.73 billion, down from $3.99 billion in Q2. In addition, I'm projecting for Non-GAAP net income to arrive at around $16.2 billion for FY2016 with Non-GAAP net margins to be ~53%, which is down from 59% a year ago but in line with the 53% in FY2014.
GAAP to Non-GAAP adjustments as a percentage of revenue are projected to be similar to adjustments made in recent quarters. Further, I've modeled for R&D to remain higher than usual as evident by the past few quarters because of the ramp in internal R&D.
Figure 4: Gilead Income Statement Projections

(Source: Company filings, personal estimates)
With my NTM EPS projection of $11.87, using a 7x P/E multiple, and net cash of ~$0.88/share, I arrive at a target of ~$84, implying upside of ~3% from current levels. I'll adjust my multiple in the event of material changes to the pipeline and/or changes in either the HIV or HCV business in the latter part of the year. For the time being however, Gilead respectfully deserves to be trading at a mere ~7x forward EPS estimates.
Update: Per my email correspondence with Gilead's investor contacts, I am told that the company did/has not disclosed the price of the Priority Review Voucher and who it was purchased from during the second quarter. Further, the company does have plans laid out for the use of the voucher, the specifics will be announced at a later time.
Note: Data as of market close, July 27th, 2016.
Disclosure: I/we have no positions in any stocks mentioned, and no plans to initiate any positions within the next 72 hours.
I wrote this article myself, and it expresses my own opinions. I am not receiving compensation for it (other than from Seeking Alpha). I have no business relationship with any company whose stock is mentioned in this article.