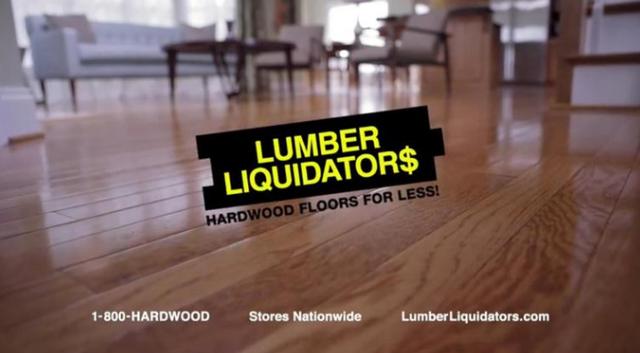 Click to enlarge
Anyone who has read anything recent of mine knows that the short position for which I hold the most conviction is Lumber Liquidators (NYSE:LL). It started years ago when the stock flew over $100 on euphoric, delusional expectations of growth and has continued straight through today with the stock down in the mid-teens. These days, the valuation is a secondary concern as LL has been grappling with some very serious brand crisis issues including the illegal sourcing of product and its formaldehyde issue. These issues have been resolved from a legal standpoint - undoubtedly a positive - but the main problem remaining with LL is that customers still don't want to shop there and we saw yet more evidence of that in Q2 earnings.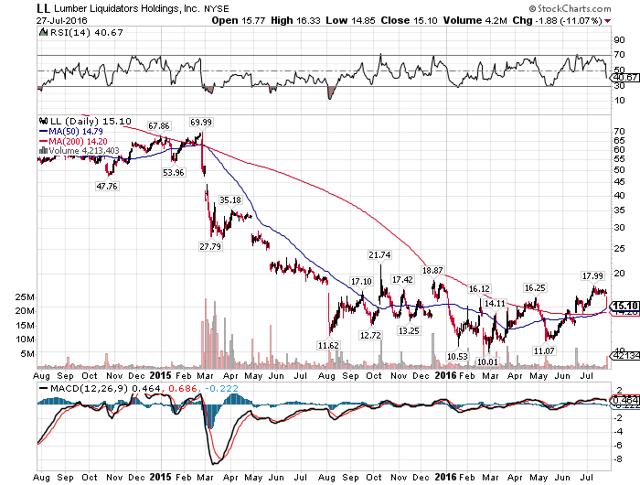 Click to enlarge
The sourcing and formaldehyde issues have been beaten to death in lots of media outlets so I won't spend any time on them here other than to say the fact that LL has them resolved from a legal standpoint at favorable terms is a long term positive for the stock. Now that we've got that out of the way, let's take a look at why LL is a disaster even without the overhang of its formerly nefarious ways haunting it.
Revenue was ugly once again as LL lost a further 4% in Q2 despite more than $8 million in incremental revenue from new stores. Average ticket was up 70bps but that gain was crushed by a 7.9% decrease in traffic. LL is still dealing with the fallout from its brand crisis as people clearly haven't begun to trust it again. Whether that will ever happen is still up for debate but right now, there is absolutely no doubt that people simply don't want to shop at LL in the numbers they used to.
Why is that? Trust is a big one; why buy from a company that you know has sourced illegally in the past and has sold products with elevated levels of toxins? There are lots of places to buy flooring so the only reason one might want to go to LL is for price. After all, isn't that how LL competes? Low prices are the very bedrock of the LL model and without them, it has nothing. That's why it is very interesting that LL went to a less promotional model in Q2 and got killed for it.
LL blamed part of the comp sales decline on the fact that it was less promotional than it was last year in Q2. That's fine as - surely you'll recall - that was the genesis of this whole crisis thing and LL was just trying to keep the lights on. However, promotions are the lifeblood of LL's business - or at least it has been - so cutting that off is an interesting strategy. JC Penney tried that very thing and almost went out of business so to say I'm not optimistic is quite the understatement.
But does LL really have a choice? I've pointed out in the past that LL's costs are simply too high for its current level of sales and its product mix. The laminates that have been pulled were among LL's highest gross margin flooring products and without them, its business model doesn't work. LL's SG&A costs are too high for things like real hardwood products to produce any sort of profit as it needs the higher margins from laminates to make up the difference. Without them, it has no way to make money.
Gross margins moved up from 25.1% last year to 29.7% this year, a worthy improvement to be sure. But is that enough? The answer to that question is an emphatic 'no'. LL's SG&A costs were 37.8% of sales in Q2 against 36.5% in last year's Q2. That means that LL's operating margin as defined by gross margin minus SG&A costs is solidly negative still. This is the problem with LL's model; it doesn't even matter that it settled its legal issues because its business model is permanently broken.
What amazes me is that despite very clear evidence that LL may never make a profit again, people continue to bid the stock up as though some magical turnaround is coming. Not only do consumers clearly not trust LL but its product mix is all wrong without the laminates it so heavily relied upon in the past. Its current assortment of lower margin products and its very high SG&A costs make it structurally unprofitable and nothing about that is going to change any time soon.
Analysts have LL breaking even next year but based upon what? It would take an enormous level of sales increases to make that happen and LL would need to find some way to boost gross margins another 500bps or so. While sales may return (I doubt it) I have no doubt that LL doesn't have 500bps of gross margin gains in the tank, ready to unleash. That isn't going to happen; it can't without significant improvements in the laminates business because the rest of the assortment carries margins that are too low. And if LL attempts to raise prices to protect margins, well, we saw what happened with that in Q2.
LL is going to lose a lot of money this year and it will probably lose more next year; the business model is broken. Its SG&A costs will likely never be under 30% ever again and its gross margin profile has shifted so far south that I honestly don't know that it can recover enough to break even anytime soon. Investors seem to be ignoring the gravity of the situation with respect to the losses in the laminate business but they are doing so at their own peril; LL isn't worth anything close to $15 right now and I'm still shorting it. Any company that is structurally unprofitable on the magnitude that LL is represents a great opportunity to short. LL is trying to remake its business model in order to survive and I simply don't think it is going to work.
Disclosure: I am/we are short LL.
I wrote this article myself, and it expresses my own opinions. I am not receiving compensation for it (other than from Seeking Alpha). I have no business relationship with any company whose stock is mentioned in this article.