Synergy Pharmaceuticals (NASDAQ:SGYP) has made some progress since my initiation article, but the company also had some missteps along the way. The biotech bear market has negatively affected Synergy's share price and the company made some unfortunate financial decisions this year, along with CFO leaving the company. Putting aside those missteps, things are heading in the right direction. Plecanatide is on its way to receiving FDA approval for its first indication and the rest of the pipeline is also progressing nicely. The cash on hand is not enough for the company to finance the commercialization of plecanatide on its own and Synergy will either be forced to further dilute the shareholder base, raise debt or find a partner. I still believe that the upside potential is significant based on plecanatide's clinical profile and think that Synergy is an attractive takeover target. I am reiterating my bullish view, but reducing my price target based on the higher share count and the prospects of increased dilution.
Financing troubles
Financial stewardship of the company in 2016 was not that great. In late April, Synergy announced that CFO Gary L. Sender has resigned for personal reasons effective April 30, 2016. Bernard F. Denoyer, who served as SVP of Finance and Secretary since 2008, took over the role. Perhaps Mr. Sender did not want to do the unfavorable offering which was done just a few days after he left - on May 5, Synergy announced a direct offering of 30 million shares at $3 per share. The alternative view is that Mr. Sender did a poor job, thereby forcing the company to raise capital at bear market lows.
I guess that management was a bit shortsighted last year and did not take advantage to raise capital when the stock was in high single-digits. They watched the subsequent implosion and did the offering at a 70% discount to last year's highs and near bear market lows (which was around $2.50). The offering was not well received initially and Synergy tested the late March lows, but the stock quickly recovered and now sits around $4 per share.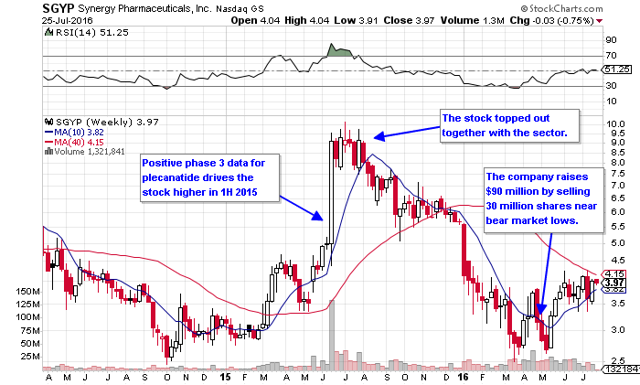 Click to enlarge
Source: Stockcharts.com
However, the capital raised will not be enough for the commercialization of plecanatide and for further pipeline development. Synergy is burning roughly $25 million a quarter, and this is without the significant commercial ramp, and I think the burn rate will be at least $40 million and probably closer to, or above $50 million in Q1 2017 and beyond. The cash on hand (around $160 million at the end of Q1 if we include the raised funds) will not cover those expenses and the company will probably need to do another dilutive offering later this year or do a debt raise, and I doubt that the terms will be favorable.
I suspect that the company will need at least $100 million in additional funding in the next 6-12 months and most likely closer to $200 million to get to reach a cash flow positive status, which translates to 11%-12% dilution (or 20% to 25%) based on the prevailing market price. The third option is to partner plecanatide, which would alleviate the short-term funding concerns and transfer the commercial risks to the partner, but by doing this, the company stands to lose a significant portion of future profits.
The market for plecanatide is growing
Putting aside the financial troubles, which I think are manageable, plecanatide's upside potential is significant enough to lead to substantial upside in the following years. I wrote about plecanatide's clinical profile last year, but it is worth repeating that:
Synergy reported positive top line results from its first phase 3 trial in patients with chronic idiopathic constipation or CIC. The occurrence of diarrhea was 5.9% for the 3.0mg dose and 5.5% for the 6.0mg dose, which compares favorably to 16% for the current market leader Linzess.
Plecanatide is a naturally occurring human peptide and is physiologically controlled while Linzess is a truncated version of the toxin that causes traveler's diarrhea.
Based on its clinical profile, plecanatide has the potential to be the best-in-class product and to eventually surpass the sales of Linzess.
The FDA accepted Synergy's NDA for plecanatide on April 19 and the PDUFA target action date is January 29, 2017. If approved, Synergy intends to launch plecanatide during Q1 2017.
And while we are waiting for the PDUFA date and the eventual launch in CIC, Linzess continues to expand the CIC and IBS-C market. Linzess U.S. net sales rose 44% Y/Y to $137 million in Q1 (after a 53% Y/Y increase to $455 million in 2015) and Ironwood (NASDAQ:IRWD) expects annual sales to reach $1 billion by 2020. Considering the annualized net sales run rate of over $500 million and the strong growth rate, I would not be surprised to see sales above $1 billion before 2020. It is also worth noting that Linzess' success has done little to undermine Amitiza, which grew prescriptions by 5% Y/Y in Q1 2016 with Takeda (OTCPK:TKPYY) reporting $91.7 million in net sales.
Linzess is the most significant competitive threat to plecanatide. Ironwood and Allergan (NYSE:AGN) are on track to launch a 72mcg dose in early 2017 (if approved). Lower dosing should reduce the diarrhea rates, which is the most common adverse effect and one of the most important advantages of plecanatide. Ironwood reported that rates of diarrhea with the 72mcg dose were lower than the 145mcg dose in the trial, but when asked about the actual diarrhea rates in the trial on the Q3 2015 call, Ironwood said that "with the emerging competition in the market, we've made a strategic decision not to unveil that until we're ready to come to market." This is speculation on my part, but I think that the rates of diarrhea are not competitive to those of plecanatide - I would not have withheld the data if they were better than plecanatide's. But overall, the 72mcg dose should increase Linzess' uptake in 2017 and beyond and will certainly make the product more competitive. Allergan is also investing significant funds in the DTC campaign, which is positive on the awareness side and should help expand the patient pool. However, Synergy will likely find it hard to compete and I doubt that the company will do a DTC campaign of its own, especially considering its tough financial position.
Dolcanatide's potential in opioid-induced constipation and ulcerative colitis
Dolcanatide is Synergy's second pipeline candidate. In November 2014, the company announced positive top line results from a phase 2 trial in patients with opioid-induced constipation or OIC. Dolcanatide met the primary endpoint and demonstrated statistically significant improvement in the number of spontaneous bowel movement during week 4 of treatment.
In January 2016, the company announced positive phase 1b data in patients with mild-to-moderate ulcerative colitis. Analysis of the data showed clear signals of improvement in dolcanatide patients versus placebo, and dolcanatide was safe and well-tolerated. The company is evaluating the best ways to proceed with this indication. It is interesting, though, that the company's annual report states (emphasis mine) that "we will continue to monitor the OIC market opportunity but we currently have no plans to continue dolcanatide development in OIC."
This is a bit surprising considering the positive trial results, but not as much if we consider the overall lack of capital. I am not expecting much from dolcanatide in the near term and consider it as a relatively cheap call option.
Upside potential dwarfs the mistakes
My price target on Synergy last year was $16 and was based on 2x peak sales of $1.5 billion, which was the middle of the $1 billion to $2 billion peak sales range. I am updating my valuation model below with the same range, adjusted expectations and an increased share count. The share count takes into account the rest of the convertible notes (around 25 million shares).
| | | | |
| --- | --- | --- | --- |
| | Low estimate | Mid-range | High estimate |
| Plecanatide peak sales | 1000 | 1500 | 2000 |
| Net Income | 300 | 488 | 700 |
| Multiple | 15 | 15 | 15 |
| Probability of approval | 80% | 80% | 80% |
| Future value | 3,600 | 5,850 | 8,400 |
| Shares outstanding | 220 | 220 | 220 |
| Future EPS | 1.36 | 2.22 | 3.18 |
| Discount factor | 0.43 | 0.43 | 0.43 |
| Present value | 1,556 | 2,529 | 3,632 |
| Present value per share | 7.07 | 11.50 | 16.51 |
Source: author's calculations
Plecanatide is conservatively worth $7 per share. I assume a combined 80% probability of approval for both indications and getting the product approved would increase the conservative value to around $10 per share.
My new price target on Synergy is $11.5 and is based on the middle of the valuation range. Plecanatide's approval in both indications would lift its NPV to $14.5 per share. Analyst price targets are in the $4 to $15 range with a mean target of $9.90.
This is the valuation for Synergy as a standalone company and I still think that the company is a very attractive takeover target and I think a price tag should be somewhat higher in such a case, especially if plecanatide is approved in early 2017 and if we include dolcanatide's potential in ulcerative colitis and OIC (but dolcanatide is not worth more than $2-3 per share right now). Ironwood's management said on its latest call that the Linzess franchise has the potential to generate $2 billion in peak sales (together with the colonic release candidate) and a potential best-in-class product like plecanatide might generate even more, especially in the hands of a larger pharma company. I would be disappointed with anything below $3 billion (or around $15 per share) in such a case. However, Synergy would need to get its share price significantly higher before accepting any offers, as I doubt that a buyer would be willing to pay a 200% or 300% premium.
Conclusion
Synergy's current valuation does not reflect plecanatide's growth potential. The company has been punished more than other stocks in the sector, considering its 60% haircut (or 75% if we take the late March lows) and the risk/reward is skewed to the long side.
Disclosure: I/we have no positions in any stocks mentioned, and no plans to initiate any positions within the next 72 hours.
I wrote this article myself, and it expresses my own opinions. I am not receiving compensation for it (other than from Seeking Alpha). I have no business relationship with any company whose stock is mentioned in this article.
Additional disclosure: This article reflects the author's personal opinion and should not be regarded as a buy or sell recommendation or investment advice in any way.