The July Federal Open Market Committee (FOMC) meeting proved to be a non-event, as the Federal Reserve maintained monetary policy unchanged and barely altered its communiqué. The only new text worth noting was the phase "Near-term risks to the economic outlook have diminished." We see this as "verbal tightening," as the only monetary policy card that the Fed has left today to tighten policy is their (in)famous "forward guidance." Indeed, the Fed can only verbally tighten since more actual rate hikes would push the economy more quickly back into recession and plummet equities.
Why can't the Fed actually hike rates eight years into an economic expansion? The first reason is that the Fed has a new set of criteria for setting policy, including geopolitical risks (Brexit), world economic growth (China slowdown), and asset price manipulation (especially keeping equity markets aloft). While the traditional Fed monetary policy objective of full employment (setting aside our longstanding belief that monetary policy is not the tool to create jobs) has more or less been attained considering the monthly payrolls numbers (don't mind that the U.S. labour force participation rate has been in steady decline since 2007), the FOMC continues to cite low inflation in justifying policy inaction. The ubiquitous phase appears once again in the FOMC communiqué:
Inflation is expected to remain low in the near term, in part because of earlier declines in energy prices, but to rise to 2 percent over the medium term as the transitory effects of past declines in energy and import prices dissipate and the labor market strengthens further.
Below is a chart with our inflation indicators. The blue line shows the 5-year break-even inflation rate, which has been trending down since 2013, but has picked up this year. Recall that this break-even inflation rate gives the yield difference between a conventional 5-year Treasury (a nominal yield, with inflation plus the real yield component) and a 5-year TIPS note (Treasury Inflation Protected Security) which yields the real 5-year interest rate.
The break-even therefore gives the market's 5-year inflation outlook. The green line shows the results of the University of Michigan inflation expectations survey. Clearly, inflation is not a concern today for the Fed. The problem is when (and if) inflation picks up. Given the lag between monetary policy moves and the impact on the real economy, the Fed will (as usual) be behind the curve. We know, however, that Yellen and the Fed are more scared of a deflationary bust than letting the inflation genie out of the bottle, so we think that the odds of seeing another rate hike before the onset of the next recession are non-existent.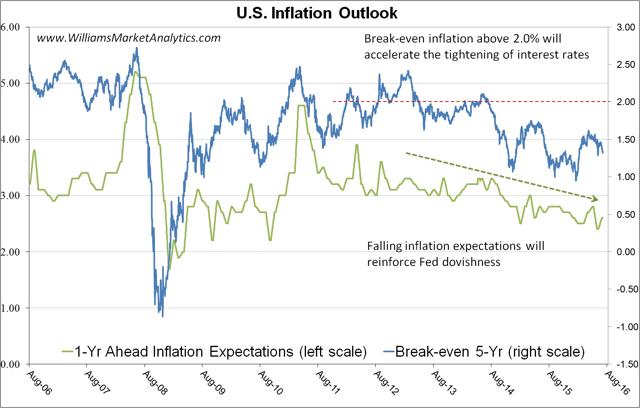 Click to enlarge
At Williams Market Analytics, we are not even playing the Fed rate hike guidance game (our article One and Done, provides a caustic evolution of the Fed). We instead believe that the FOMC is in all likelihood looking forward to easing again. If the Fed had begun raising rates (as we believe they should have) two years ago, we are quite certain that the FOMC would be in the process of cutting ratings today.
According to the Fed Funds futures, markets have all but written off a September rate hike. Given the tendency of the Fed to avoid policy changes just before a U.S. Presidential Election, we see the probability of a September move close to nil. Moreover, markets are close 50/50 on the odds of a rate hike in December, which again seems too optimistic (or foolishly misguided) for a hike. Of course, between now and December, the Fed will find another excuse to put off this next, enigmatic rate hike.
| | | | | | | | | | |
| --- | --- | --- | --- | --- | --- | --- | --- | --- | --- |
| Meeting | Prob hike | Prob cut | 0-0.25 | 0.25-0.5 | 0.5-0.75 | 0.75-1 | 1-1.25 | 1.25-1.5 | 1.5-1.75 |
| 09/21/2016 | 26.4% | 0.0% | 0.0% | 73.6% | 24.8% | 1.6% | 0.0% | 0.0% | 0.0% |
| 11/02/2016 | 28.0% | 0.0% | 0.0% | 72.0% | 25.8% | 2.1% | 0.0% | 0.0% | 0.0% |
| 12/14/2016 | 45.2% | 0.0% | 0.0% | 54.8% | 36.9% | 7.8% | 0.5% | 0.0% | 0.0% |
| 02/01/2017 | 46.3% | 0.0% | 0.0% | 53.7% | 37.2% | 8.4% | 0.7% | 0.0% | 0.0% |
| 03/15/2017 | 52.7% | 0.0% | 0.0% | 47.3% | 39.2% | 11.8% | 1.6% | 0.1% | 0.0% |
| 05/03/2017 | 54.8% | 0.0% | 0.0% | 45.2% | 39.6% | 13.0% | 2.0% | 0.2% | 0.0% |
| 06/14/2017 | 61.2% | 0.0% | 0.0% | 38.8% | 40.4% | 16.8% | 3.6% | 0.4% | 0.0% |
| 07/26/2017 | 61.0% | 0.2% | 0.2% | 38.8% | 40.2% | 16.7% | 3.6% | 0.4% | 0.0% |
| 09/20/2017 | 64.8% | 0.2% | 0.2% | 34.9% | 40.1% | 19.1% | 4.9% | 0.7% | 0.1% |
How Near Zero Rates Are Hurting The Economy
We firmly believe that near-zero rates are not good for the economy. An economy cannot function normally with Zero Interest Rate Policy (ZIRP). Japan has already experimented with ZIRP for many years now, and we can't say that the Japanese economy is a paragon of economic virtue. Near-zero rates represent a level of low risk-taking.
In other words, ZIRP skews the true price of risk in an economy. Who is hurt by ZIRP? Well, savers, banks, insurance companies and pension funds are on the front line of those affected negatively by zero rates. Most notably, ZIRP depletes savers and hinders investment. Our chart below shows the real, inflation-adjusted 6-month savings rate in the U.S.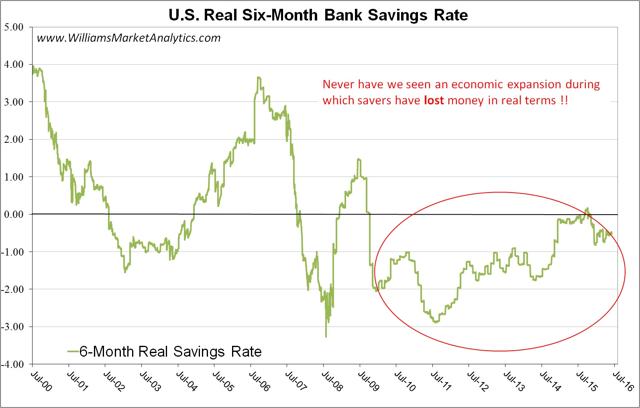 Click to enlarge
It does not take years of study of economics to understand that negative rates of return will alter the behaviour of economic actors. The most obvious example of this is for investors, who have chosen collectively to reach for yield, moving out on the risk spectrum. Traditional investment grade bond investors (such as pension funds and retirees) have moved into junk bonds and high yielding equities to find positive real returns.
Has the risk of junk and equities diminished this cycle? Of course not. Default risk is still present; it is just risk that is being mispriced. There will be much pain and hardship on the Day of Reckoning, when risk averse investors, who have left their traditional safe asset classes, are confronted with losses that they have never before experienced. The door will not be wide enough once the rush to exits begins.
Finally, we have been paying attention to the performance of the 30-year U.S. Treasury (NYSEARCA:TLT), in which we currently are holding long positions (see our July 20 Update). The long end of the Treasury yield curve is moving… and how! The 30-year yield hit an all-time record low in July, with real yields at around 1.0%. While the Fed controls the short-end of the yield curve, yields generally reflect market forces in the longer maturities (albeit the Fed is also trying to manipulate the long end through its various, innovative policies).
Most readers know that a flat or inverted yield curve is a harbinger of recession. Unfortunately, the Fed's total manipulation of the short end of the curve has tempered this excellent economic warning sign. Nonetheless, we have seen a remarkable flattening of the 10-2 and 10-5 portions of the yield curve (see chart below). In just the past year, the 10-2's curve has flattened over 100 basis points while the 10-5's curve has flattened 35 basis points. Friends, there is no way to sugar coat this one. The bond market is signaling weakening financial conditions and likely calling for a recession. And unlike Fed economists, the bond market has an excellent track record.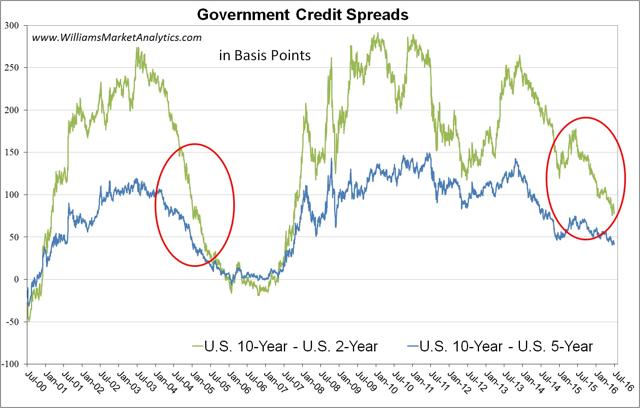 Click to enlarge
Conclusion
The Fed is trying to verbally tighten at a time when we think they need to be easing. Most macroeconomic indicators are trending down (see Speculating on More Bullish Upside) while the yield curve is inverting in the segments where market forces prevail. The Fed has skewed risk and assured the misallocation of assets for the past several years.
Monetary policy has never been as poorly managed as we see today. We believe that the Fed will gradually change its forward guidance from tightening bias to an easing bias before joining the rest of the world in the Armageddon of negative interest rates.
Disclosure: I/we have no positions in any stocks mentioned, and no plans to initiate any positions within the next 72 hours.
I wrote this article myself, and it expresses my own opinions. I am not receiving compensation for it (other than from Seeking Alpha). I have no business relationship with any company whose stock is mentioned in this article.