Click to enlarge
Insights From The Option Market
In our last post on Relypsa (NASDAQ:RLYP) ("What To Do With Your Relypsa Winnings"), we discussed ideas about potential future acquisition targets by Julia Skripka-Serry, a biotech analyst who predicted that Relypsa would get acquired. She's since shared more detailed information with us - more on that below. First, let's address a couple of questions that came up in the comments last time and see what the option market tells us about them.
1. Downside Risk For Relypsa
Commenter "mkw149" asked about this:
Interesting article. I haven't sold RLYP yet waiting to see if there may be another bidder. Any thoughts on the downside risk of holding it for now? If the proposed merger is denied (unlikely) or falling apart for some other reason, I assume another buyer will emerge. Thanks.
We answered at the time:
The option market seems to agree with your assessment about another buyer emerging if this deal doesn't go though. You can hedge against a >2% decline in your RLYP shares [over the next six months] now for a cost of about 1.5% of your position value
The cost of that protection has risen slightly since then, as you can see in the screen capture below (via the Portfolio Armor iOS app).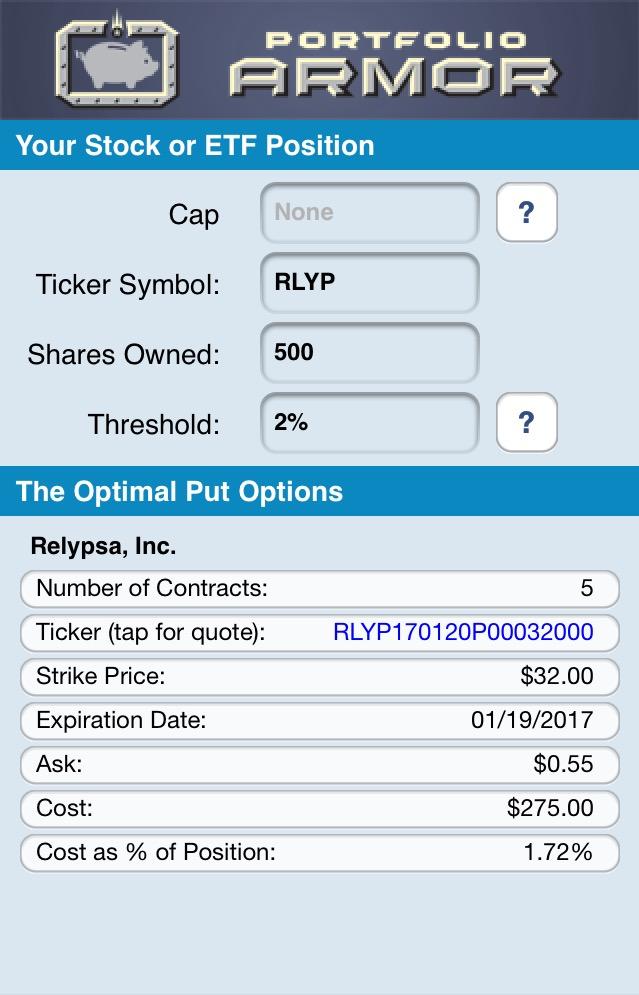 As you can see above, the cost of that protection, as a percentage of position value, was 1.72%, as of Wednesday's close. Bear in mind two key points, though:
The only time we've ever seen it possible to hedge a stock against a >2% decline over six months with optimal puts is when the stock is pending acquisition. Even the most conservative stocks are usually too expensive to hedge against declines smaller than 7% or 8%.
To be conservative, the cost was calculated using the ask price of the puts. In reality, the cost of this protection would likely have been less, because you could probably have purchased the puts at some price between the bid and the ask.
The bottom line: our assessment in our original comment stands. It wouldn't be this cheap to hedge Relypsa with optimal puts if option market participants thought there was a good chance that the current deal might fall through and there would be no other suitors.
2. Upside Potential For Relypsa
Commenter "Kenmare" asked what Julia Skripka-Serry thought about the possibility of a bidding war for Relypsa. We asked her and shared her response:
I personally doubt it, but since there is a nice floor at $32 now and the trade is massively de-risked I left some capital in there just in case. I agree with Berens on here for once - although it's still a possibility, it's not likely. It's not like they got an offer from a big, known pharma -it looks like they took whatever they were getting."
So we decided to gauge option market sentiment on this in the way the Portfolio Armor website does when it estimates potential returns. For a detailed take on that process, see the section titled "Tesla, Amazon, And Potential Returns" in this article, but here's the basic idea: the site starts by taking the mean of the security's most recent 6-month return and its average 6-month return over the last 10 years (since Relypsa hasn't been public for 10 years, the site used the Health Care Select Sect SPDR ETF (NYSEARCA:XLV) as a long-term proxy). Then the site attempts to hedge the security against a >9% decline over the next several months, using that mean.
In the case of Relypsa, the mean of its return over the last 6-months and XLV's mean 6-month return over the last 10 years was 35.5%. However, when the site attempted to find an optimal collar using 35.5% as a cap, it couldn't find one, since there were no bids on calls that far out of the money. That wasn't surprising. But what happened next, when the site started walking down its cap, was a little surprising.
It was able to find an optimal collar to hedge Relypsa against a >9% drop by late January using a cap of 15%, as the screen captures below show.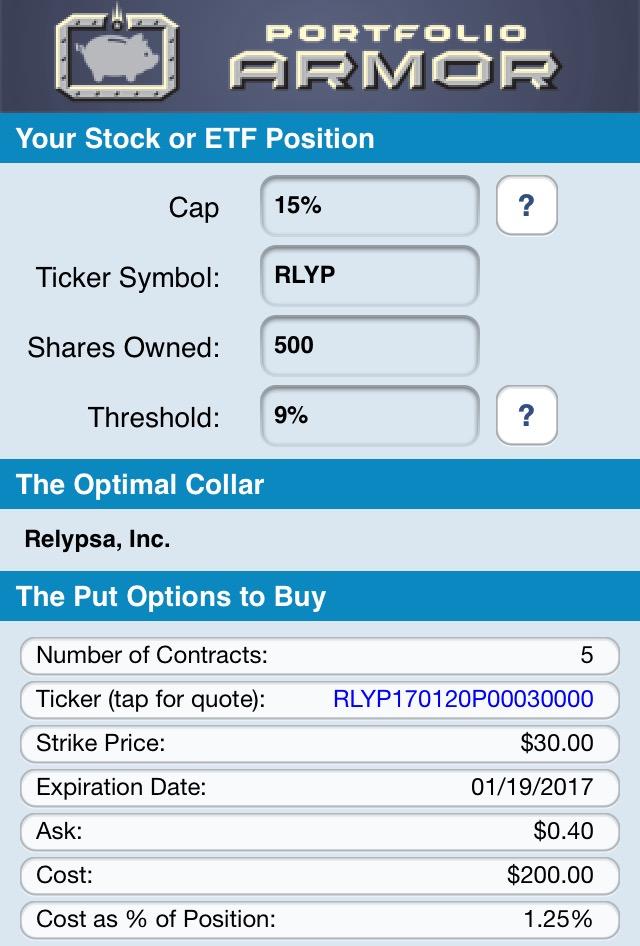 As you can see in the put leg of the collar above, the app was able to use a slightly cheaper put strike this time, with a cost of $200 or 1.25% of position value. But as you can see below, the income generated from the call leg was $50 or 0.31% of position value.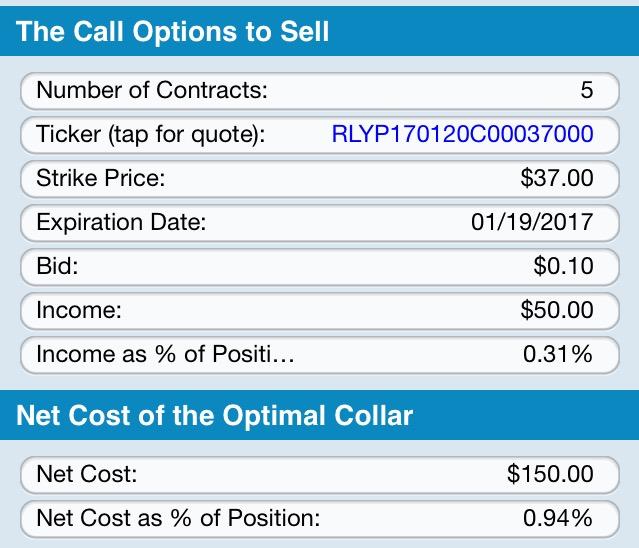 So the net cost of this collar was $150 or 0.94%. But the key point here is that the app was able to find an optimal collar with a 15% cap because there were bids on calls that far out of the money. Often, after an acquisition is announced, you can't find an optimal collar using a cap of even 1%, because there are simply no bids on out-of-the-money calls. That the app could find a collar using a 15% cap suggests option market participants now believe there is a chance of a higher bid.
More From Julia On Future Biotech Acquisition Targets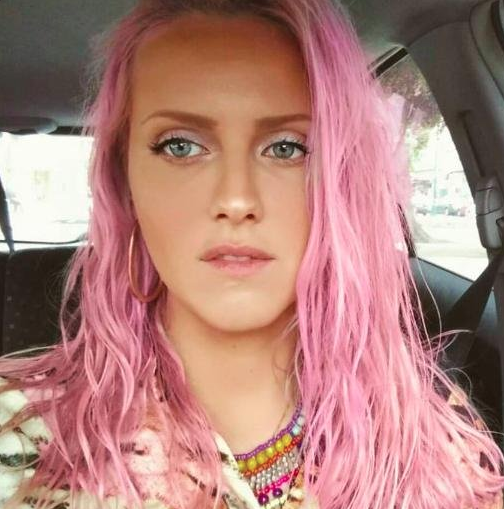 For those who didn't read our previous article on Relypsa, a quick recap of Julia's background: she has a master's degree in computational drug discovery from the University of Edinburgh, a master's in synthetic biology from Imperial College in London, and she works as a biotech analyst for a hedge fund in Israel. She sent us the attached spreadsheet earlier this week, with the following note:
I compiled a table of most novel-MOA drugs developed by small companies in recent years. It shows that a large number have been bought out, when the price is right. The ones that are classic buyout candidates that remain single are overpriced right now but should be watched.
In the spreadsheet, she highlights six names, ACADIA (NASDAQ:ACAD), Exelixis (NASDAQ:EXEL), Tesaro (NASDAQ:TSRO), The Medicines Company (NASDAQ:MDCO), Jazz Pharmaceuticals (NASDAQ:JAZZ) and Intercept Pharmaceuticals (NASDAQ:ICPT).
Disclosure: I/we have no positions in any stocks mentioned, and no plans to initiate any positions within the next 72 hours.
I wrote this article myself, and it expresses my own opinions. I am not receiving compensation for it (other than from Seeking Alpha). I have no business relationship with any company whose stock is mentioned in this article.