This week could have looked much different for Apple (NASDAQ:AAPL) if the company's Q3 earnings report had been as bad as many were preparing for. The technology giant beat lowered expectations and Q4 guidance wasn't as bad as the street had feared. This bodes well for the initial launch of the next iPhone in September, but the true test will come in the December period when comps are much harder. After Wednesday's rally, Apple shares are still a dollar and change from where they went into last quarter's report, but they are more than 15% off their 52-week low.
While iPhone unit sales were a little ahead of the street, average selling prices did tumble below $600 as I speculated could happen thanks to the cheaper SE and some other factors. Mac sales were a little soft as the PC industry continues to weaken, but we got extremely strong unit sales and selling prices from the iPad. Compared to expectations and percentage declines, this was probably the tablet's best quarter in a couple of years, and that could bode well for the second half of 2016 if the company refreshes most to all of its model lines.
Q4 guidance was decent, with the midpoint about $800 million above the street average. Part of that was due to analysts cutting their average by over $400 million in the two weeks prior to earnings. I was a little disappointed by the gross margin forecast, given all of the rumors about the iPhone 7 not being a true form factor overhaul. I would have expected a little better with newer phones representing a larger sales percentage and the SE a lower percentage. However, as Tim Cook did mention on the conference call the strength in the US dollar has impacted margins by about 300 basis points over the past year. Were it not for the recent dollar rally after Brexit, perhaps guidance would have been a little better.
We're getting closer to the point where management is going to need to use foreign funds for acquisitions or perhaps repatriate them for dividends and buybacks. Even if Apple had to pay a 25% tax bill, the company could still bring more than $165 billion home. That chunk of change could buy Tesla (NASDAQ:TSLA), Yahoo (NASDAQ:YHOO), Netflix (NASDAQ:NFLX) and Twitter (NYSE:TWTR) for a 30% premium to Wednesday's close, and Apple would still have about $5 billion left! I'm not saying Apple would make any of those buys, but that shows how large its foreign cash holdings are. Apple's domestic cash position is near its lowest levels in years, and total debt is at its highest thanks to $10 billion of share repurchases during fiscal Q3. The table below shows Apple's recent history for cash and debt.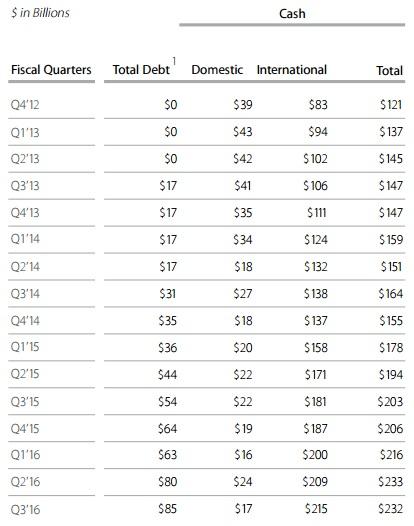 (Source: Apple capital return history page)
While many analysts said this was the bottom for Apple, the harder test will come in October when we get guidance for the holiday period. Apple has tough comps of more than 5.3 million Macs and 16.1 million iPads to deal with. On the iPhone side, not only is the comp nearly 74.8 million units, but an average selling price of more than $690. With the SE bringing the ASP down, Apple will need to sell more units to make up the revenue gap, so at a $660 ASP for example you need 78.2 million units. Overall, analysts are currently looking for a 4.1% revenue decline in the fiscal Q1 period. It's possible Apple could return to revenue growth in its fiscal Q2 (the March 2017) period, but that's too far off to think about now.
Apple did what it needed to do this week, and shares jumped $6 plus on Wednesday as a result. We still are a few quarters away from revenue growth returning, but there are signs of hope for the iPhone and iPad. Maybe Apple will even dip into its huge foreign cash pile at some point for some acquisitions or even buybacks/dividends after repatriation. For now, Apple shares have stabilized around $100, with the next move coming when we get an idea of how iPhone 7 sales are materializing.
Disclosure: I/we have no positions in any stocks mentioned, and no plans to initiate any positions within the next 72 hours.
I wrote this article myself, and it expresses my own opinions. I am not receiving compensation for it (other than from Seeking Alpha). I have no business relationship with any company whose stock is mentioned in this article.
Additional disclosure: Investors are always reminded that before making any investment, you should do your own proper due diligence on any name directly or indirectly mentioned in this article. Investors should also consider seeking advice from a broker or financial adviser before making any investment decisions. Any material in this article should be considered general information, and not relied on as a formal investment recommendation.