We heard a lot talked about price expectations over the last few days. After becoming bearish July 11th, we pointed out building news of higher production and decreasing global demand. We did not talk recently about price expectations and wanted to look longer term for some key price levels that need our attention.
Here's a longer-term chart for oil (NYSEARCA:USO) (NYSEARCA:OIL) (NYSEARCA:UWTI):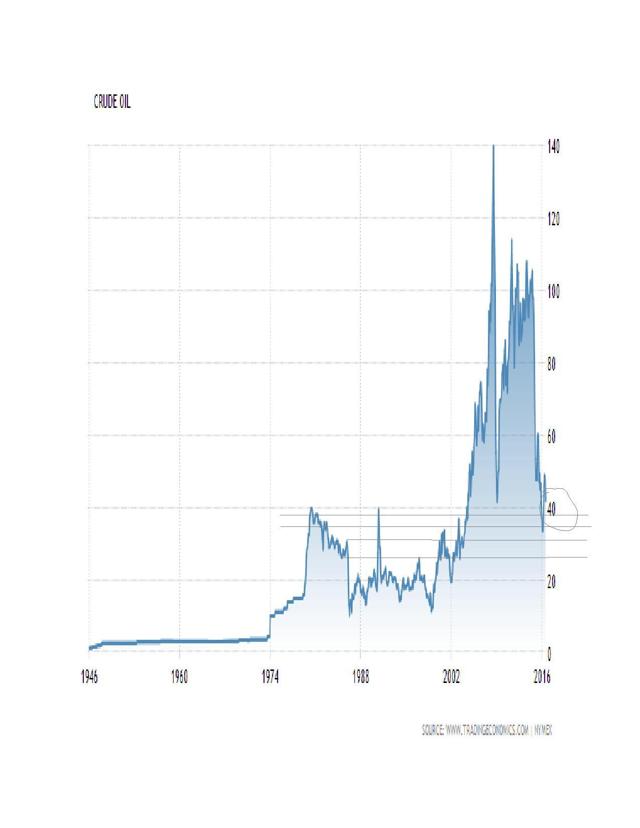 Click to enlarge
Source: www.tradeconomics.com
Oil premarket is about $42.
Key Levels For Oil Based On The Last 40-50 Years
We see the next stop being $40. $40 is a major point going back 40 years. Breaking that is very scary and can flip people bearish. The next stop is $36. The next stop is $31, and the last is $25. So $40, $36, $31, and $25.
Each "holding" break below each price pressures the market to sell to the next price. It's a cascading effect.
What we want to watch for is how we hold each one of these levels. If we bounce and hold above each, we know that could be a meaningful short-term support. If we break and hold below that level, then it becomes a short-term resistance. To go back over such a resistance level would need new positive news.
We don't have a price expectation right now except for the above thinking
As we said above, our price targets are going to be determined how oil "acts" around these key levels. Our key driver to our bearish call is price direction. We went bearish when we saw price turning and confirming on the downside. Because oil is a pure commodity, we think the price itself is probably the most important piece of news. That indicator is an early hint of possible fundamental news to come.
Sure, it helps to have a thesis, but we don't want to be against price in most instances and especially in oil.
There is an investment philosophy: the trade that surprises the most people
Saudi Arabia ("KSA") back in 2014 said it wanted to put the budding US industry out of business by raising production and lowering price. Now with price down, however, KSA appears to be at the mercy to price as well since its economy has weakened.
OPEC recently did not agree to production limits. It certainly has not held production. Production has been moving up. A KSA official said:
"We believe that Saudi Arabia should not be the one to assume the lion's share of cuts and that everybody should step up and take responsibility, or take steps to ensure there is a balance in the market."
We don't expect OPEC consensus at least until its next meeting, November 30th.
KSA worried about oil
KSA is also planning for a post-oil world, and we're guessing it is scrambling due in part to dropping oil prices. The same official said, "Oil may or may not be around in 20 or 30 or 40 years. So what do you do at that point?"
We think KSA now joins the world scrambling that oil prices have risk to the downside.
Demand Slow
We think that stimulus drives an economy based on momentum. When that momentum is self-sustaining, stimulus can be pulled back. We know the world has been in stimulus-mode. That's why we call Brexit a speed-bump to that global momentum. We think that is one reason why the world governing bodies are calling for a slowdown.
All that stimulus momentum hit a speed bump, which means every central bank may need to start all over.
The global economy was already running slow at around 2% even with all that extra stimulus. A blip in the momentum can be a meaningful percentage slowdown to demand.
Here's the global GDP:

Click to enlarge
Source: www.tradeconomics.com
You can see that with the tons of stimulus, GDP is slightly above 2%. With the Brexit speed-bump, we think stimulus lost its momentum and is worrying global governing bodies.
We've heard the EU, IEA, KSA, and G-20 all worry about the slowing to come post-Brexit.
Conclusion
Oil is a commodity, and like most commodities, its price is almost purely based on supply and demand. Supply has gone up of late, but demand is at risk to falling.
We think that there will be a price discovery on oil. We have to use longer-term price levels to determine what the price of oil ultimately "wants" to do.
How it holds or breaks will help us determine how low oil can go or if it can stop going down.
For the meantime, we're bearish on oil.
If you want Elazar's analysis on Seeking Alpha, scroll to the top of the article and hit "Follow." Elazar also writes real-time pieces as news is reported. If you want to be among the first updated check the box for "Real-time alerts on this author" under "Follow."
Disclaimer: All investments have many risks and can lose principal in the short and long term. This article is for information purposes only. By reading this you agree, understand and accept that you take upon yourself all responsibility for all of your investment decisions and to do your own work and hold Chaim Siegel, Elazar Advisors, LLC, bestideas, their related parties, and its authors harmless.
Disclosure: I/we have no positions in any stocks mentioned, and no plans to initiate any positions within the next 72 hours.
I wrote this article myself, and it expresses my own opinions. I am not receiving compensation for it (other than from Seeking Alpha). I have no business relationship with any company whose stock is mentioned in this article.