If you're invested in Alere (NYSE:ALR), Wednesday was quite the rollercoaster. I was unfortunate enough to have been looking at my portfolio when ALR first dropped 10% in less than a minute. Then 20%. Then 30%. I scrambled to find any news to explain what I was witnessing, but Google searches yielded nothing for a solid 20 minutes after shares first started drop. And oh boy did they drop!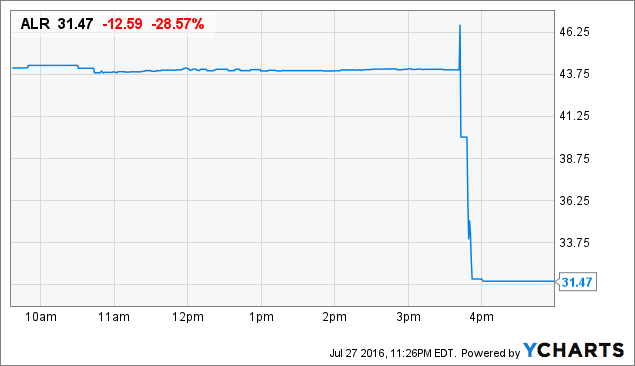 I have never seen anything like this. Granted, I haven't really had that much experience with the stock market, but this is definitely an anomaly. I was in awestruck surprise, left nursing my wounds while the news slowly rolled out of a variety of financial news websites: Alere was served a DOJ subpoena. But before long, ALR was up 21% in the after-hours trading session. Just like that, most of my loss was erased and I was left sitting on my couch wondering what the hell just happened. Well I've had some time to sift through the news and do a bit of thinking and I am ready to explain (I think).
Let's start from the beginning. At about 3:45 PM EST Dow Jones breaks a report that Alere has been served a U.S. Department of Justice subpoena in relation to patient-billing records, specifically within the company's toxicology unit. More specifically, the subpoena is meant to investigate whether Alere 1) covered patient co-pays, which would be considered an illegal kickback, or 2) offered or gave primary care physicians gifts or payment to direct patients towards their diagnostic tests.
For the sake of clarification, covering a patients co-pay is considered an illegal kickback because it is seen as a monetary incentive used to either maintain existing patients or garner new patients.
Alere was already in hot water over its failure to file its 10-K (annual report) due to accounting issues related to revenue recognition. While both the subpoena and the 10-K filing delay are bad, the worst part is that Alere was on the cusp of being acquired for $5.8 billion by Abbott Laboratories (NYSE:ABT), which would have translated to a premium of 27% from the pre-Wednesday drop price. These regulatory and legal problems have put the merger in jeopardy.
Abbott had already offered Alere $50 million to back out of the deal at the end of April, but considering the latter would incur a termination fee of $177 million if the deal was called off, the incentive from Abbott was not exactly strong. However, after this DOJ probe, Abbott may redouble efforts to get out of the acquisition. This bit of deduction was not lost on the market as this cause-and-effect relationship likely caused the selloff in large part.
Usually in situations of M&A, many investors are hunting for the merger arbitrage, or the difference between what the stock trades for after a buyout announcement and the actual buyout price. In the case of Abbott's acquisition of Alere, if we use the pre-drop price of $44 per share and the acquisition price of $56 per share, the merger arbitrage comes out to about 27%. That is a fairly substantial valuation gap, which reflected the market's uncertainty about the deal going through. The risk-reward tradeoff looked ripe for the picking to me so I opened a long position in ALR a few weeks ago.
Because of the perceived risk, it would not surprise if many of the investors playing the merger arbitrage by owning shares in ALR implemented stop-loss orders to limit downside if the merger did not go through. The thought process on those stop-loss orders would be that pretty much the only way ALR would drop significantly is if Abbott backed out of the acquisition, and at that point these investors would want to get their shares out as quickly as possible. But then came along a subpoena from the DOJ and all hell broke loose.
The initial price drop was substantial but quickly deepened as stop-loss trades get activated en masse. This likely explains why the stock chart becomes nearly vertical. Trading in ALR was halted twice in the last 15 minutes, but the carnage continued as stop-losses pounded kept getting triggered.
Remember, at this point neither I nor anyone else it seemed, had any clue what was going on. After seeing the price drop before my very eyes to end down nearly 30%, I was expecting the worst. Surely, the deal with Abbott had fallen through, or worse.
Imagine my surprise when I see that all this fuss was thrown up over a DOJ subpoena for patient-billing records in the toxicology unit, which generates a quarter of Alere's revenue. Bad news surely, but 30%-drop bad news? Hardly. I didn't quite have the stomach to pick up more shares after-hours after reading about the source of ALR's woes, and boy do I regret that.
Alere released a statement Wednesday evening saying that the divisions of the company related to the subpoena contributed less than 1% of total revenues through the first nine months of 2015. That statement then immediately led into this one: "Alere believes the matters to which the subpoena relates are not material."
There you have it folks. All of this hoopla over "not material". If one ever needed evidence of how emotional and reactionary the stock market is, look no further than the saga that unfolded Wednesday afternoon. The stock dropped 30% because of a probe into a pain management laboratory that contributed less than 1% of revenues, an impending merger, and stop-loss orders related to that merger. Absolute insanity.
Quickly after Alere issued the previous statement, ALR jumped 21% after-hours to $38 per share. That implies 52% upside when and if the Abbott merger goes through. Now that we've come back to the merger, let's discuss how this entire development has affected the likelihood of the acquisition closing.
Many Abbott investors are likely hoping this will push the deal off the table while many Alere investors will be hoping the opposite. Which is more likely? Does this DOJ subpoena affect the odds at all now that we know it is not material? But before I say anything on this matter, let the record show I own shares of both ABT and ALR so I consider myself unbiased.
It is a bit early to make any confident predictions, but I think this new bit of drama will have little impact on the closing of the acquisition. The DOJ's probe will likely have no widespread effects, and as long as Alere gets its 10-K files in time I think the merger will proceed as planned. In that case, investors that decide they have the risk tolerance to buy in at tomorrow's opening price, which I assume for convenience will be the after-hours close of $38 per share, can look forward to a 52% gain if the deal closes.
However on the flip side, it is impossible to know what Abbott's management is thinking right now. Considering the probe is not material to Alere's business, the odds are in favor of Abbott staying the course. But there is always the possibility that Abbott management will just throw up its collective hands and just say it's not worth the trouble. Uncertainty still has a tight grip on ALR.
What's the verdict? In my opinion, this whole situation was blown way out of proportion by a chain reaction of events and a perfect storm of stop-loss orders. The market realized the mistake and quickly (mostly) corrected the stock's value. The DOJ subpoena will not have any long-term, or even short-term, financial impacts on Alere's business, which leads me to assume that nothing has changed regarding Abbott's acquisition of the company. However, there is still significant risk present in ALR and only those with the risk tolerance and those who have done sufficient due diligence of their own should consider playing the stock going forward. After all, who knows what might come next?
If you want to stay up-to-date on my articles, you can Follow me by going to my author page or by clicking "Follow" at the top of this page.
Thanks for reading!
Disclosure: I am/we are long ALR, ABT.
I wrote this article myself, and it expresses my own opinions. I am not receiving compensation for it (other than from Seeking Alpha). I have no business relationship with any company whose stock is mentioned in this article.