Apple (NASDAQ:AAPL) just had its best day in 2 years in response to unexpectedly strong Q3 results. We think broader sentiment on the stock has finally turned from pessimistic to optimistic, and we think now is the time to buy shares of AAPL as they tick back up to near 2015 highs.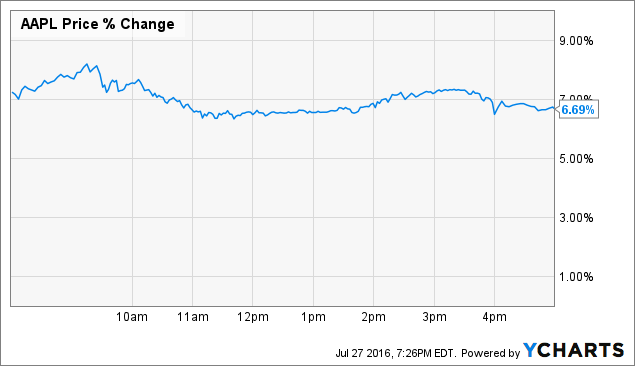 Our buy thesis is centered on our opinion that "peak iPhone" concerns are greatly exaggerated. We believe "peak iPhone" concerns ignore the anomalous spike in sales the iPhone 6 caused due to pent up demand for large screens coupled with China Mobile rollout. There was massive pent-up demand for big screen iPhones, as consumers had been waiting a long time for AAPL's answer to large-screen Samsung (OTC:SSNLF) phones. Concurrently, AAPL really started to roll out China Mobile (NYSE:CHL) around the time of the launch of the iPhone 6, and China Mobile was a significant driving force behind APPL's monster 2Q15 quarter.
In numbers, the result was an irregular spike in YoY iPhone unit growth rate to 37% in Fy15. Investors should remember that prior to Fy15 and the iPhone 6, iPhone unit growth rates were steadily decelerating. iPhone unit sales grew 93% in Fy10. That fell to 81% in 2011, 73% in 2012, 20% in 2013, and 13% in 2014. The 37% growth, then, is an atypical, above-trend spike and YoY declines this year are just putting iPhone growth back on-trend.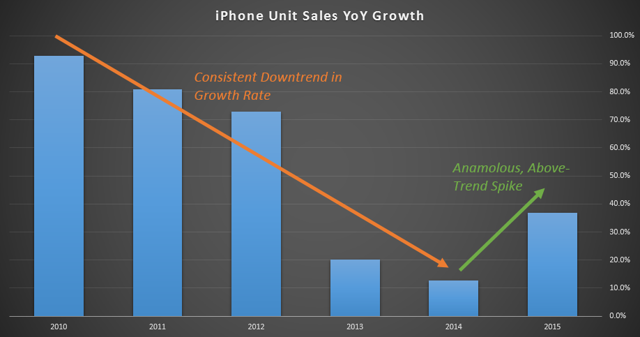 Click to enlarge
Had AAPL not released a big-screen iPhone 6 and not seen an exceptional, above-trend spike in iPhone growth in 2015, then growth this year would look very reasonable and on-trend. The company has sold 166.4 million iPhones YTD, down 9% from last year but up 28% from 2 years ago. In other words, if 2015 iPhone growth was the same as 2014 iPhone growth (11.6% through the first 9 months instead of 41%), then YTD iPhone unit sales would be up 15% versus last year. That is strong growth.
Our point here is that an above-trend spike in growth followed by a down year is not a signal of a peak. It is simply a return to normalized growth. Considering iPhone unit sales this year would be up in the mid-teens range if 2015 growth was "normalized" to equal 2014 growth, then we conservatively think that normalized growth going forward for iPhones will be in the low double-digit range.
That sort of steady growth for the company's staple product simply isn't baked into the stock price. Analysts are looking for low single-digit revenue growth next year. A rebound to low double-digit growth for iPhones coupled with resurgent iPad and Mac sales and surging Services revenue will surely drive Fy17's sales more than 3.7% higher than this year's depressed revenue number.
Not only do we see upside to next year's analyst estimates, but we also think the stock will benefit from multiple expansion as the market turns favorable on AAPL's future. The stock has already seen its forward P/E multiple expand from ~10.8x to ~11.6x (+7.4%) in just one day. Clearly, investors are ready to pile into the stock and extend the currently compressed valuation.
The valuation is still well-off its mid-2015 highs, and if growth normalizes as we predict it to, we do not see why the stock cannot build its forward multiple back up to 13-15x. In order to get back to $130, the stock simply needs to trade at 14.7x forward earnings. That really isn't that expensive at all for a stock expected to grow earnings at a 9% clip over the next 5 years.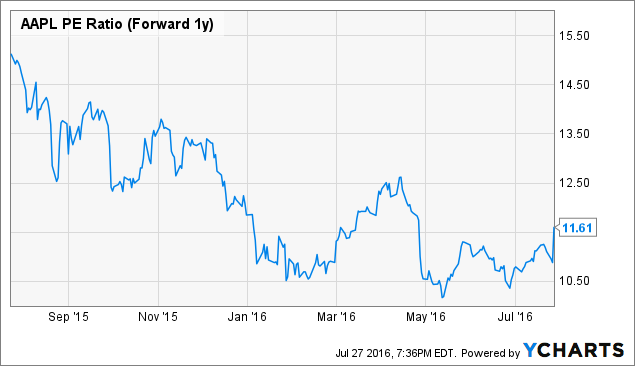 To us, the time feels right to buy into AAPL stock. It is still well-off its mid-2015 highs, the stock just posted its best day in 2 years, the valuation remains cheap, and the iPhone 7 is set to launch soon. We think things are setting up for AAPL stock to bounce back to near its 2015 highs.
Disclosure: I am/we are long AAPL.
I wrote this article myself, and it expresses my own opinions. I am not receiving compensation for it (other than from Seeking Alpha). I have no business relationship with any company whose stock is mentioned in this article.