SoftBank's (OTCPK:SFTBY) purchase of ARM Holdings (NASDAQ:ARMH) for $32 billion has evoked considerable skepticism and has been labeled "misguided." SoftBank is simply betting on the future of the ARM architecture ecosystem, which amounts to a bet against Intel's (NASDAQ:INTC) x86 architecture.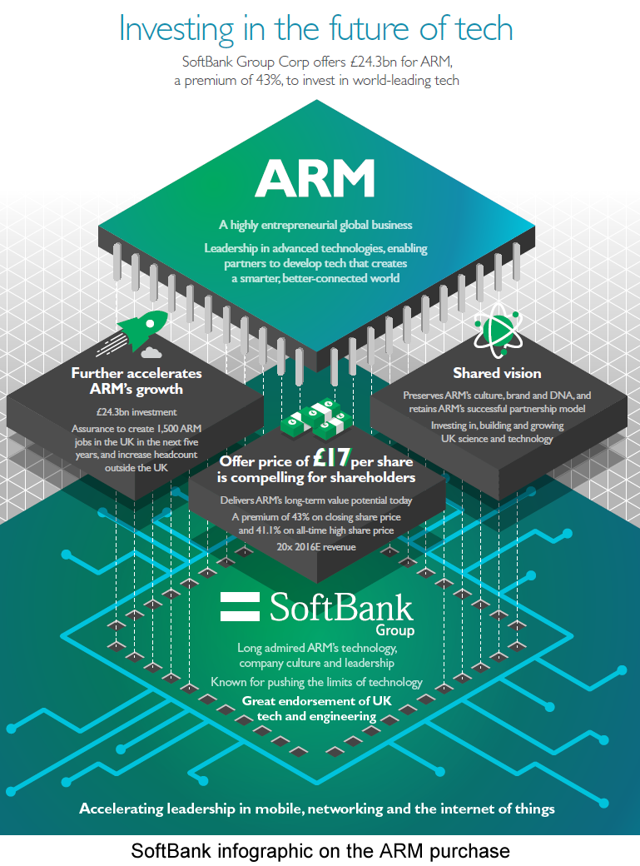 Click to enlarge
Source: Accelerating Tech
Face Value
SoftBank's purchase of ARM for a greater than 40% premium on the all-time high share price has provoked a number of interesting articles on Seeking Alpha. Among my favorites are those by Robert X. Cringely and Martyn Roetter. Both authors express skepticism that the deal is what it seems, based on the extraordinary valuation it attributes to ARM at roughly 24 times 2015 revenue.
Neither author seems inclined to accept the assurances that ARM's business model will continue unchanged. Cringely has proposed the most radical interpretation, that SoftBank will attempt to convert ARM into a semiconductor company along the lines of Qualcomm (NASDAQ:QCOM). He points out that many ARM licensees are reaping far larger profits than ARM itself.
This interpretation runs afoul of the larger trends that have dominated the semiconductor industry for the past few years, the most important being the shift away from the commodity processor model of Intel. The Intel model of being a merchant vendor of high volume microprocessors sold to multiple OEMs worked well during the personal computing era.
As mobile devices gained prominence, a new model arose, promulgated by ARM itself. Large mobile device makers such as Samsung (OTC:SSNLF), Apple (NASDAQ:AAPL), and Huawei started designing their own mobile processors based on IP from ARM. At the same time, these operations were mostly "fabless," relying on an outside foundry to build the chips.
Where the profit margins of the PC OEMs were razor thin, the margins of the mobile device makers who build their own systems on chip (SOCs) have typically been quite healthy. Those mobile device makers that followed the PC OEM model have struggled. These struggles have derived from an inability to differentiate their products (especially in the Android world), as well as a less favorable cost structure.
This paradigm shift is still under way and is incomplete, but given ARM's critical role in enabling it, I find it unlikely that ARM would suddenly decide that reversion to the commodity PC model is the right answer for future growth. ARM would find itself in a struggle with stronger incumbents such as Qualcomm, which has been able to continue to make the commodity model work.
Qualcomm has been able to make the commodity model work because there's still a large market remaining for commodity mobile processors in the mid- and low-tier OEMs that lack the resources to do their own ARM designs. Also, Qualcomm offers differentiated ARM-based SOCs based on its own unique designs as well as its world-class modems.
Roetter sees the deal making little sense and suggests that semiconductor companies such as Intel would make more appropriate suitors than SoftBank. The purchase of ARM by Intel or any of the major ARM licensees such as Apple would almost certainly raise regulatory concerns. In order to gain approval, the buyer would have to pledge to maintain ARM's status as a merchant vendor of ARM IP. ARM's design efforts would have to be "firewalled" from the parent company.
Although it's tempting to assume that the parent could simply cut off its competition from access to ARM designs, this would never be allowed. What then would be the benefit of owning ARM, other than the slight profit stream it would generate? There wouldn't be any, which is why companies such as Apple, an early ARM investor, have not sought ownership of ARM. Apple has avoided buying any companies that would require it to sell products or services to competitors. Merchant vendor is not a role that Apple wants.
As implausible as it may seem, I believe investors have to take at face value the assurances being offered by SoftBank and ARM that its business model will continue unchanged. It's the only path forward that will gain regulatory approval, and it's the only path forward that makes sense in the larger context of the semiconductor and mobile device industries.
Seeking Rationale
This still leaves the problem of finding a rationale for the high purchase price. A critical clue is the promise by SoftBank to invest in growing ARM's operations over the next five years with the addition of 1,500 staff in the UK and elsewhere. The headcount increase is almost 40% of ARM's current staff of about 4000.
This suggests a considerable expansion of ARM's design efforts, but probably not enough to transform the company into a fabless semiconductor house. And ARM has needed to grow its design capability.
Increasingly, its designs have become irrelevant to the larger players such as Apple, Samsung, and Qualcomm that design their own ARM processors from scratch. This is a point that I've seen some articles miss or at least gloss over. These companies only license the right to design processors that conform to an ARM Instruction Set Architecture (ISA). The ISA is literally just a set of numeric codes that when fed into the processor cause it to perform the agreed upon operation, such as an arithmetic or logic operation. An ISA is nothing more than a large document that you can download from the ARM site.
The designs of Apple, Samsung, Qualcomm have far surpassed the best that ARM has to offer, and due to the intense competition in the mobile device industry, are set to pull further ahead. Huawei is the only large mobile device maker licensing ARM designs for its custom SOCs.
Furthermore, as these large companies have sought to expand the footprint of ARM to areas outside of mobile, they have relied even less on ARM designs. Thus, Qualcomm's push into servers is based on its unique ARM architecture designs. ARM doesn't actually offer a server-specific CPU design.
So part of the intention of the investment is to try to reassert leadership in ARM designs, and make them more compelling. If ARM can offer a lower cost and superior product to in-house designs, it can gain considerable revenue from the mobile device makers that adopt them. This is rather iffy, and I'm not convinced that ARM can catch up with the likes of Apple or Qualcomm.
The other motivation for the growth in staff would be to expand into new markets that are not currently served by ARM designs. Everyone is pointing to IoT as the target market, except that I believe the low cost, low power end of that market is already well served by ARM's current offerings.
There are two key computing markets for which ARM has very little penetration, the server market and the PC market, and I think these are the targets. In a sense, the data center is being seen increasingly as driven by IoT. IoT dramatically increases the amount of data needing to be processed, therefore, it's a driver for data center expansion.
Data center is the key growth market being targeted by SoftBank/ARM, and the key area requiring expansion of its design effort, since it doesn't yet have anything to compete with Intel's Xeon. ARM processors, if equipped with appropriate designs, could offer a lower-cost alternative to x86-based servers. I consider it likely that the cost advantage that ARM enjoyed in mobile devices will carry over into servers, although there's plenty of room for debate.
My point is that this is the big bet that SoftBank is making, that ARM can push Intel's x86 out of the data center, and probably out of software-based networking for communications applications as well. It's a new market with a much higher value per processor. And ARM wants to get the drop on its licensees as well before it falls behind in design as it did in mobile processors. Failing to capture the design market for ARM servers would tend to relegate ARM to being just a caretaker of the ARM architecture standard going forward.
In the course of developing suitable server processors, ARM gets entry into the PC market at little additional investment. As I've pointed out, Google seems to be positioning Android as the next PC operating system, with a multitasking capability for Android Nougat that includes relocatable windows.
And Microsoft (NASDAQ:MSFT) is still basing its mobile version of Windows 10 on ARM processors. Although it has given up on Windows 10 for ARM tablets, it could always change direction if ARM processors are available that are better and cheaper than Intel.
Investor Takeaway
I interpret the SoftBank purchase as fundamentally about expanding ARM architecture into the traditional strongholds of x86. It represents a step in a process that I have come to believe is inevitable anyway, as I pointed out in my last article on Intel. What the SoftBank purchase does is accelerate that process through an infusion of capital that ARM was unable to generate on its own.
The capture of the data center market by ARM, with its own designs, is the prize that justifies the huge premium, and it is the opportunity to greatly expand the reach of the ARM ecosystem that persuaded its management to agree to the purchase.
Whether investors in SoftBank will be able to benefit from the ARM purchase remains to be seen. SoftBank is a fairly diversified holding company. However, this is a clear warning to Intel investors that the era of x86 dominance is drawing to a close. I continue to rate Intel a sell.
Disclosure: I am/we are long AAPL, QCOM.
I wrote this article myself, and it expresses my own opinions. I am not receiving compensation for it (other than from Seeking Alpha). I have no business relationship with any company whose stock is mentioned in this article.
Editor's Note: This article discusses one or more securities that do not trade on a major U.S. exchange. Please be aware of the risks associated with these stocks.