Gilead Sciences (NASDAQ:GILD) recent less than stellar earnings report served as the catalyst for a fresh leg down in the share price. The shares gapped down over 6% in a market that lately wants to go straight up since breaking through to recent all-time highs. In the first part of a two-part series I will offer my views on the recent report, with the second part detailing my updated fair value model.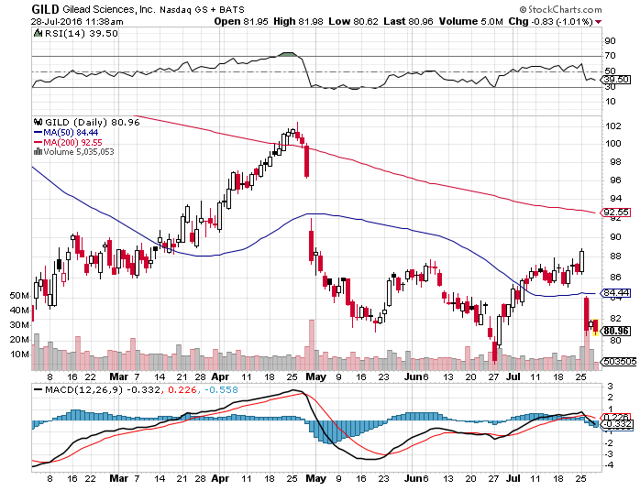 Click to enlarge
Infectious Disease Revenue
A real tale of two cities here with growth in the legacy HIV marketplace coupled with declines in the Hepatitis C (HCV) market. Let's review the dynamics of the HCV market which will aid in drawing conclusions pertaining to the health and ongoing viability of the market.
GILD took the field by storm roughly 2 ½ years ago with the introduction of Sofosbuvir (Sovaldi) and subsequent combination therapy Harvoni which utilizes Sofosbuvir to form the clinical backbone of GILD HCV endeavors. Irrespective of which treatment (including newly approved Epclusa) prescribed to the patient, due to the curative nature of the therapy a short course of therapy would ensue thereby short-circuiting the normal annuity-like revenue stream expected from chronic therapies. Typically when a new blockbuster treatment is introduced into the marketplace, an initial sales ramp will ensue with a gradual tailing off. Companies will usually submit yearly price hikes well above the rate of inflation thus adding to revenue.
The dynamics mentioned above are not present in the HCV marketplace. The sheer volume of worldwide patient turnover is staggering as every 2-3 months the entire treatment pool turns over with new patients coming to in to replace those who completed treatment. Once you overlay the hodgepodge of individual rebates, management's ability to predict the overall dynamics of the HCV remains murky at best. Managment lowered yearly guidance by $500 million to $29.5-$30.5 billion in revenue hence the negative reaction in the share price of GILD. Let's further examine some of the trends of the HCV marketplace.
The quotes and graphics shown below are courtesy of the Sentieo.com research platform. They are taken from the earnings slide deck and transcript from the recent earnings release.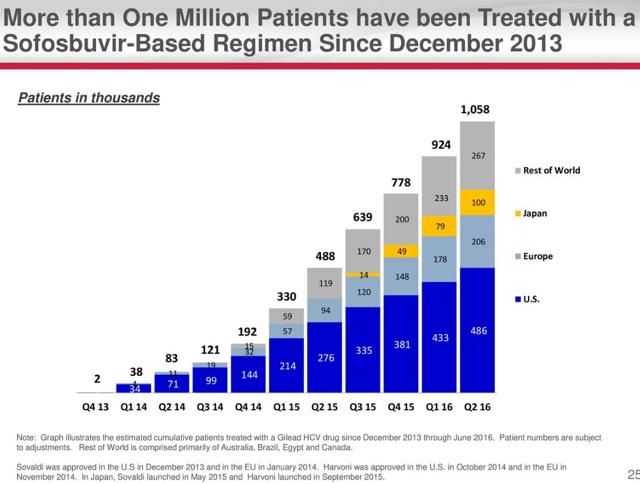 Click to enlarge
As shown in the above slide, the number of patients treated worldwide continues to expand at a healthy clip. The first question on the minds of GILD bulls should be then why is HCV revenue continuing to decline?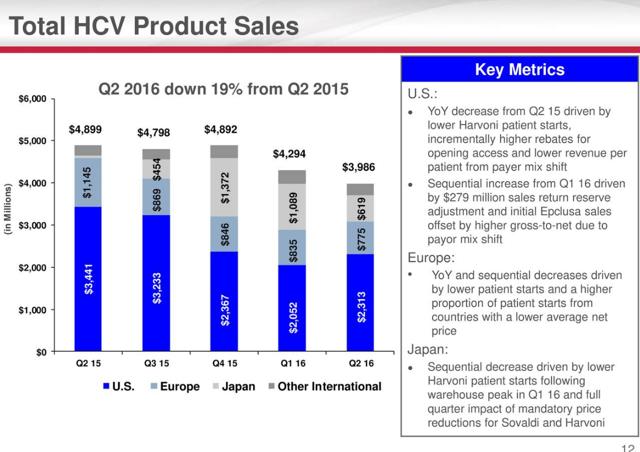 Click to enlarge
To increase access to the eligible patient pool, GILD remains willing to lower the overall price of treatment thus ensuring a year over year decline in overall sales. For example, the VA health system contains a large pool of vets infected with HCV is actively treating those afflicted with HCV with an 8-week course of treatment versus the 12 weeks typically seen in an outpatient setting. Additionally, to ward off competitors from t aking additional inroads into their market share, GILD negotiated a decrease in net revenue from various plans, some of which comes in the form of rebates. The following quote from John Milligan, the CEO fo GILD, offers a longer term view of the dynamics of the HCV marketplace.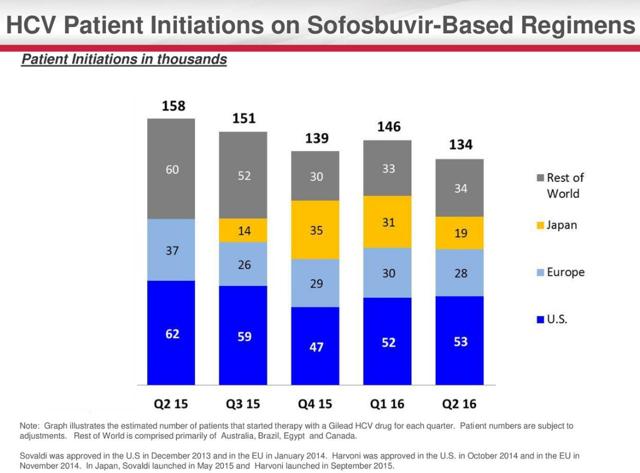 Click to enlarge
As we've reached the midpoint of the year, we now see the market maturing to a slower rate of treatment for HCV-infected individuals. And as we think about this more normal pace of patient starts, there are a few things to keep in mind. As Kevin mentioned, there are three million people who are infected in the U.S. and slightly more than half of those have been diagnosed. Many of these diagnosed patients have less advanced liver disease upon reentering care.
For example, in the United States, in the second quarter this year, we estimated that only 13% of patients starting treatment had F4 fibrosis scores compared with more than 21% the year prior to that. With less severely ill patients, there's less urgency to immediately treat patients, and this may explain the slower rate of treatment versus last year. However, we do believe these patients will eventually benefit from treatment, and this means the flow of patients will continue for many years to come.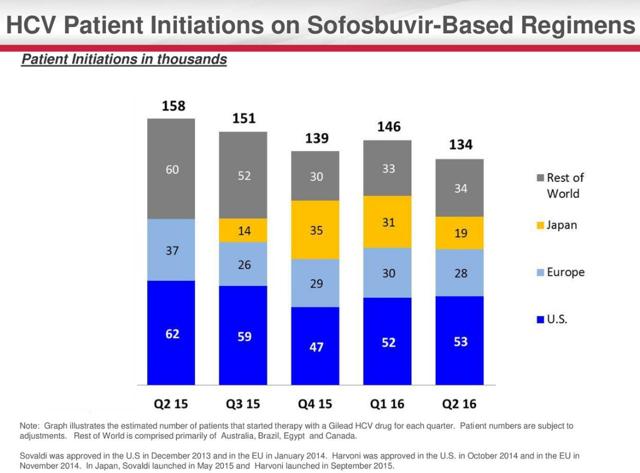 Click to enlarge
The challenge going forward is trying to place a valuation on the wasting asset that is the HCV marketplace. GILD has reaped over $39 billion thus far from the HCV franchise with a good shot in achieving lifetime sales of $100 billion, yet any hope for continued growth here is vanquished.
HIV Franchise
Luckily for the GILD bulls, the HIV franchise continues to perform well with a new spate of product innovations that are poised to expand market share and increase sales.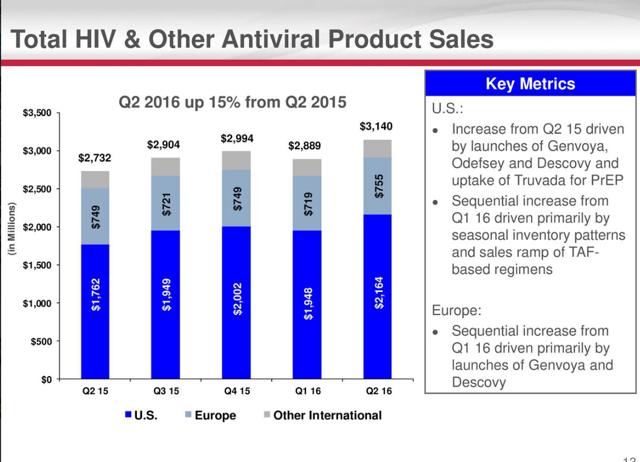 Click to enlarge
GILD in a clever bit of lifecycle management has obtained approval to replace tenofovir with TAF a less toxic pro-drug of tenofovir in its existing combination therapies. The benefit to the patient class is evident; the HIV-infected populace is aging achieving middle age where renal function begins to decline. The sheer fact that the patient pool is still with us was inconceivable to many in the 80's when the disease gained widespread notoriety. Thus far payer pushback is minimal, a win-win for the patient population and GILD shareholders.
The growth in sales of the HIV franchise, (GILD retains a worldwide market share of over 60%) while a positive failed to offset the declines seen in the HCV marketplace. A shown in the slide below, GILD revenue growth fell for the second quarter in a row. The market does not take kindly to falling revenues hence the lowered multiple that GILD is trading at. At his point, it is safe to treat the HCV revenue with the same dynamic seen in other pharma companies once an essential product loses patent protection. The focus from here on out for GILD shareholders should remain squarely on the clinical pipeline and potential M&A activity.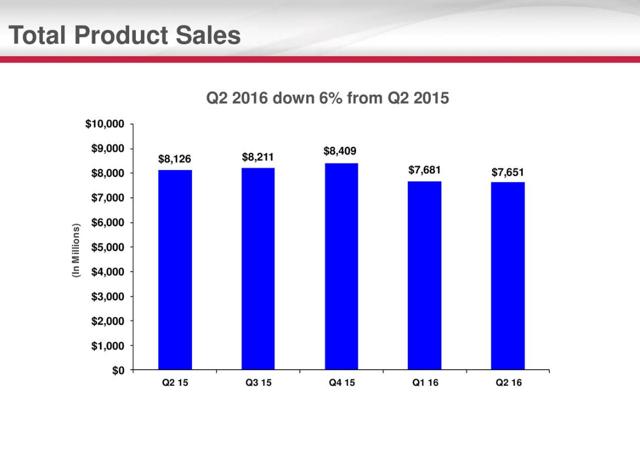 Click to enlarge
Pipeline
GILD pipeline remains well stocked with numerous interesting molecules most notably the four different molecules in clinical studies for NASH and GS-5745. In the intermediate term, TAF for the treatment of HBV is the most important product closest to commercialization with a PDUFA date of November 11 th, 2016. In a similar fashion to the dynamics seen in the HIV market, I expect TAF to gain widespread acceptance and usage thus prolonging GILD revenue stream.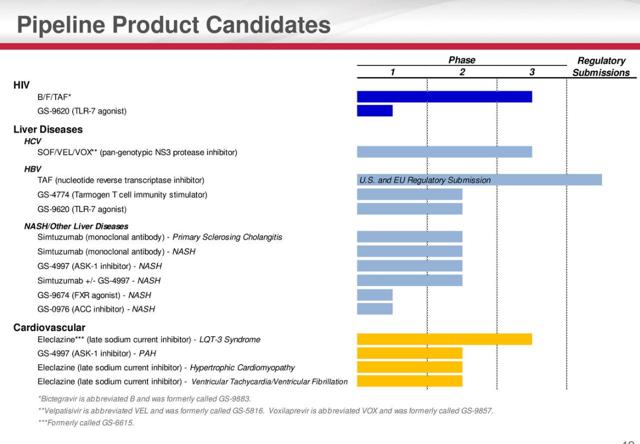 Click to enlarge
The second half of the year will bring many clinical data reads with the most notable emanating from GS-5745 for the treatment of Crohn's Disease, Phase II of GS-4997 in NASH and PAH coupled with Phase I Data of GS-9674 in NASH. I suspect we will have a better feel for the potential of returning GILD revenue back to growth thus arresting the drop in GILD valuation. Absent a move to acquire an outfit with a fully commercialized product lineup, GILD multiple will remain in the single digits until growth resumes. The share repurchase scheme while attempting to arrest some of the declines in the share price will not lead the company back to new highs. The only way higher is via new products, a fact not lost on the current management team. They remain keenly aware of the challenge before them; the question is how they will proceed.
GILD has fully transitioned from a growth entity to a value play, with the potential of becoming a deep value play. The dividend is appealing here; you are paid to wait for a revival in earnings. Keep in mind, barring a commercially viable treatment for NASH, GILD path towards revenue growth will more than likely come from a series of single and doubles, i.e., products with $500 million to $1 billion in revenues.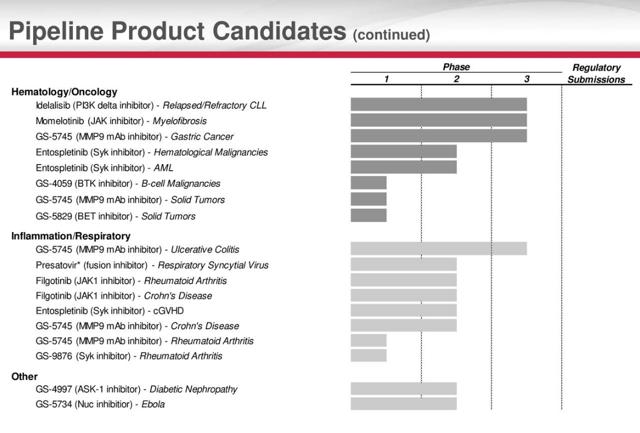 Click to enlarge
This concludes the first portion of my two-part review of GILD recent earnings report. The second part will focus on GILD valuation, which should be posted shortly. For full disclosure, an alert was sent to subscribers of the Undervalued Gems Investment Service alerting them to hedge their exposure to GILD heading into earnings. The $85 strike put was purchased as a hedge, the put was closed out post earnings with the gains used to buy additional shares of GILD. I would like to thank you for reading, and I look forward to your comments.
Investors are always reminded that before making any investment, you should do your own proper due diligence on any name directly or indirectly mentioned in this article. Investors should also consider seeking advice from a broker or financial adviser before making any investment decisions. Any material in this article should be considered general information, and not relied on as a formal investment recommendation
Disclosure: I am/we are long GILD.
I wrote this article myself, and it expresses my own opinions. I am not receiving compensation for it (other than from Seeking Alpha). I have no business relationship with any company whose stock is mentioned in this article.