Mellanox (NASDAQ:MLNX) is set to grow sales at a 30%-plus rate over the remainder of FY2016. Sales growth is expected to be driven primarily by Ethernet with the EDR InfiniBand product also contributing to sales growth. As an early supplier of 25/50/100Gb/s Ethernet adapters and the only end-to-end 25, 40, 50, and 100Gb/s Ethernet supplier in the market, MLNX is poised to benefit from the OEM and end-user connectivity upgrade cycle.
As the volume of stored data continues to grow along with the volume of transferred data, the speed at which data is moved needs to increase. MLNX is uniquely positioned to benefit from worldwide transitions such as the shift to cloud computing from on-premise computing as well as the increasing demand for high-performance computing because its products facilitate efficient data transmission between servers, storage systems, communications infrastructure equipment and other embedded systems.
Specifically, as semiconductor performance has doubled roughly every 18 months, I/O interconnects need to radically change every few years to maintain system performance. And while personal computers haven't maxed out the bandwidth capabilities of PCI 64/66, server needs are pushing the limits of PCI-X. This is where InfiniBand is playing a significant role by providing higher connectivity speeds at low latency and at an attractive price point.
Thus given the demand outlook for MLNXs products over the foreseeable future as well as its valuation, I see MLNX returning just under 20% over the next nine months to equity investors. The combination of a low price-sales multiple (2.91) and a 30%-plus revenue growth rate combined with a market capitalization of just over $2B and a market share of 100% in some markets makes this an attractive investment opportunity. It should be noted that Intel's acquisition of QLogic's InfiniBand technology means that competition will increase in the coming fiscal years.
The key risks to my outlook are weaker than expected EDR and/or Ethernet sales. On the upside, better-than-expected uptake of the FDR InfiniBand product during 2016 2H could lead to a better than expected RoR. With that stated, the current valuation implies minimal downside risk.
EDR InfiniBand And Ethernet to Drive Sales Growth
Through the last couple fiscal years, InfiniBand and Ethernet have been the revenues growth drivers for Mellanox as OEMs and end-users continue to update their hardware solutions to provide faster connectivity. Thus, while the volume of electronic data continues to expand, the speeds at which data is transferred must continue to quicken with Mellanox's EDR, FDR and Ethernet solutions being well positioned to capture this opportunity.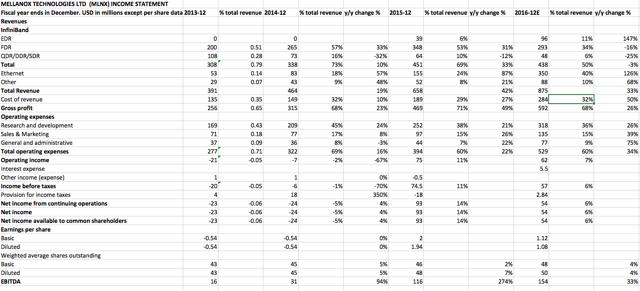 Forecasted results courtesy of Bottom Up Investing
Over the past couple years, sales of FDR have cannibalized sales of QDR/DDR/SDR as OEMs and end users opt for solutions that provide faster connectivity. EDR, Mellanox's 100-gigabit per second InfiniBand product, ramped in FY2015 and has picked up momentum in FY2016. I expect continued uptake of EDR throughout at least FY2018. With that stated, EDR appears to be cannibalizing sales of FDR, or at the least sales of FDR appear to have slowed during FY2016. This could be a momentary setback with sales growth of FDR resuming later in FY2016 or FY2017. For now, the expectation is that increased sales of EDR aren't enough to offset declining sales of FDR, and QDR/DDR/SDR, resulting in a 3% decline in InfiniBand sales. However, total revenues are expected to increase 33% y/y as sales of Ethernet solutions more than offset sluggish InfiniBand sales. Additionally, sales of HDR, the next InfiniBand product, during FY2017 and/or FY2018 should contribute to overall sales growth in the coming fiscal years.
In terms of profitability, I see a moderate decline in profitability relative to FY2015. The decline in profit margins is in large part attributable to increased amortization of intangible assets and acquisition related costs. I expect management to continue to invest heavily in research and development with the goal of staying at the cutting edge of the industry. Operating income is expected to decline 17% with net income falling 42% y/y. EPS is expected to decline 44% as shares outstanding could increase 4% y/y. On the bright side, EBITDA is expected to increase 33% to $154M and the EBITDA margin is forecasted to remain flat at 18% of total revenue.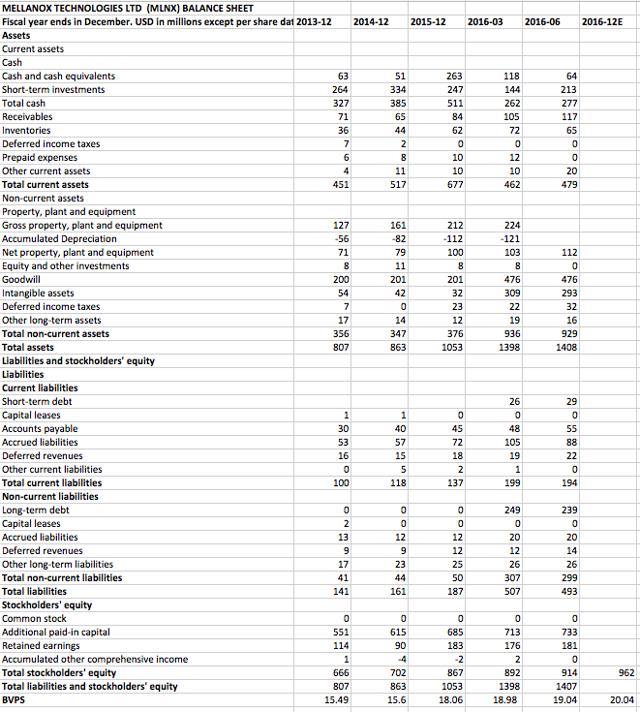 Forecasted results courtesy of Bottom Up Investing
Turning to the balance sheet, management has done an excellent job of increasing shareholder equity with the BVPS expected to reach $20 per share at the end of FY2016. Financial leverage has increased but total debt is roughly equal to total cash. Intangible assets and goodwill represented 55% of total assets and 84% of shareholders' equity at the end of second quarter. I would like to see these numbers decline in the coming fiscal years through increased cash, accounts receivable and net plant, property and equipment.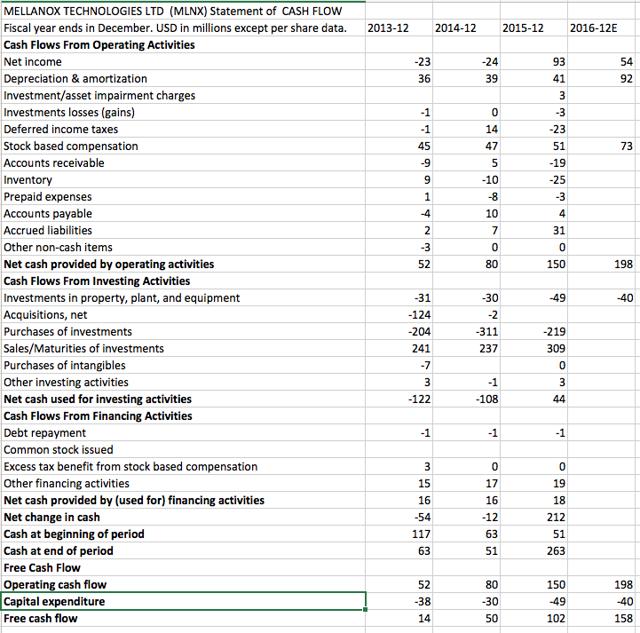 Forecasted results courtesy of Bottom Up Investing
Though net income has left something to be desired for some equity investors, cash flow from operations and free cash flow has been accretive. For FY2016 I expect free cash flow growth of 55%, which is aided by a decline in capital expenditure and the acquisition of EZChip. The free cash flow to total revenue margin is forecasted to be 18% during FY2016. In short, I like what I'm seeing from a cash flows perspective.
Valuation

Valuation courtesy of Bottom Up Investing and Morningstar
Given its size and revenues growth rate, Mellanox is trading cheaply. MLNX is the smallest company on the list of comparables and yet it is trading at the second lowest price to sales multiple. Mellanox could be trading this cheaply because investors believe that the company's growth opportunities are more limited than its peers and/or investors could be penalizing MLNX for a lack of profitability. In either case, the absolute value of the price/sales multiple is low enough that with sales growth north of 30%, or even 20%, investors could still earn double-digit returns while the multiple contracts. Granted, I expect the multiple to stay at rough 3, meaning that I expect just under a 20% RoR over the next nine months.
Price-to-sales is the appropriate valuation metric because of the company's life cycle stage, meaning MLNX is still investing heavily in operations in order to develop a competitive moat. Consequently, valuations based on profitability metrics would be skewed to the downside or would require significant estimates that could prove to be intolerably inaccurate. Also, the peer companies have similar growth rates and operate within the same industry.
Summarily, given its size, growth rate and competitive position, I think that MLNX is undervalued and has substantial upside potential without even a repricing of the multiple.
Disclosure: I/we have no positions in any stocks mentioned, and no plans to initiate any positions within the next 72 hours.
I wrote this article myself, and it expresses my own opinions. I am not receiving compensation for it (other than from Seeking Alpha). I have no business relationship with any company whose stock is mentioned in this article.