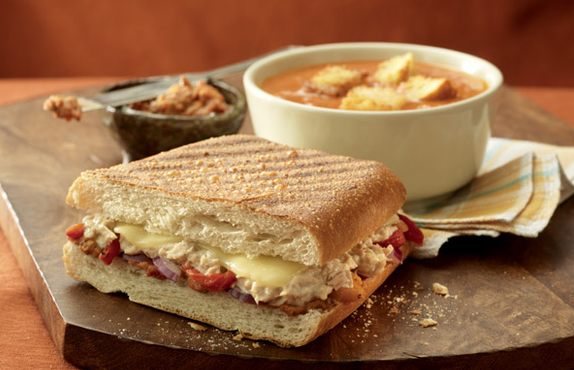 I've been bullish and bearish at different points in the past on ubiquitous café chain Panera (NASDAQ:PNRA). The company's model is undeniably successful and the Panera 2.0 transition has proven a net positive to be sure. But at times -- including after Q1 earnings -- the stock has been very expensive. I've never really been bearish on Panera's business but since I said the stock was too expensive, it has bounced around and gone nowhere, indicating that perhaps I was right about it getting ahead of the fundamentals. The Q2 report was also pretty strong so you can imagine that the stock should have traded up meaningfully, but it didn't. Why is that?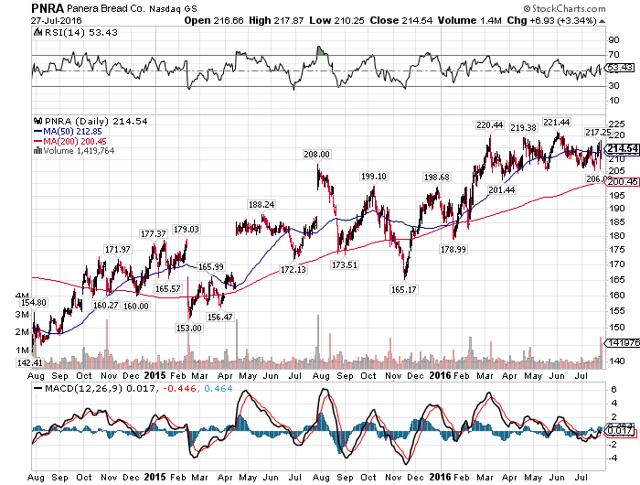 Click to enlarge
I'll attempt to answer that question a little later on but to begin, let's take a look at how good Panera was in Q2 after it produced a strong Q1 this year as well. Revenue was up 3% in Q2 due entirely to higher comp sales at company-owned restaurants. That number was up a very strong 4.1% but if we look a little deeper, the headline number doesn't quite tell the whole story.
First, franchised outlets only hit +60bps in comp sales in Q2, worlds away from the company-owned number. And second, only 40bps of the gain was due to traffic; the rest was average ticket growth. I'm always very interested in the composition of a comp sales number and to be honest, Panera's is lopsided the wrong way. Average ticket gains are terrific but less sustainable than traffic gains. After all, the hardest part of running a restaurant is getting people in the door, not raising prices or up-selling. Panera didn't do a great job of getting people in the door in Q2 so that's something I'll be watching for in Q3 and Q4; it also impacts the valuation discussion.
Food and paper costs continue to decline for Panera as commodity prices help out there. Panera has seen some pretty significant reductions in its food and paper costs in recent quarters and that is certainly helping to boost operating margins. Unfortunately, labor costs continue upward, a point I have belabored with Panera before. I've argued in the past that Panera's cost structure has permanently shifted higher because it will forever have to pay more for labor than it has historically due to new labor laws and a push from the industry for higher wages. That continues to show up in Panera's operating margin numbers and it isn't good, negatively impacting Panera's earnings as it did in Q2. The headline operating margin loss of 150bps contains some noise but the true, ongoing basis number was still -50bps against last year's Q2. That's a terrible result as part of the reason I was bullish on Panera in the past was margin expansion; that piece of the bull thesis is dead and gone and has been for a while.
We know people are going to continue to eat at Panera and it would seem that the chain is reaping rewards from Chipotle's ongoing brand crisis. However, the margin growth issue and the fact that comp traffic is so weak are concerning to me. Despite this, management raised the low end of its guidance for this year by 10 cents and is now calling for $6.60 to $6.70 in EPS. That certainly had investors cheering as the stock recovered losses it had sustained leading up to the report, but what does the valuation picture look like now that we have half of 2016 under our belts?
Panera is trading for 32 times this year's earnings and 27.5 times next year's numbers, lofty valuations indeed. There aren't many companies that can sustain those types of valuations but to be fair, if a company is going to do so, it could certainly be Panera. Again, I'm not saying its business model is flawed or that earnings declines are coming; that would be insane. What I am saying is that perhaps investors have gotten ahead of the fundamentals; I believed that after Q1 and I still believe it now with the stock flat for the last four months.
Panera is producing very moderate sales growth at this point -- low single-digits -- and as I mentioned, its margin growth story is dead for the time being. It simply cannot afford the labor cost increases it is having to sustain and until comp sales move meaningfully higher and it anniversaries those labor cost increases, the story will be the same. That removes a huge piece of the EPS growth puzzle and in fact, may introduce a negative EPS element like it did in Q2 as earnings fell despite higher revenue. That's not the hallmark of a company that should trade for 32 times earnings in my view.
In short, Panera is simply too expensive. To sustain that sort of valuation it needs to have some way to meaningfully grow earnings and it doesn't. Revenue growth is too slow due to its already-immense scale and margin growth is flat or negative. Yet, Panera has a premium growth multiple and it simply makes no sense. The stock has been stuck in a range of roughly $200 to $220 for the last few months and whichever direction it breaks out will then see a sizable move. Obviously, I cannot see a reasonable scenario where it breaks out to the upside any time soon as that would require an even more ludicrous valuation than what we have today. Thus, I think Panera will either continue to bounce around in the box it is in now or break out to the downside. Time will tell but neither is a good reason to own the stock so I'll maintain my bearish stance here; I think upside is very limited given Panera's challenges to grow earnings and its current valuation.
Disclosure: I/we have no positions in any stocks mentioned, and no plans to initiate any positions within the next 72 hours.
I wrote this article myself, and it expresses my own opinions. I am not receiving compensation for it (other than from Seeking Alpha). I have no business relationship with any company whose stock is mentioned in this article.