Note: Due to Element Financial reporting currency and higher volume listing EFN.TO being in Canada, all amounts in this article are in Canadian Dollars.
Since I first wrote about Element Financial (OTC:ELEEF) in early June 2016, it has been a bumpy road for the share price, punctuated with a 3.6% drop on July 26th: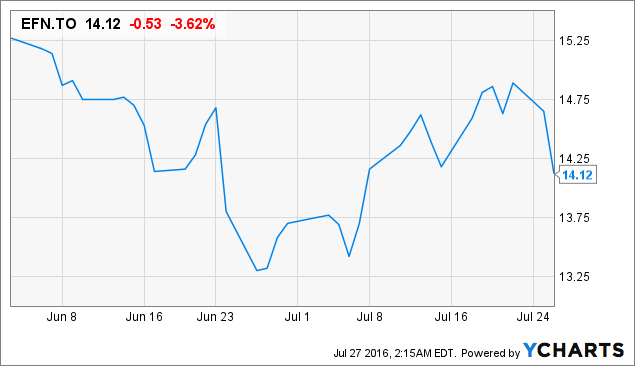 Part of my original thesis for an investment in Element was that there would be some uncertainty during the process of separating the company into two divisions, Fleet Management and Structured Finance (now called ECN Capital Inc.). Since the market didn't know how to value Element prior to its separation announcement, the uncertainty surrounding the eventual process details was bound to cause some short-term volatility.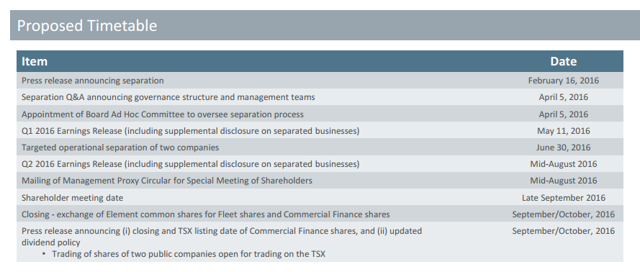 Click to enlarge
Source: AGM Presentation June 16, 2016
Element has continued to move forward with both businesses in preparing for the split. On June 29, 2016, Element announced a $2.25B in financing, raised partly through an ABS note of $1B and a renewal of a $1.25B asset-backed funding facility. These were used to back the fleet management business.
Element also announced a transaction for ECN Capital to takeover INFOR Acquisition Corp (INFOR) after the split from Element Fleet is completed. This announcement spurred the recent sell off in Element shares, making it worthwhile of further investigation.
INFOR Acquisition Corp.
INFOR was one of five Special Purpose Acquisition Corporations (SPAC) that were formed in Canada in 2015. SPACs are basically capital pools that are formed in order to eventually execute a transaction within a specific amount of time, 21 months in this case. INFOR is the first SPAC in Canada to actually make a transaction happen with its acquisition by Element.
Management indicated that they went through over 40 potential transactions before settling on this one. I suspect that it wasn't a great subset of options. Element Capital (a subsidiary of Element) and some of INFOR directors were initial investors in INFOR for 400,000 units @ $10 or $4m or 1.7% of the Company. In order to make this transaction happen, the non-Element Founders (as the group above are referred to) agreed to take 80% of the shares they would be entitled to in the event of an acquisition. They were entitled to a premium so this means they will be treated as all shareholders will be, making it more palatable for all shareholders. The alternative at wind-up is that the Founders would lose their stake completely in a wind-up. Not so interesting for them to have that outcome occur.
Due to the timing and the concessions from the Founders, it appears this was the last resort deal for INFOR. For Element, it has several benefits:
it essentially amounts to a very low cost private placement for ECN Capital of $230m, which are the sole financial assets of INFOR
It brings in Neil Selfe as Executive Vice-Chairman for ECN, who spent 2006 to 2015 working in structured finance at GMP Securities before taking the lead with INFOR
It also adds William Holland, former CEO and current Chairman of CI Financial, to the Board of Directors, bringing further business experience
This acquisition does have a cost in the form of future dilution as ECN will pay for the acquisition through the issuance of its shares post-split at fair value. Unfortunately, until the split is done, we don't really know what this is exactly; I will borrow from my previous article to give us a range of dilution risk.
Based on its guided earnings estimates and my assumptions, I see three main scenarios: 6x earnings at $2.46 per share, 10x (mid-point) at $4.10 per share and 16x (management's estimate) at $6.56 per share. Assuming 385.8m shares outstanding post-split:
| | | | |
| --- | --- | --- | --- |
| | 6x | 10x | 16x |
| Market Cap | $0.95B | $1.58B | $2.53B |
| INFOR | $0.23B | $0.23B | $0.23B |
| % Dilution | 24.2% | 14.6% | 9.1% |
Source: Author Estimates
This particular risk is why I believe the market shaved almost $204m in market cap from Element after this deal was announced, essentially pricing in the worst case scenario. I believe this is overdone, especially since Element added cash through INFOR, as opposed to inventory, A/R, fixed assets etc. where the valuation of the assets acquired would have more risk.
The Takeaway
Element continues to be a undervalued combination of two companies. The announced split is continuing on track to be effective by Q4 of 2016, which should simplify the valuation of both Element's fleet business and ECN Capital. The uncertainty in these valuations is what gives us the opportunity here.
The sell-off from the INFOR acquisition announcement has further compounded this. The INFOR management likely did not have any other compelling options. For this reason I suspect ECN will argue that its fair value is closer to the upper end of my estimates rather than the lower end that the market is pricing in here. This is simply increasing the discrepancy between the current share price and the value of Element's underlying businesses.
ECN's post-split, post-INFOR capital position indicates they are prepared to continue to drive its business forward, likely through acquisition. As one of my commenters (my thanks to lockstockbarrl) on my previous article notes from a Globe and Mail interview: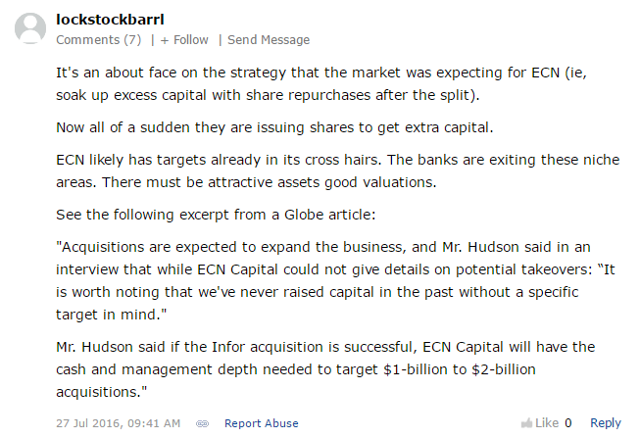 Click to enlarge
Mr. Hudson has had a history of growth; however, I believe he has learned to stay in his lane after the spectacular drop of Newcourt Capital from its heights. This provides ECN with an additional potential post-split catalyst. Given ECN's strategic conversion, I would not expect it to be acquiring hard assets but maybe a smaller asset manager. This may be somewhat counter-intuitive for ECN to be expanding when others are starting to get worried about debt levels and operational performance. The "greedy when others are fearful" quote may be applicable here, especially if some potential targets for ECN run into financial difficulties a la Newcourt.
At the risk of going down with the ship, I think the market has over-reacted to Element's recent moves, most notably the INFOR acquisition. As I outlined in my previous piece, I continue to believe Element is on the right track in separating its businesses. That said, until the split is more defined, there will be some continued short-term risk in the coming months as the process moves forward. If these price movements are too much for some, I highly suggest trailing stops; there does appear to be a level at $13 that would serve as a good support/selling point.
For continued discussion, please don't hesitate to comment below. I learn from your feedback.
If you like what I'm doing, you can follow me by hitting the "follow" button at the top of this article. Plus, you can follow me in real time by selecting that option. It should give you somewhat of a head start whenever I write an article on what actions I am taking and why. Thanks for reading!
Disclosure: I am/we are long ELEEF.
I wrote this article myself, and it expresses my own opinions. I am not receiving compensation for it (other than from Seeking Alpha). I have no business relationship with any company whose stock is mentioned in this article.
Additional disclosure: I am long through the Canadian ticker EFN.TO