Shares of GoPro (NASDAQ:GPRO) are trading are up big on heavy volume following a strong Q2 ER. While it is still early, we do think things are slowly turning around for the troubled camera-maker and expect the stock to have a strong 2H16. Over the next 2 quarters, the company is set to benefit from dramatically higher ASPs, highly anticipated product launches, and a growing software presence. We argue that the combination of these catalysts will rocket shares higher over the next 6 months.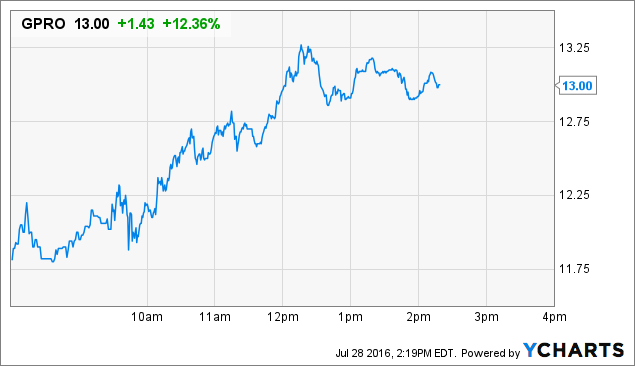 GPRO Price data by YCharts
The quarter was quite good. Revenues and earnings easily topped what were quite weak analyst estimates. The company only shipped around 759,000 cameras, more than a 50% YoY decline, but much higher ASPs kept revenues above $200 million in the quarter. Sell-through decreased less than 10% YoY, and was more than 50% higher than sell-in for the second straight quarter. Management reported that GPRO owns the top 3 selling digital cameras in the US, and 4 of the top 5 camcorders in Europe. Market share both domestically and in Europe continued to expand, easing investor concerns surrounding increased competition.
For all intents and purposes, the quarter was much better than expected. We have said for some time that GPRO has sustainable value as a company that sells popular, high quality action cameras. That proof of sustainability seems to have materialized in the quarter, as we are several quarters out form any hardware product launch and yet the company still shipped more than 750,000 cameras.
Looking forward, we are excited about three things:
New product launches in the back-half of the year will spark sales growth
Higher ASPs will continue to ease pressure on unit volumes
Promising Quick and Splice data illustrates that software could be a nice extension of the current hardware business
The company is set launch its newest camera, the HERO5, and its first drone, the Karma, in the back-half of this year. Management expects the HERO5 to have the most successful new camera launch in GPRO history. That would be impressive, considering the HERO4 shipped 2.4 million units in the Holiday 2014 quarter. Karma is the company's highly anticipated drone, and we think GPRO can ship 50,000 Karmas in the Holiday quarter. Together, these two new product launches should generate significant revenue tailwinds.
Moreover, increased unit shipments will be accompanied by much higher ASPs. In April, the company discontinued its low-end MSRP cameras (Hero, Hero+ and Hero+ LCD), and this showed up in 14% YoY ASP growth this quarter. This YoY growth will continue throughout the balance of this year. Moreover, the HERO5 will presumably have the highest ASP in the product line. The bigger HERO5's sales contribution is, the higher the ASP, and presumably the higher gross margin. All of these ASP tailwinds ease pressure on the HERO5 to have monstrous unit volumes.
The last tailwind we are excited about in the back-half of the year includes early development of GPRO's media and software side. It seems like a lifetime ago that GPRO was forming itself into a media company. That hype died with the stock price, and has never really re-entered the investment thesis. Q2 results, however, reveal that GPRO could have some success with a software extension. In February, the company acquired two mobile editing apps. In May, GPRO launched both apps as re-branded GPRO experiences. Since the rebranding, the two apps, Quick and Splice, have doubled their combined MAUs to 3.7 million and also doubled the amount of shared content each month. While these are just some early-read numbers, they are nonetheless promising and excite us about software growth concurrent with new product launches. The unique upside here is that these software solutions are not necessarily tied to GPRO products. Users can edit smartphone videos in these apps, so the footage does not have to be from a GPRO camera. This exposes GPRO to growth outside of the action camera space, and specifically exposes them to the growing mobile video capture space.
We think several tailwinds are converging, and that this convergence positions the stock to have a very strong back-half of the year. Shares are already up double-digits on early-read data, but are still significantly depressed from where investors saw the stock just a year ago. We see significant upside in the back-half of this year.
Disclosure: I am/we are long GPRO.
I wrote this article myself, and it expresses my own opinions. I am not receiving compensation for it (other than from Seeking Alpha). I have no business relationship with any company whose stock is mentioned in this article.