Source: Seeking Alpha
Earlier this week, Applied Materials (NASDAQ: AMAT), hit its 52-week high of 26.82. The Santa Clara company has gained great momentum to carry them into the third quarter. Typically when stocks rise out of that 52-week threshold, they have enough traction to really take off. A recent sale with United Microelectronics (NYSE: ADR) for $62.68 million worth of machinery equipment will help AMAT continue to advance past that high.
This sale is reflective of a positive new shift for the semiconductor manufacturer's means of business. In fact, in an interview with CNBC's Carl Quintanilla, CEO Gary Dickerson stated that the company is in "the early innings of some big multi-year waves."
This is easy for investors to buy due to the fact that AMAT is also producing record breaking earnings.

Source: NASDAQ
AMAT has produced higher EPS that past 3 quarters and hope to do so again when they report earnings on August 11th. AMAT is expected to record an EPS of .47. As you can see, that is a .14 increase from the same month in 2015. If AMAT is truly only in the early innings, then they are putting up enough runs to mercy rule the competition.
With recent growth in memory technology such as higher bandwidth, higher density, and less power, AMAT won't be the only one to gain. Semiconductor equipment, which AMAT sells, is a precursor input in the technology sector. Meaning, its successes radiate throughout the rest of the tech industry. This is reason to expect levels of substantial growth throughout Q3 and Q4 in both AMAT and the technological industry.
Earlier this quarter, we saw the technology sector fall around 2 points in total. But, Applied Materials did not follow this trend. Business has been up for AMAT in 2016. In reality, this is good news for the entire sector as AMAT produces inputs necessary for the entire industry. And as Applied Materials expands into foreign markets, recently reaching an all time high in order volume in China, the long term trajectory of this stock is very intriguing.
Furthermore, Dickerson continued in the Squawk Alley interview to say, "Early-year waves such as the transformation of memory technology keeps business growing despite negative pressures on products that used to be pertinent to Applied Materials' success... The third multi-year wave that we're riding is the growth of organic LED displays in mobile devices. Applied is unique in this enabling of LED displays."
One thing to keep in mind for the near future is the growth of LED displays. Gary Dickerson has been very vocal about these advances in various interviews such as this one with CNBC. This will be something very interesting to watch. Although AMAT has not relied on this technology for its success in the past, the company believes that it is pivotal to its future. With new products capable of being created with new technologies, the stock is bound to grow.
Despite tumbling about 25% in 2015, investors are seeing recent successes that ultimately have countered the losses of that time period. This very well may be because of growth in LED displays, however, demand is so static in the semiconductor industry that cost restructuring and business management have played a large role. Although it is very difficult to predict demand in the semiconductor industry, analysts and investors alike remain bullish.
Fundamentals: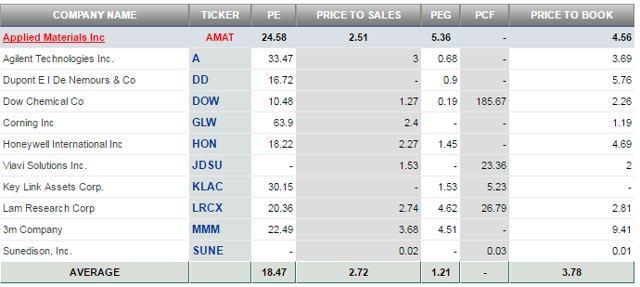 Source: CSI Market
Applied Materials holds a P/E ratio higher than the industry average which either shows overvalue or anticipated growth. The expected growth of this industry as a whole warrants the premium for AMAT. The PEG ratio is concerning as the price is higher than estimated earnings, however, new sales and demand for semiconductor manufacturing for the iPhone 8 could bring that back below 1 which is a good sign for investors.
However, this could also mean that the market is underestimating AMAT and this stock is undervalued. Analysts tend to predict the latter but the relatively average Price to Book ratio shows the company is financially sound. Even if you don't like AMAT's financials thus far, their debt to equity indicates a low risk as it stands at about .5092.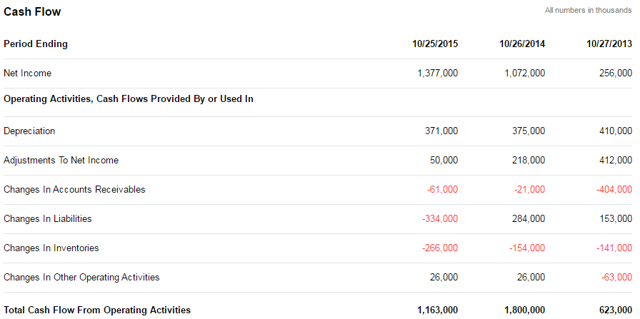 Source: Yahoo Finance
Without a lot of fixed assets, AMAT's cash flow has been able to grow over the last few years. This is important because it shows that, without external financing, AMAT is poised to grow its operations; a great sign for stockholders.
With the semiconductors industry recording recent growth of over 2 % and the hot streak that AMAT has found itself on, do not be afraid to branch out in this industry. Compared to this quarter last year, Applied Materials quarterly average revenue growth is up 9.15% without signs of stopping. Seven firms have upgraded their recommendations on AMAT to "Buy" this past week despite AMAT's fairly average financials.

Source: FinViz
The premonition that the technology and semiconductor industries are in good conditions is correct. With LED technology slowly becoming pervasive throughout all facets of the tech industry, there is a great deal of hope for all sectors. Especially with the iPhone set to drop and use this new technology, the tech industry is looking positive. Apple has fluctuated up and down since May, but AMAT nonetheless has seen spectacular growth.
To take a point from legendary investor Peter Lynch, "During the Gold Rush, most would-be miners lost money, but people who sold them picks, shovels, tents, and blue jeans made a nice profit (One Up On Wall Street, Page 8)."
Even if Apple does not see incredible gains once more, they still need AMAT services to make their products. AMAT, in this classic input producer example, will always be demanded by these types of manufacturers for their products. While Apple may certainly strike gold (yet again) in the iPhone mine in the near future, they will be digging away with the picks and shovels that AMAT, among other semiconductor manufacturers, sold to them.
Disclosure: I/we have no positions in any stocks mentioned, and no plans to initiate any positions within the next 72 hours.
I wrote this article myself, and it expresses my own opinions. I am not receiving compensation for it (other than from Seeking Alpha). I have no business relationship with any company whose stock is mentioned in this article.