Caterpillar (NYSE:CAT), the world's leading maker of mining equipment, has recently released its quarterly results in which the only bright spot, according to Mr. Market, was that the company managed to beat Wall Street's consensus estimate.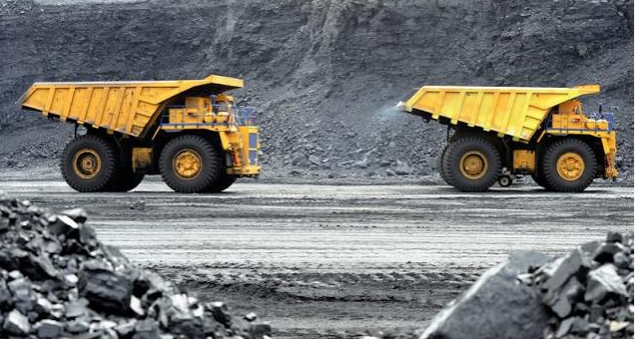 Caterpillar is an industry titan. The company is the biggest player in the global heavy equipment space and is around twice as large as its nearest competitor, Japan-based Komatsu. The Peoria, Illinois - based company carries an enviable global footprint. Its machines work on almost every country on the planet. It has more than 300 products and more than a dozen brands under its belt. The company has been gaining market share for the last five years. Due to its focus on producing best in class products, backed by no-compromise approach to R&D investments, it will likely further solidify its position once the market turns. On top of this, the company has been rewarding shareholders by consistently growing dividends for the last 22 years. However, Caterpillar is now facing extraordinary challenges.
Caterpillar has been hit hard by the commodities rout which has forced miners and oil and gas producers to cut back spending while the sluggish global economic growth has dragged construction activity. The relative strength in the value of US dollars against other major currencies has also hurt Caterpillar which has a large chunk of its sales overseas. Meanwhile, the low interest rate environment has hit Caterpillar's financial products business.
In this backdrop, Caterpillar has reported across the board decline in sales in terms of regions and segments from the corresponding period last year, with construction industries, its biggest segment, down 8%, energy and transportation down 20%, resource industries down 29% and financial products down 3%. Overall, sales fell 16% from a year earlier to $10.34 billion while net income dropped by 31.4% to $550 million, or $0.93 per share. Excluding the impact of one-off items, this translated into earnings of $1.09 per share. Analysts, on the other hand, were looking for earnings of $0.96 per share from revenues of $10.117 billion, according to data compiled by FactSet.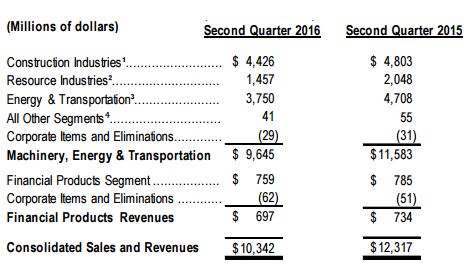 Besides better than expected numbers, it appears there is no bright spot in the quarterly results of Caterpillar which seems to be caught in a perfect storm, unless you look at the company's cash flows.
That's crucial, since this is where the dividend comes from. As a background, Caterpillar carries a remarkable dividend growth track record largely because it runs a business which has historically generated enough cash flows to fully fund capital spending as well as dividends. That's something which some of the other companies that have been growing dividends for decades, such as Exxon Mobil (NYSE:XOM), have been unable to do recently. Caterpillar's strong cash flow generation ability made it a low risk dividend stock.
However, in the first quarter, we saw some cracks in Caterpillar's strong dividend foundation. In the first three months of 2016, The company's operating cash flows plunged more than 60% from a year earlier to $489 million, which wasn't enough to cover total capex and dividends of $1.19 billion. As a result, Caterpillar was left with a large cash flow deficit of a little less than $700 million. That raised concerns regarding the sustainability of Caterpillar's dividends since no company can continue funding dividends just from borrowings and asset sales for long. Few more quarters like these and Caterpillar would have been forced to reconsider its payout policy. However, in the second quarter, the company came back strongly.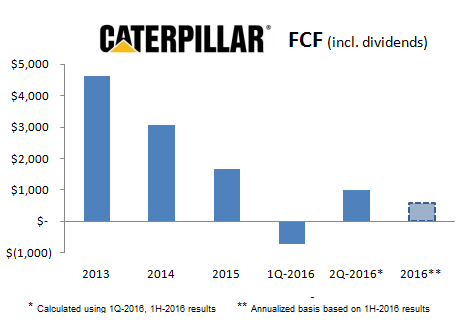 In the second quarter, Caterpillar's operating cash flows came in at $2.31 billion, which was significantly higher than total capex and dividends of $1.32 billion. As a result, Caterpillar ended the quarter with excess cash flow, after capex and dividends, of $996 million. At this rate, Caterpillar can generate excess cash flow of $594 million in 2016, as shown in the picture above. In other words, Caterpillar should be able to fully fund its entire capital and dividends expenditure for the current year. That should alleviate concerns regarding sustainability of the company's dividends, at least for the short term.
Remember, however, that Caterpillar isn't out of the woods yet. In the earnings statement, the company's Chief Executive Doug Oberhelman ruled out the possibility of any turnaround in 2016. The state of some of the company's key end markets "like mining, oil and gas and rail" remain weak. In fact, the business environment is turning out to be worse than what the management initially thought, which is why the company has reduced its future outlook.
The company has reduced profit and revenue guidance to $3.55 per share and $40-$40.5 billion from $3.62 per share and $40-$42 billion respectively. On the other hand, it has increased restructuring costs estimate by $150 million to $700 million. As shown in the picture above, the company's FCF will also likely come significantly lower as compared to the last several years. Eventually, if the market fails to turn, Caterpillar's FCF will buckle under pressure, forcing the company to revise its payout policy.
This means that for now, the dividends appear safe, but the future outlook continues to look challenging.
Note from author: Thank you for reading. If you like this article, then please follow me by clicking the " Follow" link at the top of this page.
Disclosure: I/we have no positions in any stocks mentioned, and no plans to initiate any positions within the next 72 hours.
I wrote this article myself, and it expresses my own opinions. I am not receiving compensation for it (other than from Seeking Alpha). I have no business relationship with any company whose stock is mentioned in this article.