Expectedly, the second-quarter results of ConocoPhillips (NYSE:COP) that were just released were not up to the mark. The weakness in oil prices on a year-over-year basis took a huge toll on the company's financial performance, leading to a bottom line miss. In effect, the company's cost-reduction moves were not enough to help it mitigate the weakness in oil prices, which is why its performance suffered all the more in the second quarter.
In this article, we will take a closer look at Conoco's second-quarter performance and see where the company is headed next.
Low oil prices have taken a toll
For the second quarter, ConocoPhillips swung to a loss as compared to the prior-year period. More specifically, the company's adjusted loss for the second quarter came in at a whopping $985 million, way below the adjusted profit of $81 million in the year-ago period. There were two factors at play that led to this steep decline in Conoco's earnings - lower oil prices and weaker production.
In fact, during the reported quarter, Conoco's average realized price fell to $27.79 per barrel of oil equivalent, down from the price of $39.06 per barrel in the prior year period. This means that Conoco's crude oil price realization dropped almost 29% from last year. Additionally, a production decline of almost 3%, or 49,000 barrels per day, from last year to 1,546 thousand barrels per day in the second quarter also added to the weakness in its results. This decline in production was a result of downtime, fires in Canada, and depletion on account of lower capital expenses.
The massive decline in Conoco's earnings also led to a cash burn on a year-over-year basis. In the second quarter of 2016, Conoco generated $1.23 billion of cash from operations, down significantly from operating cash flow of $2.3 billion last year. Hence, it is quite evident that the oil price weakness has inflicted a lot of pain on ConocoPhillips, but the company has still decided to ramp up its production forecast for the year, while reducing the cost forecast at the same time.
What about the guidance?
Despite suffering on account of low oil prices last quarter, Conoco has decided to enhance its production forecast for 2016 to 1,570 MBOED from the prior forecast of 1,540 MBOED. Additionally, Conoco has decided to lower the adjusted operating cost guidance as well, encouraged by an 18% drop in operating expenses in the recent quarter. More specifically, Conoco now sees total operating costs of $6.8 billion this year, which is a reduction of $200 million from its prior forecast.
In my opinion, Conoco's improved cost and production guidance is good news for investors as this will enable the company to take advantage of a possible improvement in oil prices. This is because an anticipated decline in oil production, coupled with a rise in demand, should eventually lead to an improvement in oil prices.
In fact, oil inventories have started declining of late and this has led to a rally of sorts in crude oil prices. This is shown in the chart given below: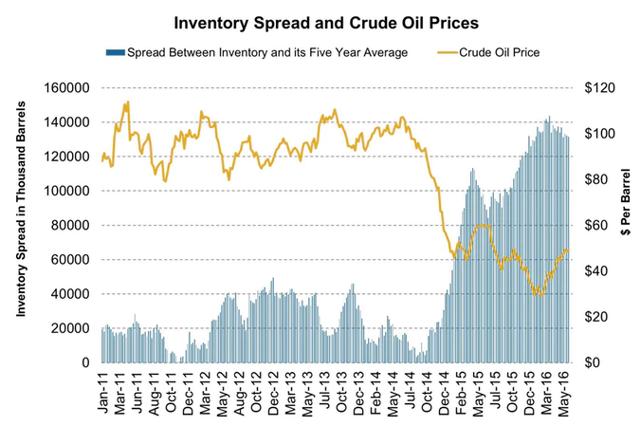 Click to enlarge
Looking ahead, it is likely that oil inventories will continue to decline and this will lead to an improvement in pricing. Now, a decline in oil inventories will be primarily a result of lower production. For instance, U.S. production will drop 800,000 bpd in 2016 and 400,000 bpd in 2017. Similarly, Russian oil production has also been trending lower of late, as shown below: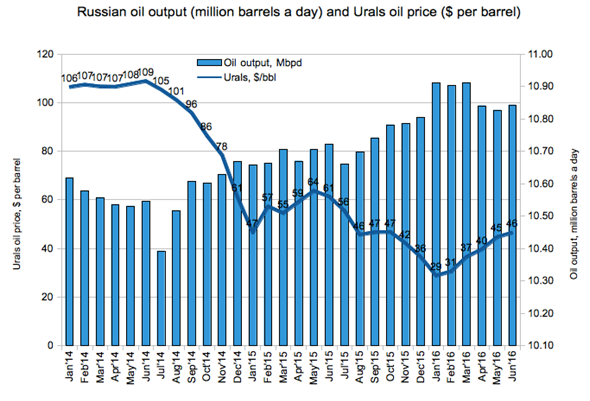 The key factor that's leading to lower oil production in these two countries, which are among the top three oil producers globally, is a massive cut in investment in the oil and gas space. For instance, upstream, midstream, and downstream capex in the U.S. will drop by a quarter this year to $136 billion after a massive drop of 36% last year.
At the same time, oil demand will continue to remain robust, with the EIA forecasting an increase of 1.4 million bpd in demand this year. Additionally, oil demand will be even stronger next year with a rise of 1.5 million bpd forecasted by the EIA. The net effect of the increase in oil demand and lower supply will be a better demand-supply balance in the market, as shown in the chart below, which will lead to improved pricing: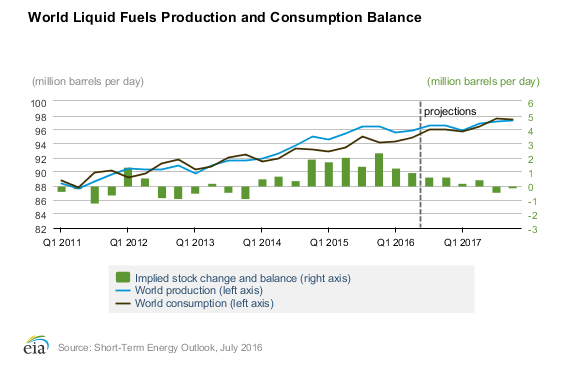 Source: EIA
Conclusion
Hence, ConocoPhillips' performance should gradually start getting better by next year as the demand-supply balance in the oil market gets favorable. Therefore, ConocoPhillips is making the right move by lowering its costs further and enhancing production, which is why investors should not panic after its latest results.
Disclosure: I/we have no positions in any stocks mentioned, and no plans to initiate any positions within the next 72 hours.
I wrote this article myself, and it expresses my own opinions. I am not receiving compensation for it (other than from Seeking Alpha). I have no business relationship with any company whose stock is mentioned in this article.