Google Revenues Climb 20%, Shares Jump on Earnings
Thursday marks the final day of massively large tech companies set to report earnings. After the close, Alphabet (GOOG, GOOGL) reported a top and bottom line earnings beat, joined by Amazon (NASDAQ:AMZN) - more on that in a minute. The two mega-companies join both Apple (NASDAQ:AAPL) and Facebook (NASDAQ:FB) in sweeping earnings per share and revenue expectations.
Not too shabby.
Getting specific, Alphabet revenues swelled to $21.5 billion, up 21% year over year and severely trumping the 11% YOY growth the company posted in the same quarter last year. Non-GAAP earnings per share came in at $8.42, up about 20% from the year prior. Operating margins also improved from the prior year.
Operating income from Google climbed to $6.994 billion, which was nearly a 25% increase from the prior year. That's good, as it's evident the core business continues to operate at a very high level.
The company's "other bets", which includes businesses like Dropcam and Nest, saw revenue soar 150% to $185 million, although operating losses climbed to $859 million. As it stands, shares are up almost 5% in after-hours trading.
For a long time, investors have been championing Alphabet, even though at times its share price could be rather stagnant. Still, the valuation compelled many investors, and the company's reacceleration of growth has vindicated many long-standing bulls.
As of this writing, shares are trading higher by almost 6% and are hitting what would be new all-time highs.
Don't Forget About the Amazon Juggernaut
While the stock is up less than 2% in after-hours trading (as of this writing), Amazon failed to disappoint when it reported second-quarter earnings.
The company put up a ridiculous 31.1% growth number on its revenues, juicing sales to $30.4 billion in the quarter and topping analysts' estimates by over $850 million. Earnings per share of $1.78 walloped expectations of $1.11, and CEO Jeff Bezos is likely smiling in Seattle.
In fact, the highest estimates on the Street called for $30.23 billion in revenues, although the company was unable top the highest estimates for EPS, which was $1.85.
In any regard, investors have to be happy with the results, although traders may be pooh-poohing the relatively quiet after-hours action. The increases in business operations are actually quite stunning. Operating income of $1.3 billion is higher about three-fold from last year, while net income is up nearly ten-fold. Free cash flow of $7.3 billion is up 65% from the $4.4 billion the company put up in the same quarter last year.
As is always the case, valuation is the pressing concern for Amazon, and that's hard to argue with. Shares are up 11% on the year and 42% over the past 12 months, while the market cap is now holding above $350 billion.
Although the valuation is lower than in years past, it's still astronomically high by many investors' standards. Unfortunately, the valuation has always been what bears picked on with Amazon, yet that hasn't stopped shares from climbing over 2,500% over the past 10 years.
*Cover your eyes, shorts.*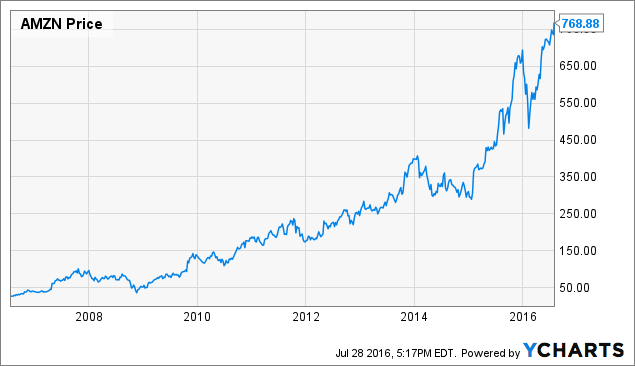 That's just the last ten years. Shares are up over 43,000% since the IPO.
Will the party every stop, and when? I don't know. All I know is that when it comes to Bezos, Zuckerberg and several others in this group, I'm not going to be the one to bet against them.
Some other notes:
Prime Day was the biggest day ever for Amazon, and set a record for Amazon deliveries as well.
Amazon Prime launched in India, which we covered, here.
AWS sales of $2.886 billion soared 58% YOY.
Revenues of $31 billion to $33.5 billion are expected for next quarter.
Oracle Snaps Up NetSuite for $9.3 Billion
I wonder if people will take up the same issues with Oracle's (NASDAQ:ORCL) acquisition of NetSuite (NYSE:N) as they did with Tesla's (NASDAQ:TSLA) bid for SolarCity (NASDAQ:SCTY).
Many were quick to point out that Tesla CEO Elon Musk is the top individual shareholder in SolarCity, making his company's buyout of the solar maker at least questionable. But his ~22.5% ownership pales in comparison to Ellison's stake in NetSuite.
As of March 31st, Ellison, the CTO and executive chairman (and the former CEO) of Oracle, controls almost 40% of NetSuite common stock. Given that information, perhaps an acquisition isn't that surprising.
NetSuite, which has been publicly traded since December 2007, is expected to help Oracle build out its cloud offerings. The terms of the deal work out to $109 per share for NetSuite in an all-cash deal. Assuming things go smoothly, the deal will close by the end of 2016.
While NetSuite has more than tripled its annual revenues to $741 million from 2011 through 2015, the company has failed to generate any positive net income during that time. Oracle expects the acquisition to be immediately accretive, and CEO Mark Hurd had this to say this morning:
"Oracle and NetSuite cloud applications are complementary, and will coexist in the marketplace forever. We intend to invest heavily in both products - engineering and distribution."
Twitter Keeps Up on Streaming Sports (Well, Sort of Sports)
Twitter (NYSE:TWTR), fresh off its disappointing earnings report, is continuing its pursuit of locking up streaming deals.
The microblogging site has already signed deals with the NFL, MLB, NBA, NHL, and the Pac 12, and has already streamed political conventions and quietly showed parts of Wimbledon. I'm taking a flyer here, but I'm guessing that management is still hoping these types of streaming deals will allow for users (and potential users) to be drawn to the service, as they can both watch the content and simultaneously tweet and interact with others.
In its latest run of streaming deals, Twitter will stream eSports content from the upcoming semifinals and championship rounds. Simply put, eSports is competitive video gaming.
While the segment may not have mass appeal, its fans are quite interested in the content. From CFO Antony Noto:
"Esports fans go to Twitter to see and talk about what is happening now in competitive gaming. Gamers are one of the largest and most engaged audiences on Twitter."
So far, the results aren't panning out in terms of MAU growth (up just 1% YOY in the U.S. last quarter) or apparently revenues, for which Twitter guided quite lower on for next quarter. While investors are probably sick of waiting, these things do take time.
It seems Twitter could have potential, though. Here's a screenshot from the Democratic National Convention, and it's easy to see how the company could provide value and engagement to its users. As always, only time will tell.
(Click to enlarge. The top is the streaming video, bottom is the tweeting. Perhaps the interaction is the turnoff for many.)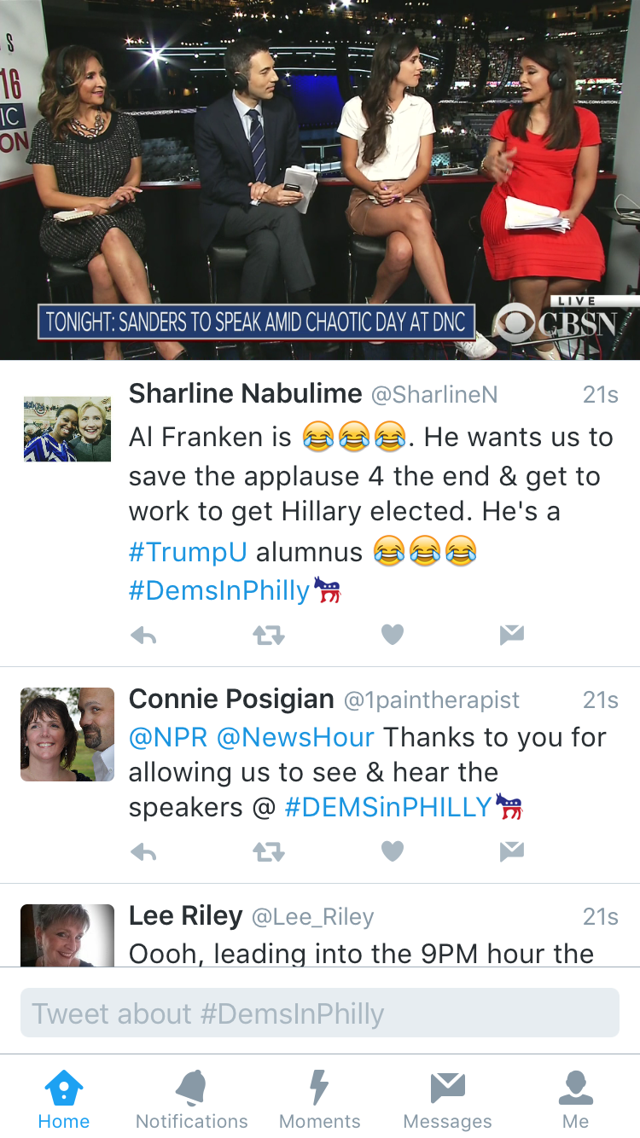 Click to enlarge
Tesla Shares Have Traded Well; Gets Fidelity Backing
With the exception of a short, Brexit-induced sell-off, shares of Tesla Motors have mostly hung in above the $220 level. Oddly enough, this may lead to disappointments on both sides. On the one hand, bulls were likely disappointed that Musk's "Master Plan" didn't pave the way for the stock's next breakout, while bears are frustrated as to why the valuation has not led to a cratering stock price.
Maybe that's not the case, but I've known quite a few ticked off bears over the course of Tesla's run, and the stock just never seems to break down the way they are hoping. Given the incredibly high short interest, though, we know the bears are certainly lurking.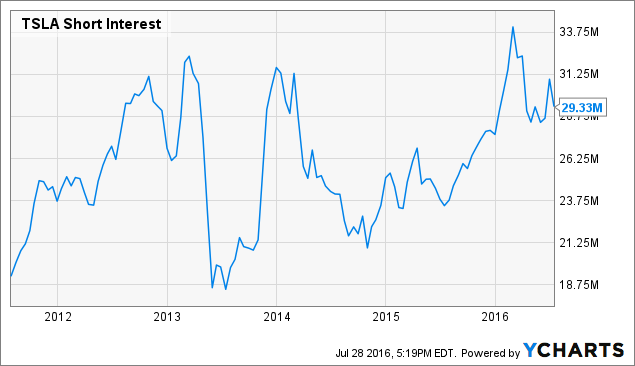 However, the company at least has the backing of one big investor - and no, not Elon Musk (in this instance). In his quarterly remarks to investors, Gavin Baker, portfolio manager of the Fidelity OTC Fund, said he and his team are "fans" of the "concepts underpinning the firm and potential future partnerships ahead of it."
Putting his money where his mouth is, Baker & co. upped their stake in the company to 3.14 million shares as of the end of May. This makes the company the second-largest fund shareholder in Tesla, with the first being Fidelity's Contrafund.
Between Fidelity and Musk, who owns ~20% of the stock, the two groups own almost one-third of all outstanding shares. Incidentally, Fidelity's OTC Fund is by far the largest shareholder in SolarCity when it comes to mutual funds.
Tech Tidbits
Apple decided to save it for a separate announcement than from when it reported earnings the other day, but the tech company sold its billionth iPhone.
Facebook has $11.7 million in funds frozen due to WhatsApp's refusal to provide user data to a Brazilian court.
Separately, the social media giant will now stitch together photos and posts from users' birthdays in a 45-second video, furthering the "videofication" of the internet, in the words of RBC analyst Mark Mahaney.
Uber (Private:UBER) and Didi Chuxing (Private:DIDI) officially get permission from the Chinese government to operate within the country, although they have already been doing so. You may remember Apple making a $1 billion investment in the latter.
Disclosure: I/we have no positions in any stocks mentioned, and no plans to initiate any positions within the next 72 hours.
I wrote this article myself, and it expresses my own opinions. I am not receiving compensation for it (other than from Seeking Alpha). I have no business relationship with any company whose stock is mentioned in this article.