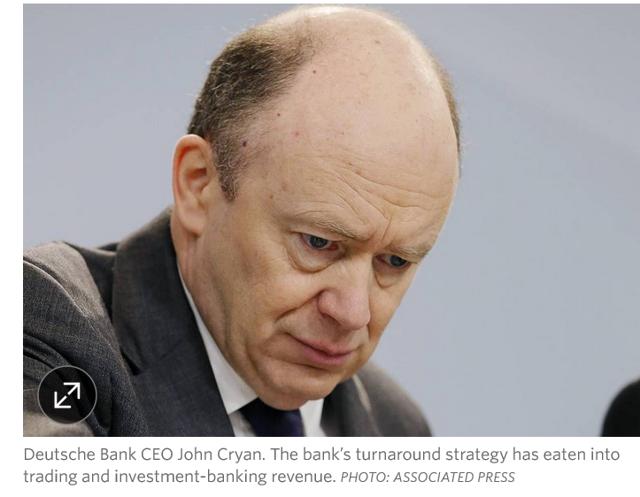 Click to enlarge
Second Quarter Report
Deutsche Bank AG (NYSE:DB) reported steep Q2 income losses down 98% from a year earlier. Net income of only $22 million dwarfs the $818 million reported then. Share values are down 45% so far this year falling 3.15% Wednesday. Shares have fallen 20% in the five weeks since the Brexit decision which has shaken many European banks that run big operations from London hubs.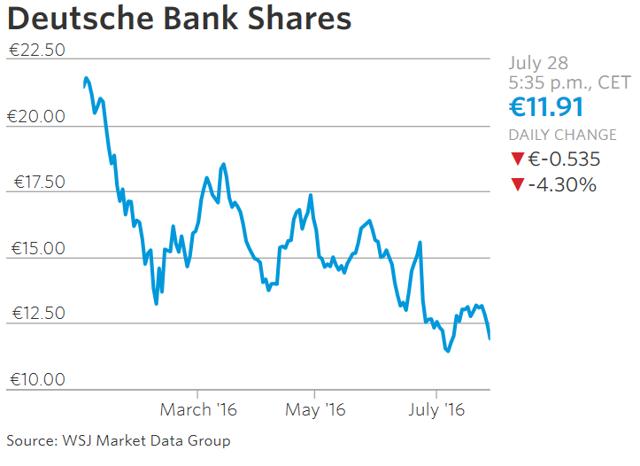 Click to enlarge
Courtesy of the Author
Earnings Retreat
Revenues decreased by 23% as its largest core securities and sales division's profits shrank.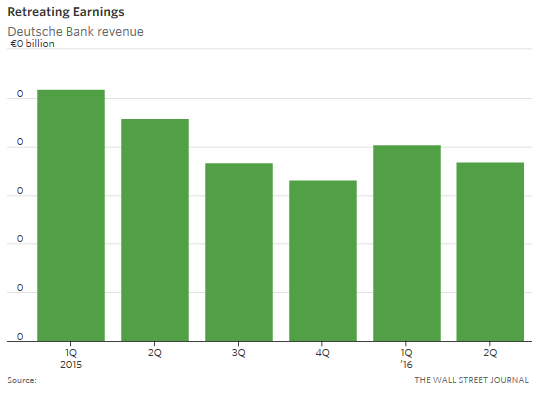 Investment-banking revenues fell from the previous year to $1.9 billion, a decline of 12%.
Restructuring
Weak market conditions have initiated multi-year restructuring by cost cutting, selling assets and requiring more stringent capital requirements during the next three years.
Additionally, the bank is engaged in settling regulatory requirements that could result in financial losses requiring the payment of fines to resolve pending lawsuits.
Conclusion
In general, "a lagging economy, messy politics and negative interest rates have combined to brutalize European lenders." European banks face a health check Friday when the "European Banking Authority releases results of a stress test that models how well their capitalization hold up under hypothetical economic slumps."
The ECB hopes the tests will banish fears about the health of European banks, which were pummeled during the financial crisis, and restore investor trust and revive lending to euro zone households and companies a key to getting economic recovery back on track.
Take Away
Watch the banks!
Note: Thank you for reading and commenting. You can follow my articles on SA by going to the top of the article and clicking the circle button directly after my name and preceding the word (follow).
Disclosure: I/we have no positions in any stocks mentioned, and no plans to initiate any positions within the next 72 hours.
I wrote this article myself, and it expresses my own opinions. I am not receiving compensation for it (other than from Seeking Alpha). I have no business relationship with any company whose stock is mentioned in this article.