There are a couple reasons why this net-lease REIT Agree Realty (NYSE: ADC) has flown below investor radar screens.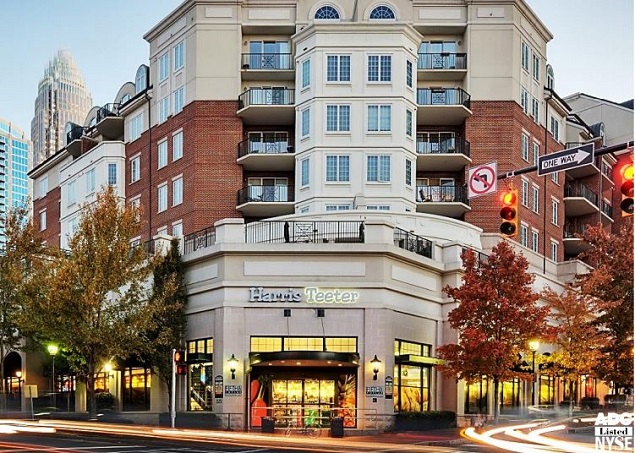 Source: ADC - July 2016 presentation (for all slides)
The most obvious reason is it is a small-cap REIT and does not generally get the coverage in the mainstream press. Of course, that's one of the main reasons you are reading this Seeking Alpha article, to help identify investments like this one.
Additionally, Agree Realty won't come up on many stock screens typically used by dividend investors.
Primarily, this is because of its five-year portfolio transition from legacy shopping centers over to freestanding net-lease retail. In other words, this REIT has been rebuilt from the ground up and is now positioned for continued growth.
When it comes to Agree Realty, looking through the windshield is a better perspective than looking through the rear-view mirror.
Quick Net-Lease Overview
REIT investors are attracted to the triple-net lease business model because of its simplicity.
In addition to the monthly rent, credit-worthy tenants also are responsible for taxes, insurance, utilities, and most building repairs. This minimizes landlord capex, and helps to make the NOI and EBITDA generated by the real estate portfolios predictable and "bond-like."
However, this REIT model can also be quite elegant, since operating leverage makes the net-lease business highly scalable.
Show Me The Money
As my regular SA readers recall, I selected Agree Realty as my highest confidence small-cap REIT pick back in January, in "Good Things Come In Small Packages."
It has been a perfect storm, as the REIT continues to grow accretively, while skillfully managing a balance sheet with institutional grade-like metrics.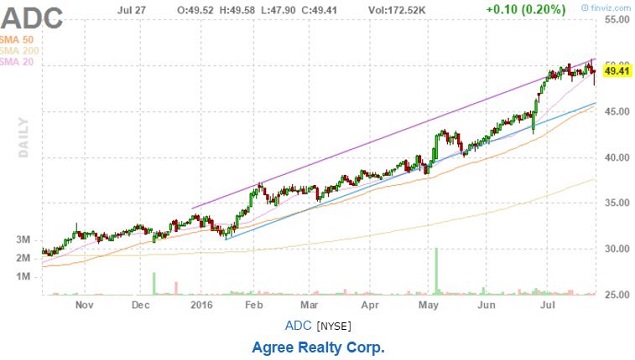 During the past 52 weeks, Agree Realty shares have traded in a range of $26.24-50.74 per share, with 45% price appreciation year to date.
Tale Of The Tape - Strong Performance YTD
As of June 30, Agree owned 328 properties located in 42 states, containing 6.3 million square feet. This granular portfolio has been assembled through small portfolio transactions and one-offs, and has a weighted average lease term of just over 11 years.
Agree is a net-lease REIT, similar to investor favorite $17.8 billion cap Realty Income (NYSE: O). However, ADC actually has the most in common with $7.3 billion cap National Retail Properties (NYSE: NNN). While Realty Income has just over 75% retail tenants, Agree and NNN are 100% focused on fungible, freestanding net-lease retail boxes.
Realty Income and National Retail own about 4,600 and 2,300 properties, respectively. This gives the much smaller Agree Realty an advantage when it comes to moving the growth needle.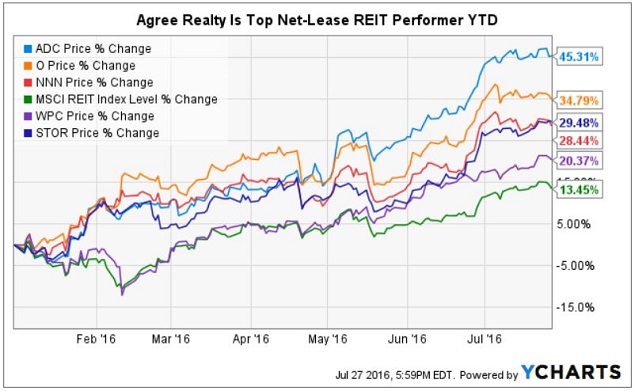 Not long after the Brexit vote, each REIT shown in the YChart above made new 52-week highs. In late June, I wrote an SA piece which compared and contrasted Agree Realty with my favorite sector peers shown in the chart above.
In addition to O and NNN, the article included STORE Capital (NYSE: STOR) and W.P. Carey (NYSE: WPC). My most recent SA focus article on W.P. Carey can be found here. I plan to write a focus article on STORE Capital after the Q2 earnings call.
If you are not familiar with Agree Realty, here are links to recent articles that describe the approach and business model in detail:
Agree Realty once again reported solid results for the quarter ended June 30 and provided some interesting color on the Q2 2016 earnings call (here is a link to the SA transcript).
Rather than rehash the numbers this quarter, I think it is equally important (especially when considering a smaller-cap REIT) to understand the quality of the portfolio and management's vision.
I had an opportunity to catch up with CEO Joey Agree on the phone after the Q2 earnings release. He made some time to share additional color behind some recent deals and explain why he believes the ADC portfolio of retail net-lease properties will continue to generate value going forward.
Development Mentality
CEO Joey Agree learned the development business from his father, company founder and Executive Chairman Richard Agree, a long-time shopping center developer. This was the genesis of the in-house development capabilities. These skill sets also help to differentiate ADC from its larger peers.
One way to view Agree Realty would be as a sophisticated family office with access to Wall Street capital markets.
The company reached the $1 billion market cap milestone in May after a successful 2,875,000 share follow-on common stock offering. Joey Agree has plans to grow the business to $2.5-3.5 billion total market cap over the next few years.
He believes that scale will keep the ADC portfolio small enough to continue to add value through active management, while creating a larger market for institutional buyers of the shares.
How Development Pays Off
A development mentality still permeates the board's investment committee. That point of view, combined with decades of retail relationships helps Agree generate higher-yielding opportunities.
Portfolio additions must also meet criteria required to enhance diversification by geography and sub-sector, while maintaining a high percentage of investment-grade tenants.
The Agree Realty in-house and PCS, or partner capital solutions, development platforms contributed ~$20 million in 1H2016 to an acquisition platform generating $186 million in portfolio growth. Agree is currently ahead of plan, with just $90 million of additional closings required to meet the high-end of acquisition guidance of $250 million for FY 2016.
The company has consistently been able to source deals at industry-leading cap rates. Acquisitions average close to 8% unlevered first-year returns, while development projects average 9%-plus unlevered initial yields.
Notably, 8% of ADC revenues are from long-term ground leases, with 90% of that NOI generated from investment-grade tenants. These attractive ground leases are often derived from the development program.
ADC "Sharpshoots" Retail Locations
The "developer DNA" permeates the underwriting process, with the real estate underwritten from the bottom up. Agree is focused on adding retail sectors which are both e-commerce- and recession-resistant.
The July 2016 ADC presentation slides below help to showcase the real estate underwriting.
Most of these tenants are household names that savvy investors realize are strong retail tenants. While Agree certainly cares about the credit, the quality of the underlying real estate is equally important.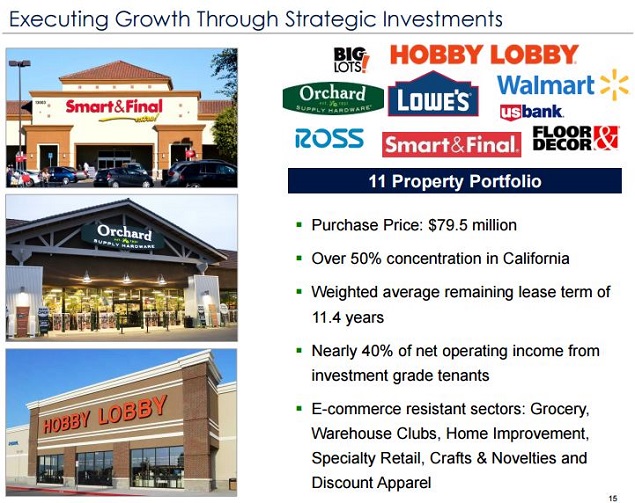 The portfolio above was purchased this past June. It was the primary reason behind the boost in FY2016 acquisition guidance up to $250 million.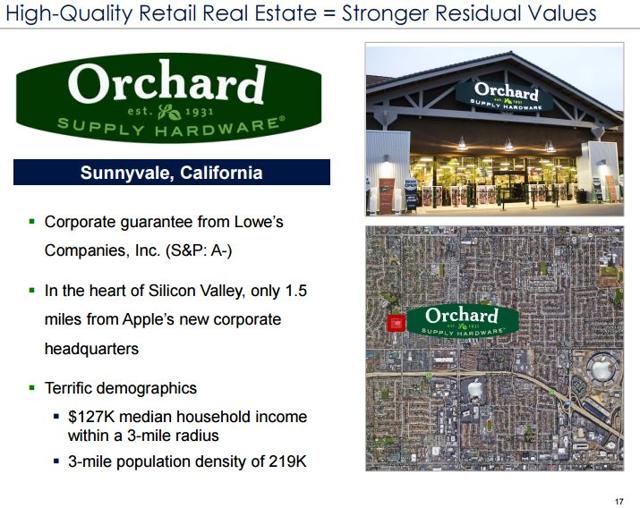 Click to enlarge
Meanwhile, a closer look at the Orchard Supply real estate location shows it is smack dab in the middle of a very nice Silicon Valley neighborhood.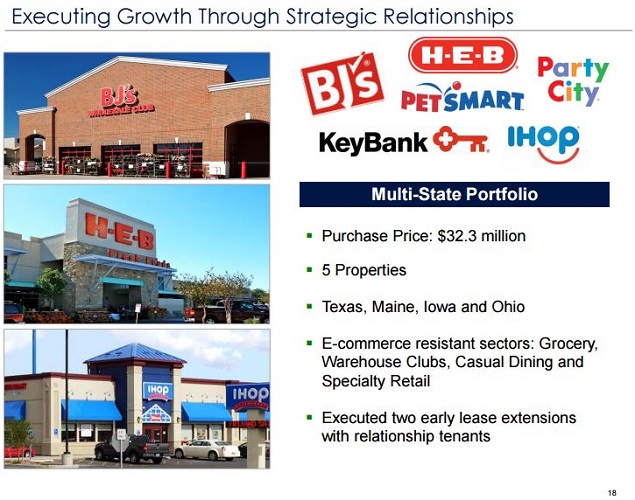 Super-regional grocers, like H-E-B in Texas and Publix in Florida and the Southeast, are not technically investment-grade tenants. However, they are top operators in the markets they serve, and occupy the type of property net-least investors want to own.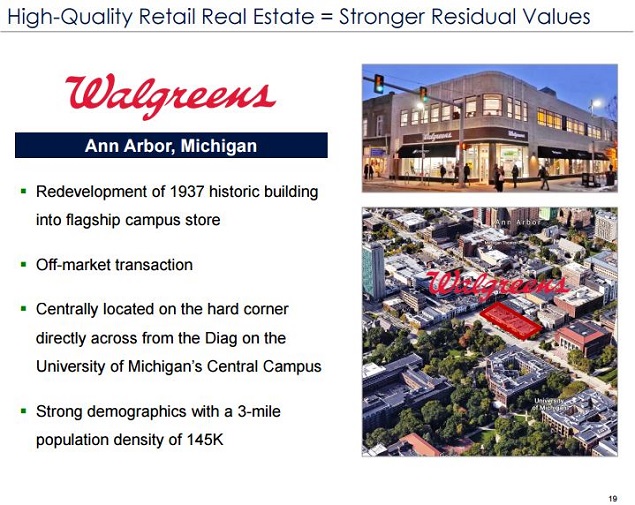 Joey Agree has a close relationship with both Walgreens (NASDAQ:WBA) and the University of Michigan. This happens to be the Walgreens store with the highest sales per square foot for front of the house merchandise SKUs. It is akin to a huge convenience store for UM students, with a small pharmacy on the second floor.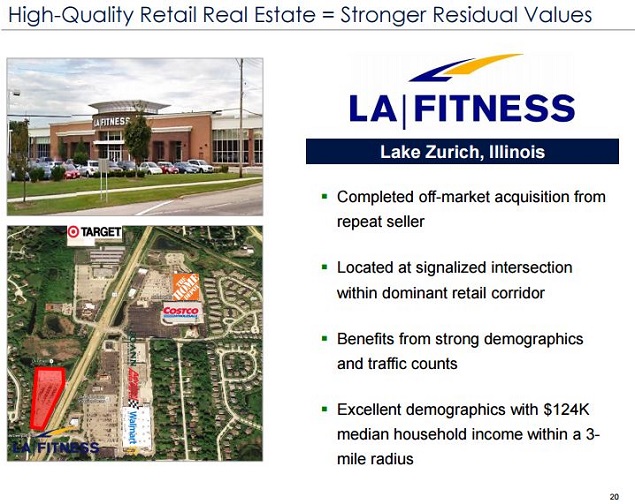 LA Fitness is one of the top operators in this retail segment. Notably, this is a ~40,000 SF building in a high-traffic, high median income location, along with Wal-Mart (NYSE:WMT), Home Depot (NYSE:HD), Costco (NASDAQ:COST) and Target (NYSE:TGT) stores. Contrast that with gym locations that are often off the beaten path in industrial parks or other secondary locations.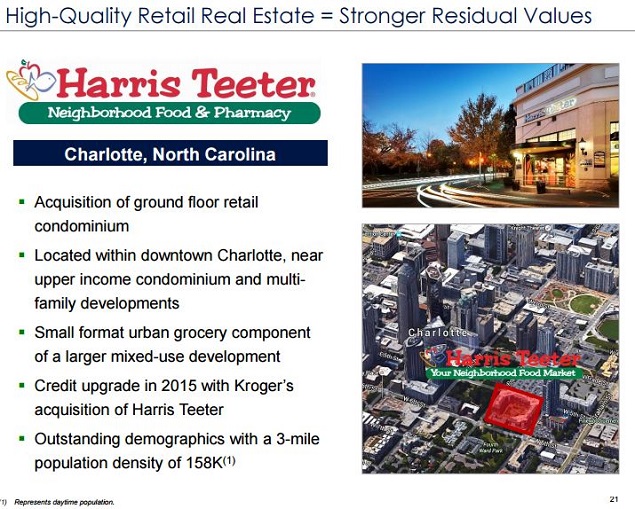 This small-format specialty grocer is on the ground floor of a residential condo building in downtown Charlotte. The ADC portfolio caught a credit upgrade when Kroger (NYSE:KR) bought Harris Teeter.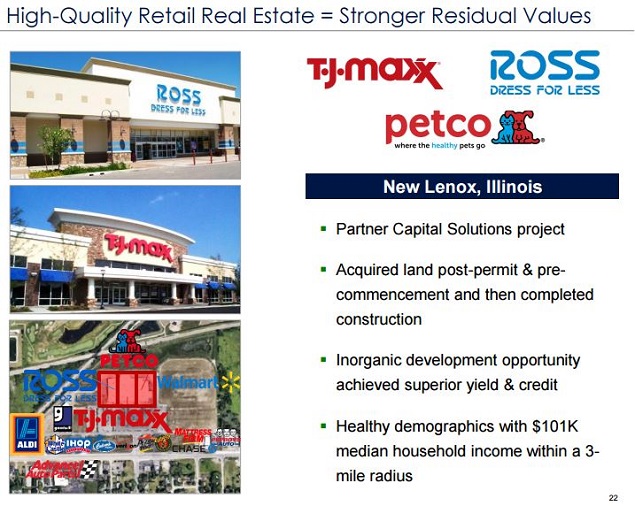 The PCS projects leverage retail relationships with local and regional developers. This expands the reach of Agree Realty, and these projects generate superior initial yields than acquisitions.
These slides help to illustrate how Agree's granular acquisition focus results in high-quality assets. This approach does not sacrifice asset quality to achieve the large spread between WACC (weighted average cost of capital) and cap rates.
Bottom Line
Agree Realty operating metrics and balance sheet metrics compare favorably to those of larger peers. However, it is significantly easier for ADC to move the growth needle, and the portfolio can be underwritten on a granular basis.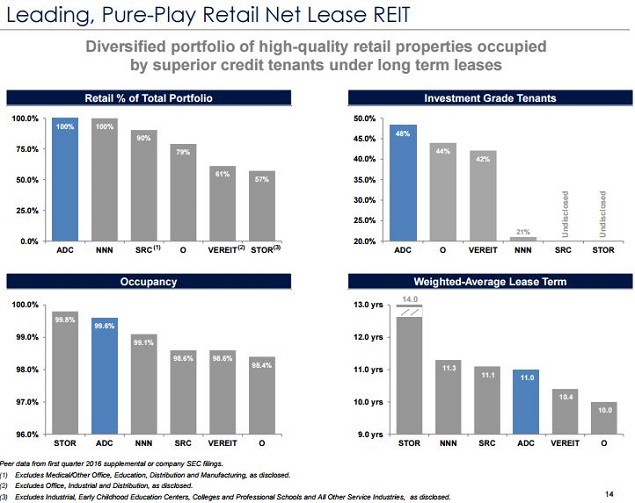 Surprisingly, Agree already has balance sheet metrics which allow it to enjoy a cost of capital similar to its larger sector peers.
The recently closed $100 million debt private placement financings have a weighted average term of 10 years and a blended interest rate of 3.87%.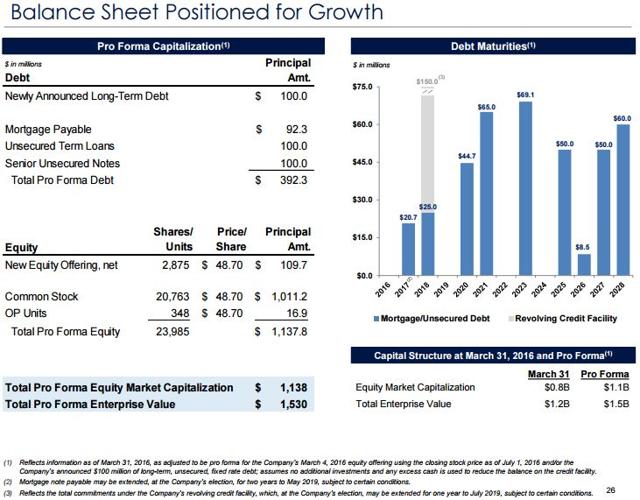 Click to enlarge
However, Agree Realty has a few extra levers to pull which can help to increase margins moving forward:
G&A - While headcount will continue to rise modestly, G&A expenses are continuing to decrease as a percentage of revenues. In 2012, G&A was 15.2%, and by 2015, it was reduced down to 10% of revenues. Q2 2016 saw a decrease to 9.3%, and Agree believes that as the company continues to scale up its portfolio, another 200 bps reduction will ultimately be achieved.
This would be a reasonable goal, benchmarking against the G&A of some of the larger, net-lease REITs.
In the net-lease business where every 25-50 bps can make a difference, an embedded 200 bps upside from just scaling up the portfolio size might motivate investors to buy a few ADC shares.
Walgreens - During Q2, Agree reduced exposure to its top tenant by selling the Walgreens located in Port St. John, FL, at a 5.5% cap rate, for a gain of $2.7 million. The ADC portfolio snapshot below was on March 31, 2016. The Q2 Walgreens sale reduced exposure to 14% and lowered Pharmacy sector exposure.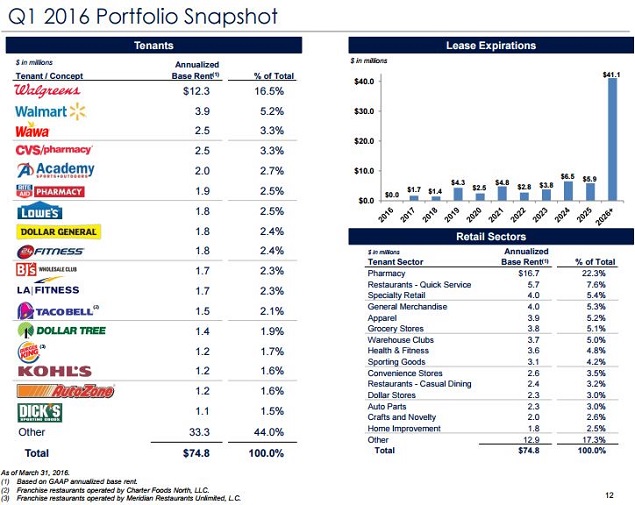 However, there is a secondary gain from Walgreens dispositions. These are flat rate leases, and over time, as Walgreens exposure is reduced, the recycled capital can increase the ssNOI growth potential of the portfolio.
Meanwhile, the Orchard Supply store boosted Lowe's (NYSE:LOW) up to the number three tenant on the list.
A key takeaway here is that a few small changes can still have a large impact on the ADC portfolio.
Notably, the first Starbucks (NASDAQ:SBUX) and Chick-Fil-A stores are now being completed, and an initial Texas Roadhouse (NASDAQ:TXRH) lease has been signed. Each new retail relationship, or PCS relationship, has the potential to generate additional business, if the metrics makes sense and it's a strategic fit for the portfolio.
Agree has drawn a soft line in the sand of no more than a 5% exposure to any tenant besides Walgreens.
Investor Takeaway
Arguably, the smaller, purpose-built ADC portfolio is more like a craft beer than a familiar Budweiser or Miller choice. While it may not be for everyone, savvy real estate investors can savor the difference in the ingredients which create the end result.
The ADC net-lease portfolio has been assembled since 2010, with one eye toward top locations and bottom line and the other eye focused on e-commerce resistant retail tenants.
New ground-up development helps drive down the portfolio age, drives higher returns, and helps management to keep abreast of the latest freestanding retail concepts.
The focus on retail relationships and site selection helps to develop repeat business and off-market opportunities.
There are a couple of higher-quality shopping centers remaining in the portfolio. They continue to be a source of new pads for freestanding retail, and have embedded value-add opportunities on lease expirations.
There will eventually be a pullback in the net-lease REIT sector when interest rates rise. If it is slow and gradual, due to a stronger US and global economy, even that can be good for REITs.
Meanwhile, Joey Agree will continue to play "small-ball," sorting through a $2 billion pipeline of net-lease deals to sharpshoot the gems. When a larger deal passes muster, like the $79.5 million, 11-property portfolio - that really helps to move the growth needle.
Long-term investors who are attracted to the 3.9% yield in today's environment can nibble at the ADC shares here. Just don't expect a repeat of 1H2016, because that low-hanging fruit has already been picked.
However, it is a way to "get rich slowly," investing alongside the Agree family. Worst case, ADC shares pull back a bit and you average down. If net-lease shares drop on global headline news, you can back up the proverbial truck and fill out your position.
I relentlessly hunt for diamonds in the rough and rising stars, in addition to closely following data centers, covering REIT blue chips and breaking news. Please consider following me as a Seeking Alpha author if you would like to be notified when my future articles are published.
Disclosure: I/we have no positions in any stocks mentioned, but may initiate a long position in ADC, WPC over the next 72 hours.
I wrote this article myself, and it expresses my own opinions. I am not receiving compensation for it (other than from Seeking Alpha). I have no business relationship with any company whose stock is mentioned in this article.