Well, Ford (NYSE:F) earnings didn't pan out. June sales were up 6.4% over the year prior, but didn't seem enough to help earnings break the mold. The company's earnings fell 9% compared to the same quarter last year. The 52 cents a share in earnings also fell short of estimates. In a quite volatile reaction, Ford's stock fell more than 10% today before leveling off at a loss of more than 8%.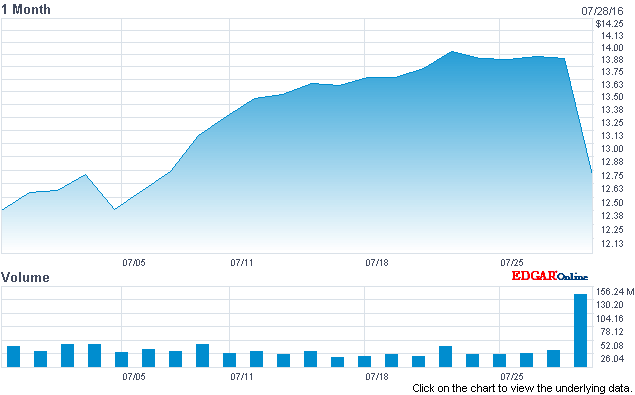 (Source: Nasdaq.com)
This is a real buzzkill to say the least. The company's CFO Bob Shank's has been quoted saying he thinks the second half of the year will be less prolific than the first. Though this may be true, I used today as an opportunity to buy some stock. If there's a rebound spike this week, I'll sell off. If not, Ford has a reliably strong dividend and I like the P/E even if there's lowered sales guidance. Some of the catalysts for a weaker third quarter include the expenses of launching their new heavy duty pickup. With oil prices going back down, I could actually see pickups having a slightly nicer second half than being anticipated.
The more concerning bit of news to me is Ford's entangled relationship with the "Brexit". The automaker announced the consideration of closing factories in the UK as the referendum to severe its ties to the European Union could result in a billion dollars in costs for Ford. Reactionary rising of prices in Europe due to costs could hamper sales since..well...no one likes paying more for cars. Regardless of your opinions on the Brexit, this could be a very tough issue for Ford since a slowdown in the UK could kill car sales there as well. With a possible hit of over $200 million this year alone, I consider this one of the more irritating events to damage Ford's stock in the future. Ironically, Europe was one of the better sales areas for Ford this quarter while the US did little in gains. Then there's China to consider. Weaker sales in Asia did not help.
Oh well, I still bought it
It's not as though Ford could maintain that wild pace that was displayed in the first quarter of the year. Car sales are not a consistent thing. That's just the way it goes. Earnings weren't as pretty as desired, but they still made money. And I still bought the stock (though I reiterate, I may very well sell it tomorrow if it rebounds at all). Revenues increased by 6% year over year, as did auto related cash flow. The irony is I bought the stock at this moment for the same reasons I usually complain about the stock. Ford's pricing never really moves much. It's become a dividend stock. Trader's may try to argue with me on this as you can get a lot of swing moves between $13.50 and $15 if you have the time to play with it (whoever hopped in below $12 and ran up this anticipation of earnings and dividends, I salute you), but over the long run, the stock has a pretty boring range.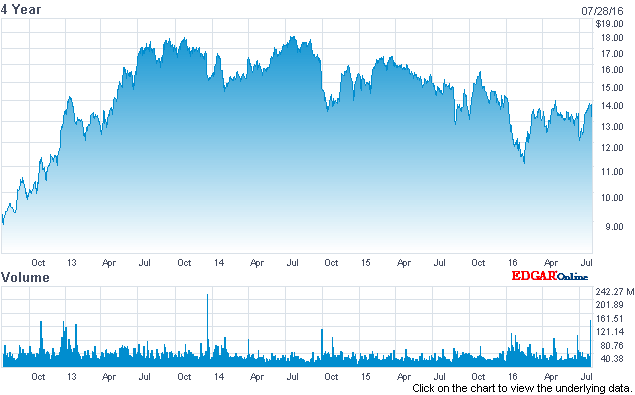 (See?..unless you hopped in October of 2013, you haven't really gotten very far.)
The stock is all about the dividend. Which is something I have no problem with. If it runs in the coming week with others trying to buy into the 8% fall, then I'll take the gain. If it doesn't, that's fine. I'll enjoy my 4.3% dividend and hold onto it. I have a feeling that oil's trickling decline is going to open up avenues for SUV's and Trucks again this year. Those types of cars are $$$$ for Ford.
Disclosure: I am/we are long F.
I wrote this article myself, and it expresses my own opinions. I am not receiving compensation for it (other than from Seeking Alpha). I have no business relationship with any company whose stock is mentioned in this article.
Additional disclosure: I will tentatively sell soon should a rebound occur in pricing.