MY CURRENT RATING: BUY
Lockheed Martin (NYSE:LMT) is a company that has continued to go from strength to strength.
My prior analysis commended the company for its strong business model evidenced by the company's ability to attract large and influential customers, as well as the company's vibrant growth in free cash flow.
Since my last analysis, the company has risen from $214 on February 18 to $254 at the time of writing. Additionally, we see a more or less uninterrupted wave of growth since 2013: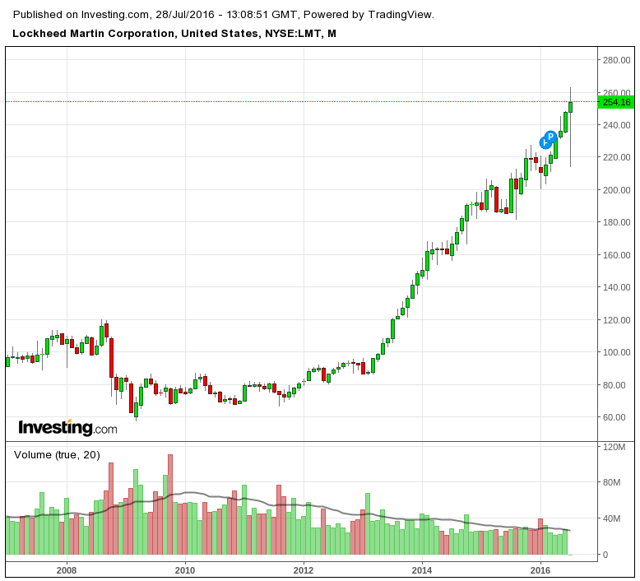 Click to enlarge
In spite of this, the company may in fact still be undervalued. For instance, while price has increased significantly, the company's price to free cash flow ratio of 15.73 is still slightly lower than that of 15.81 last February: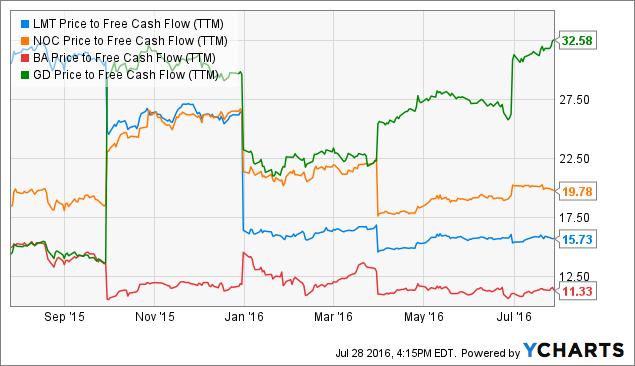 Free cash flow per share has risen to just under 15 last March to 16.18 at the time of writing. Moreover, Lockheed Martin has continued to achieve key milestones such as securing a contract to participate in the Presidential Helicopter Replacement Program. Currently, two model aircraft are undergoing required modifications, with configured aircraft set to fly next year. While there has been some concern over competition from rivals such as Northrop Grumman, I had pointed out in a previous article that Lockheed Martin's cash flow and debt position is significantly more attractive and long-term sustainable growth is more likely in this regard.
Additionally, the company has continued to win defense contracts such as that of production of the F-35 Lightning II Joint Strike Fighter aircraft worth $559.5 million. Aside from individual projects, the defense sector in general is undergoing a boom as both U.S. and worldwide defense spending continues to increase. Moreover, given that one-fifth of Lockheed Martin's earnings comes from abroad, I expect that sales and earnings will continue to increase accordingly.
Ultimately, I rate Lockheed Martin as a buy at this time given that the price to free cash flow remains unchanged as both price and free cash flow continue to increase. Moreover, new contracts and the industry environment in general is conducive to higher gains across the defense sector as a whole at this time.
Disclosure: I/we have no positions in any stocks mentioned, and no plans to initiate any positions within the next 72 hours.
I wrote this article myself, and it expresses my own opinions. I am not receiving compensation for it (other than from Seeking Alpha). I have no business relationship with any company whose stock is mentioned in this article.