Shares of T-Mobile (NASDAQ:TMUS) are trading at 52-week highs after the company reported a strong Q2 that sent the stock up 1.5%. Revenue increased 12.5% year-over-year, beating estimates by $170 million, and EPS came in at $0.25 (beating estimates by $0.05). Churn fell to a record low of 1.27%, and once again T-Mobile outpaced its competitors in subscriber growth. The company added 1.9 million net customers in the second quarter: 890,000 were branded postpaid subscribers, and 646,000 of these were the more lucrative branded postpaid phone subscribers. It marked the 10 th consecutive quarter of TMUS leading the industry in branded postpaid net adds, and management upgraded its subs guidance for the year. The company now expects branded postpaid net adds of 3.4-3.8 million, compared to the previous forecast of 3.2-3.6 million. We explore some of the reasons why TMUS has been able to generate stronger subscriber growth than its peers, and why we are optimistic that the firm can expand margins going forward.
We think the weak US economy has been a driving force behind TMUS's ability to outpace rivals. High unemployment (after factoring in the near 30-year low labor force participation rate) and stagnating incomes have made customers more sensitive to price, and TMUS discounted plans more attractive relative to those of Verizon (NYSE:VZ) and AT&T (NYSE:T). This has allowed TMUS to steal customers from competitors. 42% of T-Mobile's net phone adds in the first quarter came from competitors, compared to just 10% for AT&T and 14% for Verizon. Labor force participation is lowest among millennials, a demographic that uses smartphones more than any other. The majority of the job gains in recent quarters have gone to older workers, and younger demographics are leaving the workforce. Many of the individuals in these age brackets have poor job prospects and massive student loan obligations, and we expect that price will continue to be the deciding competitive factor going forward.
Through customer growth, T-Mobile has expanded margins. Q2 adjusted EBITDA grew 36% year-over-year. Operating income, however, is the more important metric because it takes into account depreciation, which represents the cost of growing the network. TMUS has spent heavily to improve its network in recent quarters, and D&A as a percentage of revenues increased from 13% in Q215 to 17% in the latest quarter. Operating income did not grow as fast as EBITDA as a result, however the company still showed meaningful improvement thanks to positive operating leverage: adjusted operating margin increased from 7% last year to 8.3% in the latest quarter. As long as TMUS can continue to grow subscribers the company should be able to expand margins. Telecoms is a capital-intensive industry, so the firms with the strongest advantages are those that can spread their fixed costs across large revenue bases. T-Mobile lacks the scale of Verizon and AT&T, and this is the primary reason for the divergence in profit margins between the carriers (Figure 1).
Figure 1: 5-Year Median Operating Margins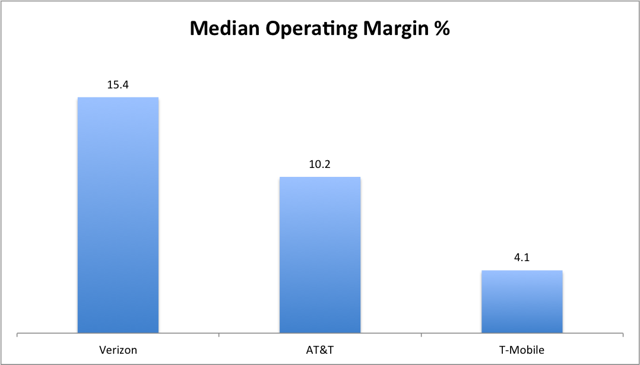 Click to enlarge
Source: Morningstar
There is room for margin upside if the company can continue to add subscribers, which would translate into higher service revenues and greater fixed cost leverage.
Conclusion:
T-Mobile continued to take share against rivals and had an excellent quarter overall. We think the factors that are allowing TMUS to do so, namely a weak US economy and low labor force participation, will persist, and that TMUS will continue to show strong subscriber growth in the next few quarters. This should allow T-Mobile to expand margins, especially if D&A and advertising costs moderate.
Disclosure: I/we have no positions in any stocks mentioned, and no plans to initiate any positions within the next 72 hours.
I wrote this article myself, and it expresses my own opinions. I am not receiving compensation for it (other than from Seeking Alpha). I have no business relationship with any company whose stock is mentioned in this article.