Given the current economic and political backdrop Dow Chemical's (NYSE:DOW) second quarter was impressive. Economic growth around the world remains stagnant, and geopolitical tensions have weighed on sentiment, causing producers to delay investment. Sales fell 7.4% in the second quarter but beat estimates by $710 million, and EPS came in at $0.95, beating estimates by $0.09. Despite lower sales the company grew earnings and margins for the 15 th consecutive quarter. We discuss some of the driving forces behind the metrics.
Due to lower energy and raw materials costs, pricing declined in every business segment in the second quarter (Figure 1). Low input costs benefit DOW to an extent, but the company doesn't want them too low because it limits the degree to which DOW can pass them on to customers and raise margins through inflation. Prices fell well short of this "sweet spot" in Q2, and this prevented DOW from growing sales despite strong volume growth in most segments.
Figure 1: Segment Results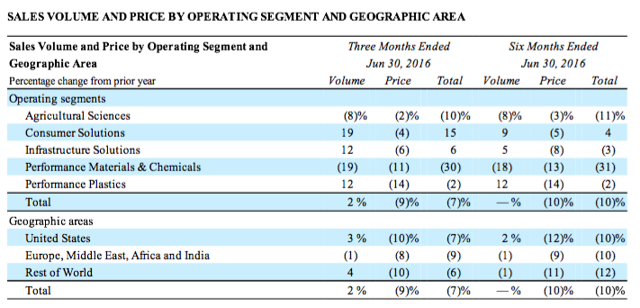 Click to enlarge
Source: 10-Q
Total sales volumes increased 2% (4% excluding divestitures and acquisitions), with gains in every geographic region. Asia-Pac increased 7%, EMEA and India grew 4%, Latin America increased 4%, and North America grew 3%. With the exception of the Agricultural Sciences and Performance Materials and Chemicals segments (which declined), volumes increased in each business segment. Management attributes the performance to "broad-based consumer-driven demand", however the volume gains were mostly a product of increased market share rather than end-market growth. In other words, DOW's customer markets did not really expand. Instead, customers switched to DOW's products. DOW has grown volumes for 11 consecutive quarters and has been able to grow volumes faster than GDP by introducing new, innovative solutions. While its competitors, who operate at smaller scale typically trim their R&D budgets during periods of economic weakness, DOW can maintain spending levels and come up with new products to sell to customers, and steal market share. The company's shift towards specialty chemicals, which are used in a variety of consumer-related markets, is one example of this, and we think this shift will lead to greater pricing power in the future, as there is more room to differentiate within these products.
Through cost saving initiatives DOW was able to keep EBITDA stable despite the drop in sales. Management reported 90 million in productivity gains largely thanks to headcount reductions and by taping into lower cost feedstocks, which helped drive down COGS as a percentage of sales from 78.6% in Q215 to 77.6%. Gaining access to lower cost feedstocks around the world has been a key strategic objective for DOW in recent years, and it positions the company favorably for the next few years as end-market conditions will remain challenging, in our view.
Pricing, however, is still an issue and we don't expect the company to show meaningful revenue growth until oil prices (and by extension resin prices) rise. Crude and refined product inventories are at record highs, and this should keep prices in check, especially with industrial activity softening across the board and demand slowing in many of the industries that use oil for fuel (autos and airlines). Until prices recover, DOW will rely on volumes for growth, which will require continued spending on R&D.
Conclusion:
GDP growth remains sluggish but DOW was able to generate strong volume growth in many markets by taking share from customers. The company is focused on expanding into more technology-driven chemicals, which should give the firm greater leverage to raise prices, but DOW will need to keep spending and innovating if it plans to generate consistent growth in the current economic environment. The latest quarter demonstrated the importance of input pricing for DOW's performance. Investors thinking about buying or selling DOW should focus on the supply and demand conditions in energy and other input markets as price changes in these areas will go a long way in determining the stock's performance.
Disclosure: I/we have no positions in any stocks mentioned, and no plans to initiate any positions within the next 72 hours.
I wrote this article myself, and it expresses my own opinions. I am not receiving compensation for it (other than from Seeking Alpha). I have no business relationship with any company whose stock is mentioned in this article.