Lately, we have been hearing a lot about REIT valuations. Many people have been looking at the yields available in the sector and calling it a bubble.
We are the first to admit that yields are somewhat low, and we wish they were higher. But do low yields mean that the REIT market is overvalued?
Thinking about this, we decided to take a look into the market and see if we could help arrive at a conclusion.
What follows is not exhaustive, but will, perhaps, add more information into the discussion. We will continue building on this in the coming days (we felt it would be better served looking at the various angles in a series of articles, rather than a massive "thought dump").
Hopefully, the conversation will be vibrant and will spur more conversations (we always like to check for perception/belief bias).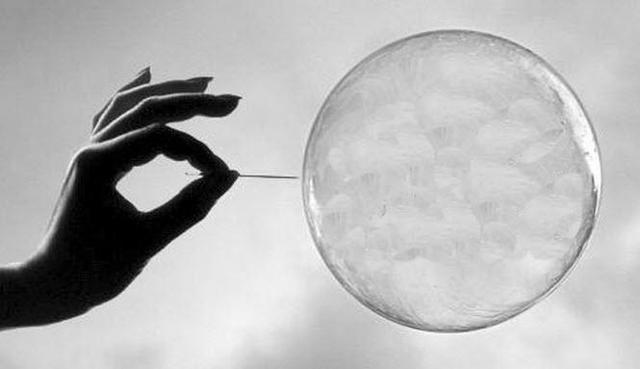 Click to enlarge
Bubble Trouble?
What makes many investors think there is a bubble?
Well, frankly, it seems to be the fact that REITs have outperformed the broader market - rather handsomely: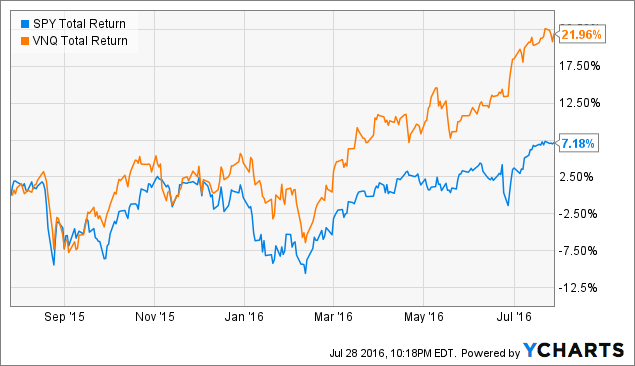 Often, however, just the last year or so is viewed (short termism?). Let's go back a little further (2012):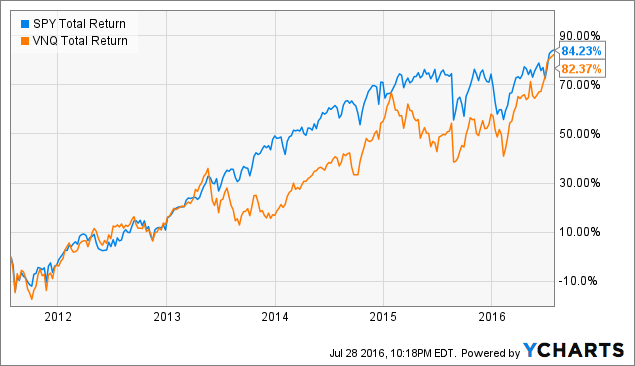 Suddenly, things don't look so out of whack, do they? REITs have been "catching up."
But prices, even total return prices, are fickle things, no? In the absolute, they mean very little. We believe everything is relative.
Using this thought, we decided that we would look at what we consider one of the primary means of determining value: the amount investors are willing to pay for $1 of a REIT's funds from operations, or the P/FFO multiple. (In my book, The Intelligent REIT Investor, my co-author and I address FFO in detail).
Naturally, measuring the entire market from a historical perspective (time series) would be onerous, so we have looked at the top nine names in the Vanguard REIT ETF (NYSEARCA:VNQ), which account for over 30% of its weighting. Yes, we realize that this could create a market cap bias, but we will explore that in another article.
The first thing that stands out to us in the following chart is that despite the bubble talk, the amount paid for $1 of FFO has not significantly changed over the last few years: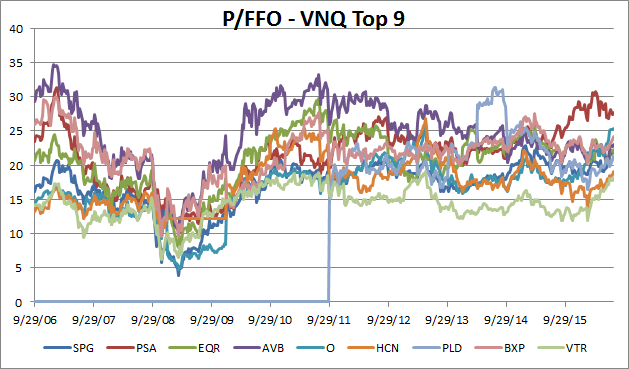 In fact, many people, ourselves included, would argue that the P/FFO multiple has moved sideways, which does not imply bubble.
As the chart above is somewhat crowded, we have broken the names down further to show them a few at a time rather than all at once.
The following chart shows three 800lb gorillas in the REIT space:
Simon Property (NYSE:SPG), Public Storage (NYSE:PSA) and Equity Residential (NYSE:EQR). Three separate REIT sectors are represented: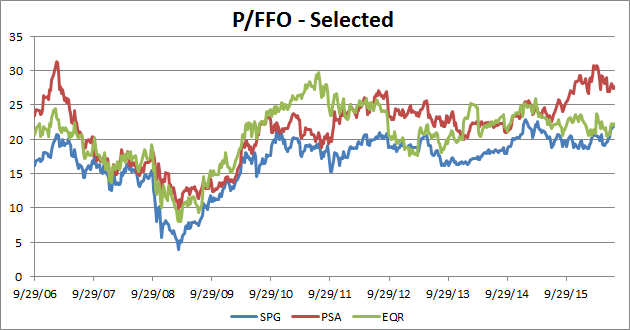 Of the three of them, PSA is the only one that would look "lofty," although not necessarily bubble like. (See recent article on PSA's new preferred issue HERE).
The next chart shows the multiple for AvalonBay (NYSE:AVB), Welltower (NYSE:HCN), and the crowd favorite, Realty Income (NYSE:O). Again, three separate sectors are represented: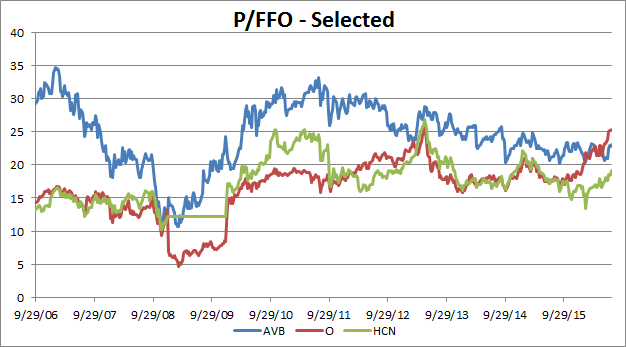 And again, not quite bubble worthy (yes, Realty Income is lofty, we have maintained that for some time). See my recent article on O HERE.
Finally, a look at Prologis (NYSE:PLD), Ventas (NYSE:VTR) and Boston Properties (NYSE:BXP) - again, three separate sectors represented: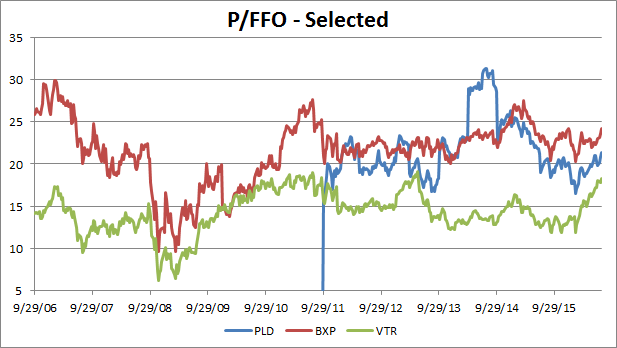 Firstly, we apologize for the limited history for PLD, we couldn't scrape the earlier data. Secondly, do the multiples really look all that bubbly?
In closing, we believe that the market is not "bubble worthy" and will be exploring this over the next couple of days from various angles (this is all part of our internal discussions on valuation and market outlook).
We do believe, however, that many valuations are lofty and security selection is vital for outperformance. To this end, our Intelligent REIT Lab (Forbes Real Estate Investor) is designed to help ferret out the opportunities available for income and/or capital appreciation. In other words, it's now time to maintain discipline to filter out the most attractive REITs that can be selected based upon careful research and with a sound margin of safety.
See my recent article: Why Not Just Buy VNQ And Be Done With It?
Author's Note: Brad Thomas is a Wall Street writer and that means that he is not always right with his predictions or recommendations. That also applies to his grammar. Please excuse any typos, and I assure you that he will do his best to correct any errors if they are overlooked.
Finally, this article is free, and the sole purpose for writing it is to assist with research (Thomas is the editor of a newsletter, Forbes Real Estate Investor), while also providing a forum for second-level thinking. If you have not followed him, please take 5 seconds and click his name above (top of the page).
Disclaimer: This article is intended to provide information to interested parties. As I have no knowledge of individual investor circumstances, goals, and/or portfolio concentration or diversification, readers are expected to complete their own due diligence before purchasing any stocks mentioned or recommended.
Disclosure: I am/we are long O, DLR, VTR, HTA , STAG, GPT, ROIC, HCN, OHI, LXP, KIM, WPC, DOC, EXR, MYCC, TCO, SKT, UBA, STWD, CONE, BRX, CLDT, HST, APTS, FPI, CORR, NHI, CCP, CTRE, WPG, KRG, SNR, LADR, PEB, BXMT, IRM, CIO.
I wrote this article myself, and it expresses my own opinions. I am not receiving compensation for it (other than from Seeking Alpha). I have no business relationship with any company whose stock is mentioned in this article.