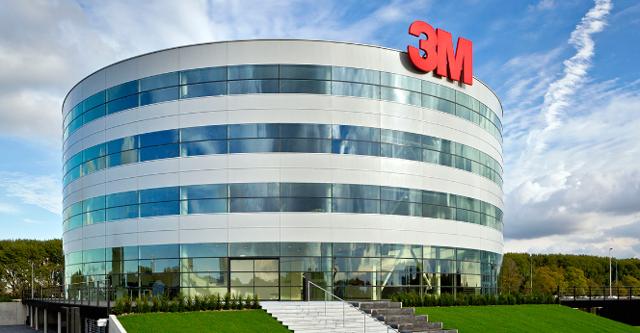 Click to enlarge
I've been neutral to bearish on 3M (NYSE:MMM) longer term as I've thought the company's shares were being swept up in a very obvious dividend stock bubble. 3M has a tremendous niche it operates very well in but it is also experiencing the same lack of growth catalysts that many other mega cap names are going through right now. Despite this, shares have remained elevated, causing me to urge investors to get out of 3M after the Q1 earnings report. Shares are up marginally since then but are off their highs after the Q2 report disappointed. My argument all along is that 3M's expectations were too high and it seems that may finally be coming to fruition.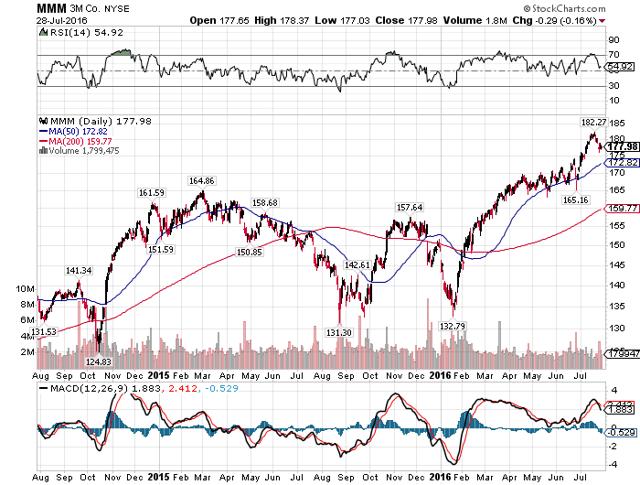 Click to enlarge
3M's revenue number was basically flat in Q2, falling 30bps, and surprising no one. This company has struggled with revenue generation for a while now and it likely will continue to experience those troubles. The thing is that its segments aren't providing a lot of reasons for optimism because it isn't like there's one ugly duckling; they're almost all weak. And apart from that, what little growth some of the segments are producing is due in part or in whole to acquisitions. 3M is constantly buying and selling and it helps to mask the very weak underlying organic performance of its businesses.
Currency translation is also not 3M's friend, another point I've been belaboring on 3M for some time. Highly global companies like 3M have been getting hammered by the dollar's relative strength against some of the world's other major currencies and in Q2, we saw more of that. The dollar offset 150bps' worth of sales growth and while that is rather tame by recent standards for 3M, it is still painful. And this is particularly true in light of the fact that even including acquisitions, 3M's top line isn't growing even that quickly.
Revenue was and will continue to be weak but 3M - to its credit - has been working diligently to reduce expenditures. This has been a popular move among the world's big companies in a weak growth environment and 3M is doing a nice job of it. Operating margins rose 50bps to 24.4%, a very strong number indeed. That's a terrific result and it was the only reason 3M's earnings were fractionally higher during the quarter despite the weak revenue number. However, incremental gains in operating margins won't be enough to power the stock higher given its current valuation. After all, there is only so much a company can cut and with operating margins approaching the mid-20s, I wonder aloud just how much better 3M can get.
3M made an interesting move in the Q2 report that wasn't surprising to me but the reaction of investors certainly was. Its organic local currency sales growth for the year was reduced from +1% to +3% to 0 to +1%, a sizable reduction to be sure. Companies like 3M operate with very slim growth ranges so a reduction in the forecast of that magnitude is pretty significant. But the stock didn't react all that poorly to the news, something I was a bit surprised by. After all, 3M is telling us its outlook is materially worse than it was last quarter; shouldn't that matter?
Despite what can be characterized as nothing other than weak results, 3M is still chugging along at 21.6 times this year's earnings and 20 times next year's estimate. That is a huge multiple for a company that cannot grow revenue enough to even overcome forex translations and that just told us that organic growth is going to be flat to slightly positive this year. 3M is not a dysfunctional company by any means but it also isn't worth paying a growth multiple for when it has - quite literally - no growth. And that isn't just my opinion; look at the numbers.
Is the dividend the culprit? 3M's yield has always been a factor in its share price because it is so very safe and increases every year. This chart shows 3M's historical yields for the past decade to give us some perspective on its valuation by that metric.

Click to enlarge
Source: Simply Wall St.
3M's current yield of about 2.5% is towards the lower end of its historical range, indicating that upside from the stock is likely limited by that valuation measure as well. 3M's dividend is obviously secure and has an infinite number of years of growth ahead of it so if the ultimate in safety is your cup of tea, you can do much worse. But for those of us that want some upside potential, 3M falls short.
Next year, analysts have 3M producing 8% EPS growth and while that number doesn't sound that high, consider how 3M might get there. Sales growth is about 3% but as we have seen, there is some downside risk to that number. It could come from a lower than expected number of acquisitions, a higher dollar or simply continued weakness in global economic growth. Despite this, for the sake of this exercise I'll assume 3M can get to 3% total sales growth, although I believe the ultimate number will be something lower than that.
That leaves about 5% of growth that needs to come from the buyback and margin growth combined. Operating margins rose about 2% in Q2 so if 3M can continue that growth - which it should - that leaves us with 3% that needs to be supplied by the buyback. 3M has reduced its float by 3.4% in the past twelve months and again, there is no reason why that shouldn't continue. That would get us to roughly 8% EPS growth but remember that 3M hasn't been particularly good at living up to revenue expectations of late and the fact that it is already trading for 20 times that number today. Where is the upside potential? The idea that 3M may surprise to the upside and hit 10% instead of 8%, for instance, seems very farfetched to me given the substantial weakness we've seen in the past few quarters.
So that just leaves the fact that 3M is overvalued with an average yield for a mega cap stock, leaving few reasons to be excited about it. The stock is also a whopping 11.4% in excess of its 200DMA even after the post-earnings pullback, highlighting just how far this thing has shot up in a straight line. No company can sustain that sort of move for long and especially one with such a weak growth outlook. That means 3M needs to trade sideways at best and come in some more at worst, once again implying there isn't a lot of reason to own the stock. With a yield that can be bested by any number of other big companies and an enormous valuation, 3M is a weak choice right now both for income and growth. For the more enterprising among us, 3M look like a short here to come back down to earth as it is so far in excess of its moving averages with no near term upside catalysts.
Disclosure: I/we have no positions in any stocks mentioned, and no plans to initiate any positions within the next 72 hours.
I wrote this article myself, and it expresses my own opinions. I am not receiving compensation for it (other than from Seeking Alpha). I have no business relationship with any company whose stock is mentioned in this article.