Hopefully this article will help you grow your assets.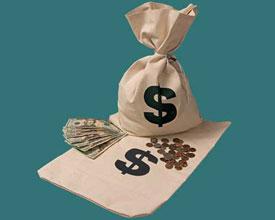 Facebook Inc. (NASDAQ:FB) is a worldwide social networking company. It already has 1.7B monthly active users, over 1B mobile daily active users, and 1.1B daily active users. Yet, it insists that it will continue to push to become a truly worldwide social networking site. I guess that means everyone in the world. There are only about 7.29B people in the entire world; and only about 3.2B have Internet access. In other words FB already has about half of the possible members it could reasonably get. That is an outstanding achievement for a company that was founded in 2004. The great upward trend chart of mobile daily active users in millions is below.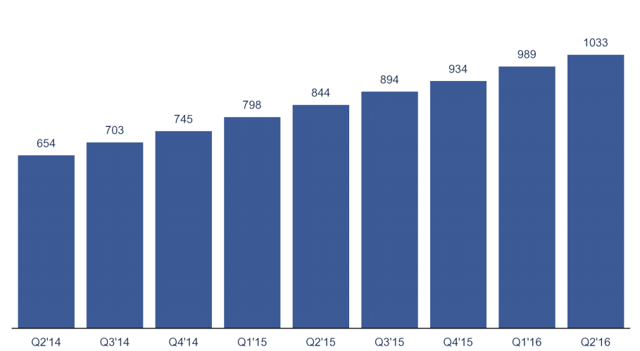 Click to enlarge
In Q2 2016 Total Revenue grew by +59% to $6.44B. This beat analysts' estimates by $420 million. Advertising revenue was up +63% to $6.2B. Mobile advertising revenue was up 81% year over year to $5.2B. It was about 84% of total ad revenue. The US and Canada and the Asia Pacific were the fastest growing ad areas at +69% and +67% respectively. Diluted EPS were $0.71 per share (+184% year over year). Non-GAAP Diluted EPS were $0.97/share. This beat analysts' estimates by $0.15 per share. Facebook generated over $2B in Free Cash Flow. Payments and other fees (games played on PC's) were down -8% to $197 million. With the increased migration to mobile, this relatively small loss of revenues is understandable.
The historical chart of revenues growth for FB is below.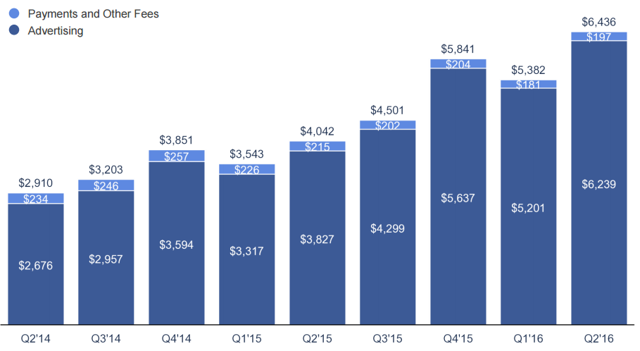 Click to enlarge
As investors can see, Q3 and Q4 of 2015 may present harder comparisons for percentage growth year over year than Q1 and Q2 did.
Other Q2 2016 fiscal statistics include:
Total Expenses were $3.7B (+33% year over year). This included $825 million in share based compensation expenses and $193 million in amortization of intangible assets.
Operating Income was $2.7B.
Operating Margin was 43%.
Number of employees were up 32% year over year to 14,500.
The tax rate was 26%.
GAAP Net Income was $2.1B ($0.71/share).
Capital Expenditures were $1B. They were $2.1B for 1H 2016.
FB generated over $4B in free cash flow in 1H.
FB had over $23B in cash and investments at Q2E.
Aside from the 1.7B monthly active users on Facebook itself. Facebook is now seeing over 1B monthly active users on both Messenger and WhatsApp. Instagram has already passed 500 million monthly active users. FB saw a +49% increase in ad impressions. This was driven mostly by an increase in ad impressions in the News Feed. Readers should note the growth in Average Revenue Per User is roughly in line with the growth in ad impressions on Facebook (see chart below).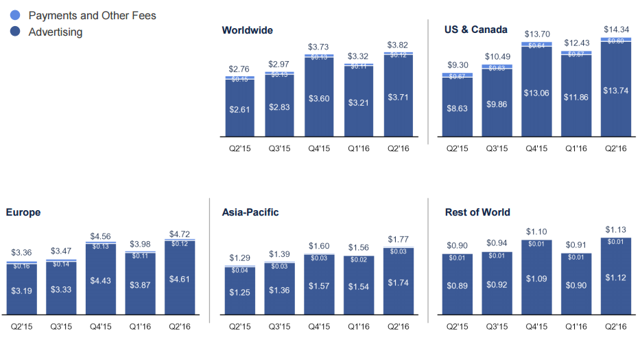 Click to enlarge
I have already been hearing significant complaints about over advertising on Facebook. This tends to make one think that future growth in this area may have to come mostly from the WhatsApp, Messenger, and Instagram arenas. There is room. For example, Facebook has about 3 million advertisers, while Instagram has only about 200,000. Still this is an area for future concern with respect to future growth rates.
On the plus side expenses as a percentage of revenue have been trending down nicely. This shows good management. The charts below show the trends over the last year.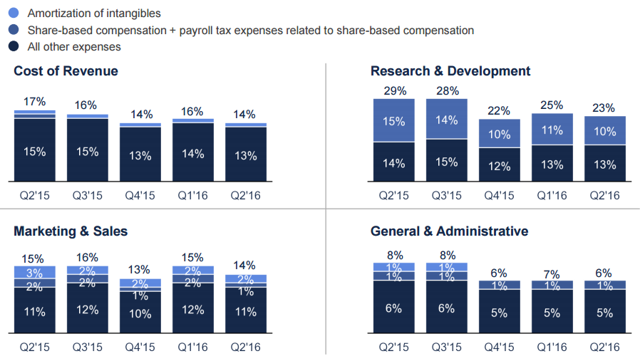 Click to enlarge
The trends in both the GAAP and the non-GAAP effective tax rates have also been going down nicely (see tables below).

Click to enlarge
Non-GAAP basis Diluted EPS, Operating Income, and Net Income have been trending solidly upward. Non-GAAP Operating Margin has been relatively steady at 52% to 60% for an average of 56.56% over the last nine quarters. All of this looks good.
The main concern of investors is longer term growth rates. Facebook has a number of ways it is currently planning to accomplish more growth than some can see.
First it wants to capitalize on the shift to mobile. FB got a 9% increase in average ad price in Q2 2016 mostly due to this continued shift to mobile. However, that if not fully accomplished is getting close. Instead FB emphasizes that for Messenger, WhatsApp, and Instagram it is still in the early phases of even trying to make money from these. Unfortunately on Facebook it may already be nearing ad saturation. At least that is what the complaints about the excessive number of Facebook ads from my readers seem to indicate.
Second FB says that it has a three stage general plan for making more money from its advertising. It has set three priorities for itself. Acknowledging the shift to mobile, it has been trying to tailor ads to mobile; and this is working. In May it expanded Audience Network to include video for brand objectives. Further FB has made it easy for small and medium businesses to set up a FB business page. Since over one third of small and medium businesses do not even have a website or web page, FB expects this to be very successful over time. Further FB is continually adding to its tools to make it easier for advertisers to promote posts and to track performance.
Third FB is attempting to make ads more effective and relevant. Businesses are seeing good results from videos and Canvas Ads. Plus FB is cost effective. The cost of a quality lead was 9.3 times less expensive on FB than on all other online media. This process includes "dynamic ads", which FB expanded to Instagram in Q2 2016. FB is continually expanding the available tools for ads and for tracking ad effectiveness. This is making FB increasingly attractive to marketers, who love to be able to show the effectiveness of their marketing dollars.
FB has also been working on search tools and AI tools which can search (or work) in many languages. This could make FB a good to great business tool in the future. Further one can see how the shift to video could be used to make online meetings easier. For instance, business customers might decide to do without a lot of fancy videoconferencing equipment to instead just pay a small occasional fee for a FB meeting.
The shift to greater video content and ease of use of video may also lead FB to eventually be an effective news outlet (or at least a secondary one). This might give FB further revenues as a "news station", which could draw advertising dollars. Investors will want to pay attention to how this plays out over time. In this vein FB is already doing a partnership to stream some Olympic basketball games in the coming weeks.
Then there is Oculus, which is showing promise. Virtual reality gaming and even tours could be a big deal in the future. I could go on; but for now it should be enough to know that FB is healthy in the near term. Mark Zuckerberg et al have historically done a good to great job of ensuring FB is successful in the longer term with innovations or the timely purchase of innovations. Investors will have to pay attention as all of the new Apps, ad formats and strategies, business applications, virtual reality gaming, etc. appear over time.
For now FB is a buy. Even Mark Zuckerberg has said growth is going to slow. However, FB has an FPE of 24.95. It grew Net Income by 184% in Q2 2016. It grew revenues by 59% in Q2 2016. A normal rule of thumb is that the FPE can trade at the future growth rate. It is a bit hard to guess at this growth rate longer term for FB, especially with very little guidance from the company. However, it seems relatively safe to think that the profit growth rate will outstrip the revenue growth rate. If that is over 50% year over year, then FB is likely a bargain, even if growth is slowing. If you gave FB an longer term average EPS growth rate of about 35%, that would imply a stock price increase of roughly +40% within a year. Not many investors would sneeze at that.
The two year chart of FB provides some technical direction for a trade/investment.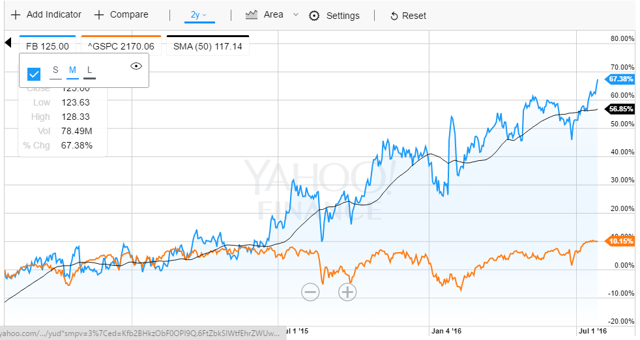 Click to enlarge
The above chart compares the FB stock price line (BLUE) to the S&P 500 price line (GOLD). As investors can see FB has far outperformed the S&P 500 over the last 2 years. Growth may be expected to slow; but slowing is far from halting. Investors should still see good growth; and that should translate into continued outperformance of the S&P 500 over the next year and more. On top of that one cannot be at all sure that FB will not surprise to the upside with yet newer blockbuster products. Yes, Snapchat is a worry; but so far it is only that. FB not only has the far bigger market share right now; it has the research into newer products and advertising schemes and tools that Snapchat cannot match at this point in its development. FB should be a strong healthy company for a long time yet. Remember Snapchat will have to increase its advertisements too. It too has to become profitable, which FB already is. FB is a buy.
NOTE: Some of the fundamental fiscal data above is from Yahoo Finance.
Good Luck Trading/Investing.
Disclosure: I/we have no positions in any stocks mentioned, but may initiate a long position in FB over the next 72 hours.
I wrote this article myself, and it expresses my own opinions. I am not receiving compensation for it (other than from Seeking Alpha). I have no business relationship with any company whose stock is mentioned in this article.