The Market Vectors Semiconductor ETF (NYSEARCA:SMH), which tracks the PHLX Semiconductor Sector Index (NASDAQ:SOX), bounced off the June 27 low at $53.09 and broke out the symmetrical triangle chart pattern after the market realized that Britain's vote to exit the European Union, known as Brexit, will take years to resolve and the sell-off was a good buying opportunity. The SMH ETF is now trading at the top of the range, as investors are willing to overemphasize the good news and ignore the bad news, but it may be due for a correction.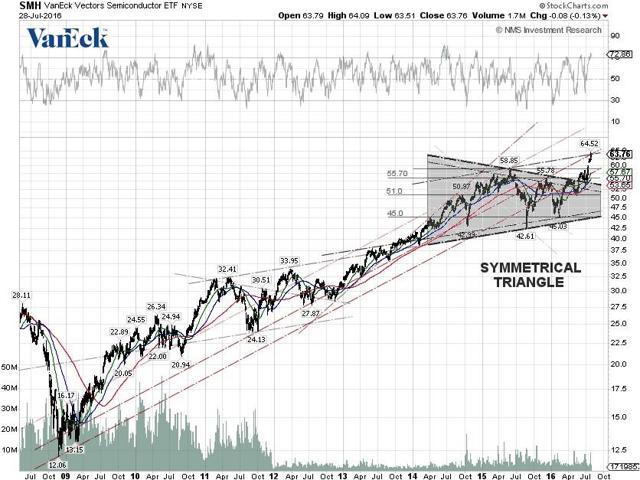 Click to enlarge
One catalyst that has been driving semiconductor stocks higher is M&A activity, prompted by rising costs and a shrinking customer base. Fundamentally, the overall landscape of the semiconductor sector still remains stagnant due to soft demand and unfavorable macroeconomic conditions. The Semiconductor Industry Association, or SIA, just reported a small uptick of 0.4% in global semiconductor sales in May, a decrease of 7.7% compared to May 2015. The trade group, which reports sales figures gathered by the World Semiconductor Trade Statistics organization, or WSTS, now says that chip sales could decline by 2.4% in 2016, compared with 2015.
Top SMH Holdings Could Face a Tough Second-Half in Their Core Businesses
Intel (NASDAQ:INTC), the top SMH holding with 13.47% of net assets, posted mixed second-quarter 2016 results on July 20, reporting earnings of 59 cents a share, on revenues of $13.5 billion. Wall Street was looking for earnings of 53 cents a share on revenues of $13.55 billion. Revenue growth decelerated from the Data Center Group, or DCG, Intel's primary growth engine, which accounted for 28.86% of total revenues in 2015.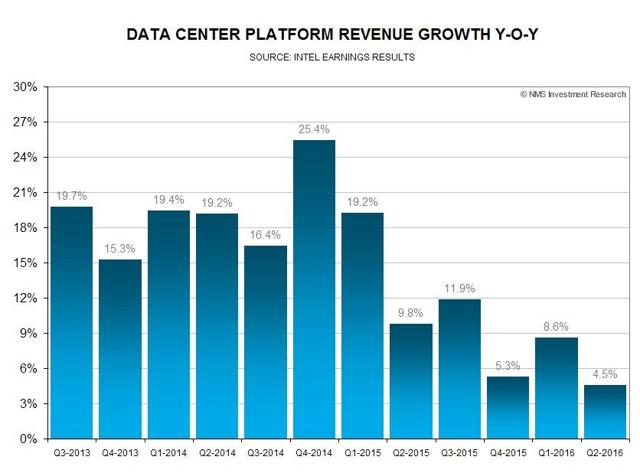 Click to enlarge
On the bright side, Intel's finance chief Stacy Smith told analysts during the earnings call that the company expects the enterprise segment of the business to stabilize, and the cloud segment growth rate to accelerate, in the second-half of 2016.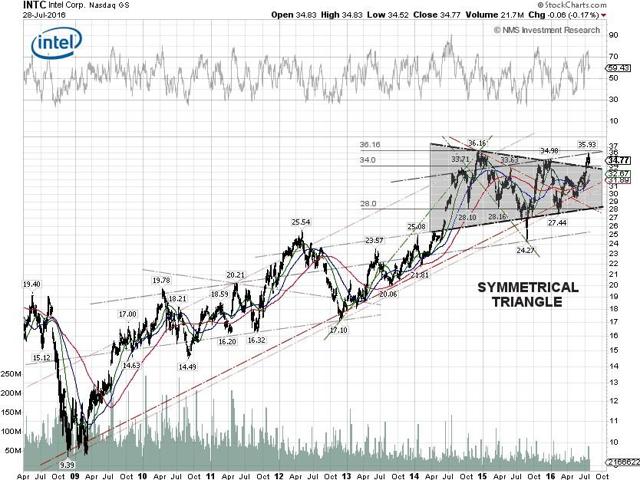 Click to enlarge
While Intel still commands about 99% of the data center market, investors may want to remain cautious, as Gartner revised its IT spending forecast downward for the U.K. earlier this month, to a 2-5% reduction from previous forecast of a 1.7% decline, due to Brexit. "That's going to be enough to tip the worldwide IT spending negative this year," according to Gartner. Prior to the Brexit vote, the firm forecasted worldwide IT spending to be flat in 2016, while data center systems spending was projected to increase 2% on a year-on-year basis.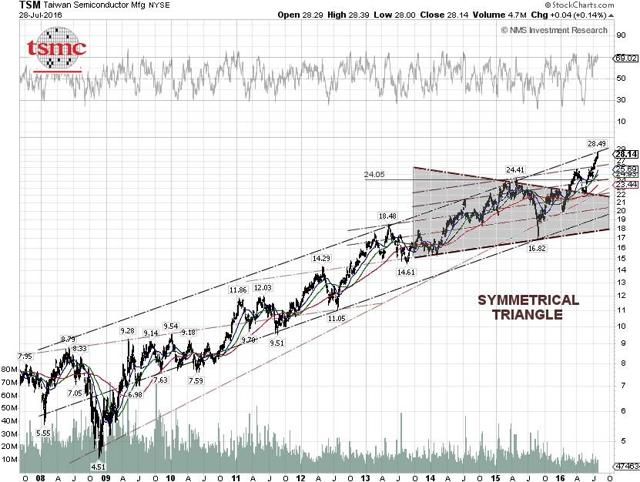 Click to enlarge
Things are also not very rosy at Taiwan Semiconductor Manufacturing Co. (NYSE:TSM), the world's largest contract chipmaker and a major supplier to Apple (NASDAQ:AAPL) and Qualcomm (NASDAQ:QCOM), as on July 14, they cut their global smartphone outlook for the second-half of this year, citing weaker demand for high-end handsets. Despite a tough second-half of 2016, Taiwan Semi, 12.81% of SMH's net assets, still managed to forecast better-than-expected sales as Apple prepares to launch its latest iPhone 7.
While demand for lower-end Qualcomm chipsets from Chinese brands, including Oppo and Vivo, remains strong at Taiwan Semi, research firm International Data Corporation, or IDC, said in June that smartphone shipments are expected to grow just 3.1% in 2016, which is a substantial slowdown from the 10.5% growth in 2015 and 27.8% in 2014, due to a continued downtrend in mature markets and China.
M&A Frenzy May Slow Down if U.S. Recession Strikes
According to worldwide management consulting firm McKinsey & Company, reasons behind the mergers and acquisitions in the semiconductor sector are slow revenue growth, rising costs and a shrinking customer base. Semiconductor M&A activity has been gaining momentum since the recession in 2009 and set a record of 23 deals in 2015, with an average deal value of $4.3 billion.
Japan's Softbank announced in mid-July that it would buy U.K. chip designer ARM Holdings (NASDAQ:ARMH) for $32 billion. The deal, which has already received backing from U.K. Prime Minister Theresa May, is expected to be completed by October. Shares of ARMH have rallied over 60% since the announcement, despite that the company just reported their second-quarter 2016 earnings results missed analysts' expectations.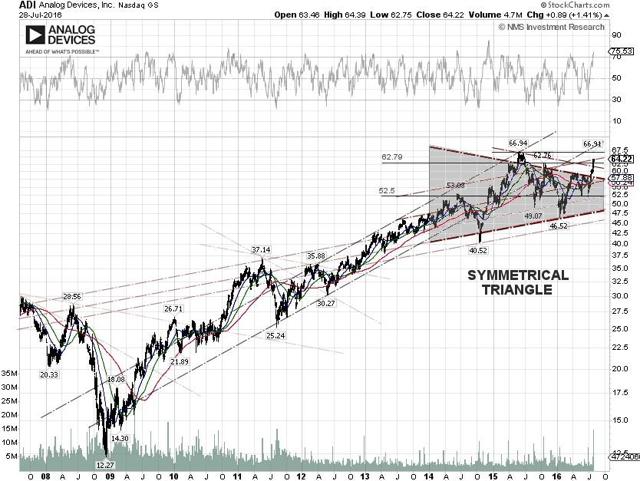 Click to enlarge
This week, chipmaker Analog Devices (NYSE:ADI) said they would buy its smaller rival, Linear Technology (NASDAQ:LLTC) for about $14.8 billion, after the company abandoned their acquisition plans in early January for Maxim Integrated Products (NASDAQ:MXIM). Cowen & Co.'s Timothy Arcuri, thinks that Texas Instruments (NYSE:TXN) could be a good suitor to acquire Maxim, as both companies were already in talks in October last year, but went nowhere.
Shares of Micron Technology Inc (NASDAQ:MU) jumped over 7% after the company disclosed last Friday that it had filed a new shareholder rights plan to the Securities and Exchange Commission, aiming to prevent an "ownership change" and preserve certain tax benefits, a strategy known as a "poison pill". Credit Suisse suggested that there is a "possibility of strategic investment or acquisition" in the near term and that "potential investors or acquirers" include China or Intel.
Although possible takeover targets could include Xilinx Inc. (NASDAQ:XLNX), Atmel Corp. (NASDAQ:ATML) and Silicon Laboratories Inc. (NASDAQ:SLAB), semiconductor M&A activities could slow down if the U.S. enters into a recession.
Threats of U.S. Recession to the Semiconductor Sector Aren't Yet Priced In
There are warning signs that the U.S. economy may be heading into a recession, as economic indicators, including job and economic growth, are decelerating and U.S. corporations continue to rein in business spending due to growing uncertainty. The Commerce Department said on July 27 that non-defense capital goods orders excluding aircraft, or so-called core capital goods, a closely watched proxy for business spending, increased just 0.2% last month after decreasing 0.5% in May, missing economists' forecasts of a 0.3% rise.
Business spending has weakened since late 2015, after the collapse in crude oil prices and increasing uncertainty over a China slowdown, Brexit, the Federal Reserve's monetary policy, and the upcoming U.S. presidential election.
To make matters worse, analysts are now warning that a downturn in restaurant spending could spell trouble for the U.S. economy. In a research note, Paul Westra, Stifel managing director and senior analyst covering the restaurant sector, said on Tuesday that the deceleration of restaurant industry sales in the second-quarter could be implying a U.S. recession as soon as early 2017, since "restaurants have historically led the market lower during the three to six-month periods prior to the start of the prior three U.S. recessions.".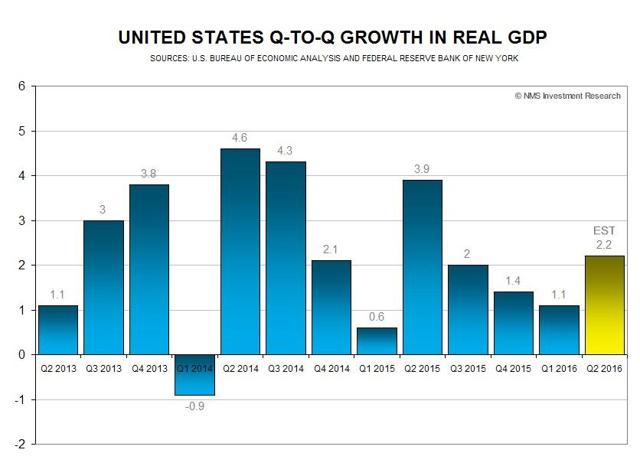 Click to enlarge
The U.S. Bureau of Economic Analysis will release the second-quarter GDP (advance estimate) on July 29. The current GDP forecast by the Federal Reserve Bank of New York is 2.2%, the lowest second-quarter GDP since 2014. The second-half of 2016 could be worse, depending on the forecaster. In early July, the Conference Board lowered its short-term forecast for the second-half of 2016 to just 1.6%, while David Kostin at Goldman Sachs expects U.S. economic growth to improve to 2.3% in the second-half of 2016.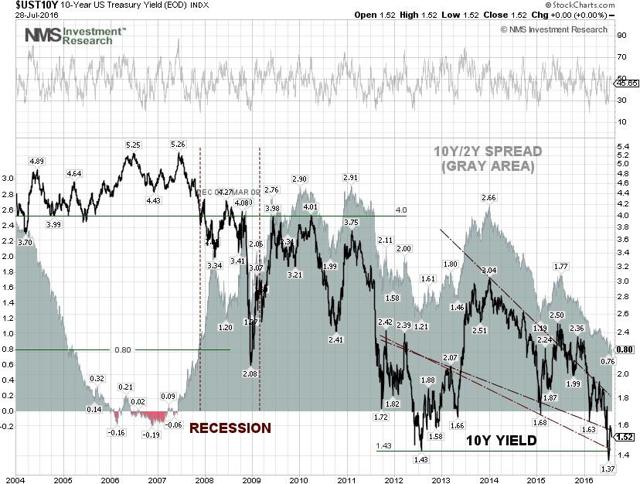 Click to enlarge
The yield spread between the 10-year and 2-year U.S. Treasury Notes, one of the economic indicators, has narrowed to 0.80 percentage points, the level not seen since late 2007. Narrowing spreads may indicate worsening economic conditions in the future, resulting in a flattening yield curve, while a very low or negative spread could signal an upcoming recession. Analysts at Deutsche Bank, led by Dominic Konstam, issued a warning in early July that the recent flattening yield curve suggests a 60% chance of a U.S. recession occurring in the next 12 months, the highest probability of an economic contraction since the financial crisis of 2007-2008.
Conclusions
SMH, the Market Vectors Semiconductor ETF, bounced off the June 27 low and is now trading at the top of the range and may be due for a correction. M&A activity has been driving semiconductor stocks higher but overall, the sector still remains stagnant due to soft demand and unfavorable macroeconomic conditions.
Top SMH holdings, including INTC and TSM, face major headwinds and a tough second-half of 2016 in their core businesses as worldwide chip sales see year-over-year declines and threats of a U.S. recession aren't priced in yet.
Disclosure: I am/we are long AAPL.
I wrote this article myself, and it expresses my own opinions. I am not receiving compensation for it (other than from Seeking Alpha). I have no business relationship with any company whose stock is mentioned in this article.