Strayer Education (NASDAQ:STRA) reported their 2nd quarter 2016 results yesterday, July 27. I thought the results were fairly interesting, and the subsequent ~10% selloff in the stock even more so, so I am updating my coverage on the stock here: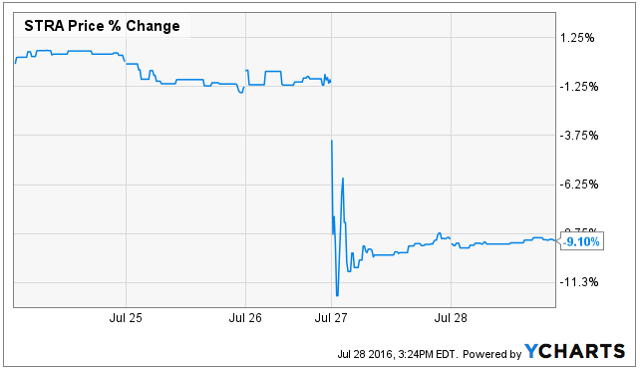 Click to enlarge
The Quarter by The Numbers
The stock undoubtedly sold off because sales were still down, albeit very slightly at -1% y/y, and more importantly, an 8% increase in operating expenses caused operating income and op. margin to fall to $12.9mm and 11.9% from $20.9mm and 19.1% respectively. That's a 38% decrease in operating income, which makes for a very bad headline number.
Management also communicated that full year 2016 opex would actually be up 4-5%, versus prior guidance of 1-2%, implying a continuation of the increased spend throughout the remainder of the year.
Investors were probably also a little concerned to see that bad debt expense was up from 3.2% to 3.8%, a seemingly contradictory datapoint to the general view that Strayer's value proposition and student quality is good and improving.
When you dig a little deeper as I will here, I don't think the general results and specifically the expense side of the profit equation is nearly as bleak as the numbers suggest.
There also were more than a few silver linings in the results. Summer term enrollments at Strayer University were up 4% y/y and new student enrollments (starts) were up 6%. Anytime the start leading indicator exceeds total enrollment growth, that bodes well for future enrollment trends over the next year or two. Strayer's new student enrollment results have been very lumpy over the years like many of their proprietary (politically correct term for "for-profit") education peers. It's kind of like looking on monthly unemployment and PMI data. One data point does not tell all, but it should be given at least some weight in assessing how business is going. I think it generally gets too much importance and consideration among sell-side analysts in the FPE industry, but that's just me.
Be Patient!
I am not so much a qualitative investor these days. I've become more concerned with buying cheap stocks and rewiring my brain to avoid the incredibly powerful behavioral biases that the rest of the investment community seems to be inflicted with. Business quality does matter though and I do still listen to what qualitative investors have to say.
One prominent "moat-seeker" is Tom Russo of Gardner Russo Gardner. One of his original ideas is derivative to Graham's classic idea (truism?) that a stock is an ownership interest in a business. Russo takes that one step further and says, not only do you as the investor need to be thinking of the stock as a piece of the business, you also need the management team to recognize that they are managing a business, not "managing earnings." You need a management team that is long-term oriented and less concerned with the short-term headline numbers unique to the public company animal like the dubious earnings per share ("EPS"). Russo says that management teams and the companies they lead will have a philosophy that includes what he calls "the capacity to suffer." A willingness to do things like invest in the business knowing that it will make short-term results look worse, whether it be because of how GAAP accrual basis accounting works, or just because of the gap between investment outlay and investment return.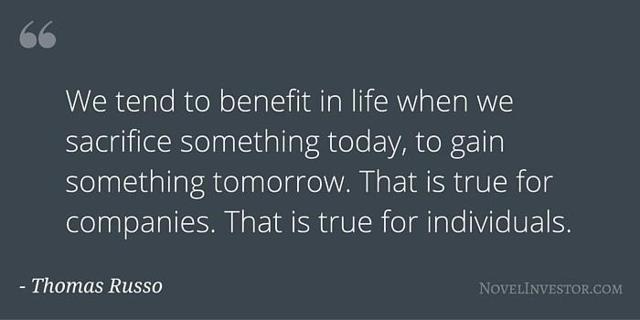 Click to enlarge
Source: Novel Investor
I bring this idea up because I think it applies to Strayer's Q2 results. In Q2, Strayer's operating expenses increased by $6.8mm. Of that $6.8mm, $3mm was related to the rollout of New York Code & Design Academy ("NYCDA") at Strayer campuses. This strategy has required Strayer to get regulatory approvals for the new programs, which were received much quicker than management expected. I don't know about you, but that sounds like good news to me, not bad. It looks bad in the numbers, but it's good for the business. The rest of the incremental expense looks like it fits the same theme:
Another $1 million of the increase was used to fund additional investments in our academic programs and the remaining increased spend was marketing and advertizing investments to support NYCDA, Strayer@Work, the Jack Welch Management Institute as well as Strayer University.
It's all marketing and investment in the programs. The entirety of the expense increase is clearly discretionary "short-term pain, long-term gain" investment in the business. I was initially conflicted on this. Sure that fluffy capacity-to-suffer stuff sounds great, but the bottom line is what matters. Where's my profits? While shareholders should certainly expect top-line growth to come given these investments and monitor the progress of the NYCDA rollout to ensure the investments are paying off, I think we just need to be patient about that.
The other implication is that this is actually a really good indicator of the true colors of the Strayer management team which includes a relatively new addition in CFO Daniel Jackson. I've always thought the management team owner-oriented and have been particularly impressed with Chairman Rob Silberman - I even wrote an article exclusively on him a while back - it's always good to get confirming evidence of something you already believe so long as you're not looking for it and confirmation-bias-cherry-picking.
I am particularly interested in CFO Daniel Jackson. Here is a quote from him from the conference call that basically encapsulates everything I am saying. Capacity to suffer, owner-oriented, long-term thinking, all of it:
We have an enterprise that has a lot of opportunities we think for growth and we've never been particularly motivated by earnings per share change in the short term.

So if you spend $6 million more, you've got a pretty hefty impact on your earnings per share if you don't have much revenue growth and we spend that when we think it has a high return, high long term returns on investment and so you can have a fairly wide variation in earnings per share and with a small share count on the negative side, it becomes particularly high and frankly on the positive side, it would do the same thing.

So just like our new student number, we're comfortable as a management team and as a Board with a relatively high level of volatility in terms of our short-term earnings and so that the necessity or the importance of explaining that and its impact in the short term around margins hasn't really been a high focus for us.

We believe that we're making prudent investments which will raise owner's value over the long term and that volatility I think will certainly be there in the latter half of this year, but then as Karl has suggested, given the types of investments that we're interested in making.
Shareholders need to carefully monitor the results, but be patient in letting management see this growth strategy through. So far management is saying all the right things and demonstrating that they are willing to put their money where their mouth is, so I am willing to give them time.
Validation of Value Prop Strategy
My thesis on Strayer has always been that they already have one of the best value propositions in the for-profit education industry and that they should continue to improve that value prop and, just as important, student population preparedness/quality, as a primary business strategy. They have followed this strategy by drastically reducing tuition through a straight tuition cut and the Strayer University Graduation Fund, a persistence-based tuition reduction. They've also focused on corporate accounts, Strayer@Work, Jack Welch Management Institute, and NYCDA, where student preparedness/quality is stronger, and pared unaffiliated students at Strayer University which are lower quality.
As I already mentioned, the increase in bad debt expense in the quarter seems to suggest a deterioration in student outcomes, but that's not actually the case as the conference call discussion reveals. Corporate account payables increased in the quarter which led management to reserve against as they typically would in their model, but this is just big corporate clients exercising their clout to extend payment terms and optimize their working capital position. It's not like individual unaffiliated students struggling to repay Strayer. The company still reserves against it to be conservative, but they don't actually expect big corporate clients not to pay.
One big confirmatory data point of the improving value prop was the continuation rate - basically the rate of students that have already taken classes at Strayer and seen what it's all about deciding to continue at Strayer. In the summer term this year, continuation rate increased 250bp, and that's on top of a 210bp last summer.
Beyond all that, total enrollments are up. More people are choosing to go to Strayer because they perceive Strayer as being a good educational investment.
Finally, my thesis on Strayer being "above" all the regulatory actions that have afflicted the subpar operators in for-profit education is being proved out. There wasn't even a mention of the regulatory environment on the conference call. Neither management nor sell-side analysts who tend to collectively focus on this type of stuff said anything about it. As long as Strayer keeps doing what it's doing, they'll be able to focus on their business and not be sidetracked by regulatory micro-managing and targeting.
Where are the Shareholders' Buybacks?
My biggest concern is the lack of capital return. Years ago Strayer had an extraordinary record of paying dividends and buying back shares and now, although they are sitting on $117mm of cash, no debt, an unused $150mm revolver, continued cash flow, and a $70mm share repurchase authorization, they still didn't pay a dividend or repurchase any shares in the quarter even though the stock is very cheap. I am all for being patient with the growth strategy, but I'm not willing to be patient on capital return because it suggests to me that Strayer's management think they can find something better to do than repurchase their own shares at 6x EBIT, 4.7x EBITDA, and <10x FCF. It makes me concerned that they are going to do a massive acquisition, orders of magnitude larger than NYCDA, at a much higher valuation than their own stock is trading at, meaning the deal would automatically be dilutive to value. They'd also be biting off more than they can chew as there is already a lot of execution risk in what they're already doing with NYCDA and Strayer@Work. I really hope to see some capital return very soon and if shareholders feel similarly, I'd encourage you to voice that view in the comments section of this article.
Valuation Updates
I am no longer willing to assume effective capital return at Strayer or incredible growth, but it is looking more and more like the growth story will allow them to achieve moderate growth in say, the mid-single digits, and as time has passed we've seen much more stability on profit margins (excluding of course the discretionary spend this quarter). Anything could happen, but I no longer think a "tornado-hits-the-factory" Armageddon scenario where Strayer gets hit with some regulatory action and bleeds students is a remotely reasonable scenario. Perhaps for other FPEs like ITT Education (NYSE:ESI), but not Strayer. Instead the risk is they just sort of muddle along at elevated levels of investment spending causing margins to be below historical averages some.

Click to enlarge
That assumption on FCF margin is significant. In the past, Strayer was able to deliver strong FCF margins in spite of heavy growth investment because the business was just very profitable at the unit level - tuition was higher (this was before SUGF and the tuition cut) and capacity utilization on their facilities was much better. These days (last 5 years) Strayer has still been able to maintain a strong average FCF margin of 14.3%, but for precisely the opposite reason - they haven't been investing nearly as much and depreciation has far exceeded capex. Now we are at a juncture where Strayer will probably be investing more, and it's not yet clear if the investments will pay off. This is illustrated by the bear case with a lower FCF margin of 12% on flat revenue. The bull case assumes margins more in line with what the company has done over the past 5 and 10 years. Finally I assign a standard 10x EV/FCF multiple and don't assume anything special happens with the cash - that it just accumulates on the balance sheet. This is conservative if the company ultimately does resume the repurchases and dividends, but aggressive if they do the dumb acquisition that I am starting to worry about. It is a balance between these more extreme scenarios. With that, we can find some pretty interesting returns from $45.5: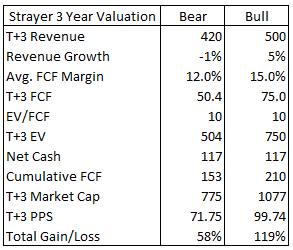 That's an 88% expected return over 3 years or an IRR of 23%, and well in the black in both cases. If I didn't own the stock already I'd be buying. Right now I am comfortable with the size of my position, but if it drops a few more bucks over the next few months, I will probably add.
Conclusion
Strayer's 2nd quarter results were not nearly as bad as the headline numbers and kneejerk market reaction would suggest and I think the results create an interesting buying opportunity. They also present investors with an interesting dichotomy: On the one hand, I am willing to be extremely patient with the development of the company's growth strategy, on the other, I think it is ridiculous that the company has still not returned capital to shareholders and am impatient for action there.
Disclosure: I am/we are long STRA.
I wrote this article myself, and it expresses my own opinions. I am not receiving compensation for it (other than from Seeking Alpha). I have no business relationship with any company whose stock is mentioned in this article.
Editor's Note: This article covers one or more stocks trading at less than $1 per share and/or with less than a $100 million market cap. Please be aware of the risks associated with these stocks.