The Earnings Reporter
My goal in this segment is to unlock both short-term and long-term growth in stocks that have just reported earnings. These stocks are specifically subject to enormous volatility, as earnings reports are seen (and rightfully so) as a significant display of a company's progression in the market. What I offer you is an analysis of the economic well-being of the company, and whether I think the stock is a Buy, Hold, or Sell for either (or both) the short term or long term. If you are interested in unlocking more immediate growth opportunities, click the follow button by my name! To get used to the format of this segment, take a look at my latest piece on Tile Shop Holdings (NASDAQ:TTS).
After careful consideration, I have rated UPS (NYSE:UPS) as a BUY for the Long-Term.
Introduction
In the morning hours of July 29th, United Parcel Service delivered its Q2 earnings. Revenue came in at $14.36 Billion ( a nearly 4% beat Y/Y), scarcely below expectations of $14.38 Billion. Earnings of $1.43 was exactly in-line with expectations. From an objective standpoint, it looks like hardly any significant progress was made; top and bottom line performances were largely in-line with analyst predictions. After delving into the report, it is clear that UPS has a great technological infrastructure in place that will help them deliver strongly in the future.
Oil Prices
Oil doubtlessly has significant ripple effects on the performance of UPS. I can get into a whole rant about oil right now, but I'll entertain you with that another day. In Q1, UPS experienced clear savings due to the decreasing price of oil. This quarter showed a different story. According to the Wall Street Journal:
Oil prices rose during the latest quarter, and UPS said lower fuel surcharges in the quarter hurt results. The company's fuel surcharges are typically tacked onto shipments to cover that cost, but they lag rising fuel prices by a couple months.
I know that oil isn't the only thing to worry about, but it plays a significant role, especially when shipment volume increases like it has at UPS. On a bright note, US On Highway Diesel fell for the 6th straight week. According to the chart below, the current price fell .95% to $2.38 per gallon earlier this week.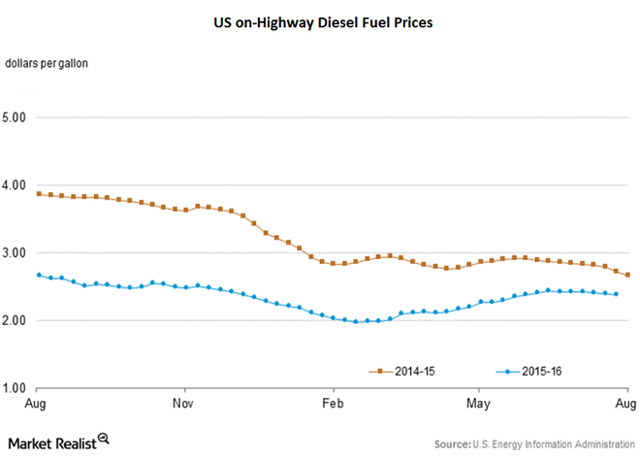 Click to enlarge
The Energy Information Administration predicts oil prices for 2016 to average in at $2.36, meaning that no significant spike is expect for the next 6 months. Prices are expected to average $2.71 for the 2017 year, still a pretty low amount. I expect UPS would have had a much better showing if proper oil savings were adjusted without the multi-month lag. UPS stated that fuel surcharges hurt revenue growth by 120 basis points, which would account for over $172 Million in revenue loss. Anyways, there is plenty more going on here at UPS that makes me a supporter.
Segment Performances and Margin Upgrades
Domestic Package
According to UPS executives, industrial weakness in the United States hampered Business to Business package volumes. The Domestic Package segment still managed to increase revenue by 2.4% to over $9 Billion, with margins increasing by 10 basis points. Average daily shipments in the United States increased by 2.5%, boosted by Next Day Air in the most part. A noteworthy trend is that Business to Consumer outgrew Business to Business by almost a 5 to 1 ratio. This makes me think that UPS will be set to thrive even in periods of industrial weakness which historically hurts B2B business and revenue.
International Package
International Package grew revenue 1.1% to $3.077 Billion. According to the Global Newswire release:
Lower fuel surcharges reduced revenue growth by approximately 170 basis points. Daily Export packages increased 3.9%, as growth out of Europe and Asia offset lower U.S. levels. The Europe-to-U.S.trade lane increased at a double-digit pace, as customers used the UPS network to benefit from the strength of the U.S. dollar. Export shipments increased across all product categories and premium products outpaced non-premium.
I do not think that this growth will hold in the near future. The Brexit has caused incredible economic certainty, and it would be silly to disregard the precarious financial situation the UK is currently in. Until Article 50 is exercised (which doesn't seem to be likely, to France's and Germany's dismay), there is a large, looming question mark in Europe. I think that foreign exchange rates may continue hampering the bottom line for this segment, and overall shipment volume will shrink. A strong US Dollar and a weak Pound will likely mean fewer packages in US-UK trade.
Supply Chain & Freight
This is perhaps the brightest spot for UPS in this Q2. Revenue grew 12.5%, heavily outpacing the other two segments. While it only made up slightly more than $2.5 Billion in revenue, it is a clear tell that investments in supply chain technology and software for operations are clearly paying off handsomely. Some of this revenue was inorganic, as it came from the Coyote acquisition, but technology is a way in which UPS will successfully increase margins and operate more efficiently. UPS CFO Richard Peretz said:
UPS produced solid second quarter results, despite the continued uncertainty in the macro economy...The technology and productivity investments in our integrated network are delivering strong results. We reaffirm our guidance for 2016 full-year diluted earnings per share of $5.70 to $5.90.
It looks like the highly integrated network UPS operates is working. While operating expenses rose 3.8%, operating profit outpaced the figure at 4% growth. I believe that many of the expenses set up the infrastructure that will result in higher future operating profit, and that a larger spread will be recognized in the near future.
Conclusion
It looks like UPS is set to perform decently at worse and magnificently at best throughout the rest of the 2016 year. This drop in price today opens up a great opportunity to get in while the gears are moving. UPS has set itself up for a strong 2H 2016, and it would be wise to consider an investment at this juncture. Hope you enjoyed this segment of the Earnings Reporter, and offer a follow if you want to be notified of new opportunities!
Disclosure: I/we have no positions in any stocks mentioned, and no plans to initiate any positions within the next 72 hours.
I wrote this article myself, and it expresses my own opinions. I am not receiving compensation for it (other than from Seeking Alpha). I have no business relationship with any company whose stock is mentioned in this article.