The S&P 500 (NYSEARCA:SPY) has now spent more than two weeks in a 1% trading range. Despite a collection of solid earnings results yesterday, followed by manic trading in Japan, US stock futures remain virtually inert.

Click to enlarge
2,150 is the floor, and 2,170 is the ceiling. Even by summer trading standards, this has been a dull couple of weeks. The best trade has been to short volatility (NYSEARCA:UVXY) (NYSEARCA:VXX), as is often the case during the summer.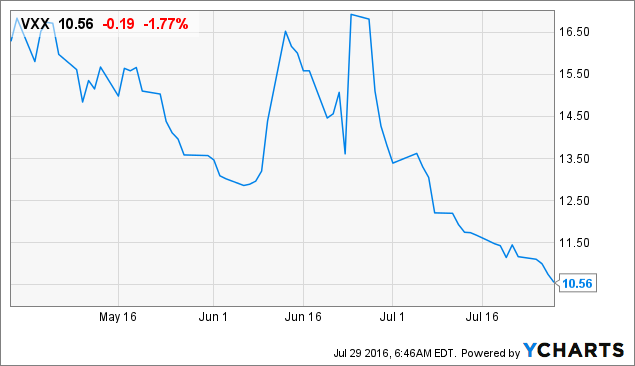 That's a 25% drop on the month. And no, it doesn't need to bounce here. Volatility is still pricing in a much more turbulent August; unless the market suddenly moves lower with some steam, VXX will be into the single digits here within a week or two.
The biggest development overnight came from Japan. That country's central bank failed to meet market expectations. The BOJ announced additional stimulus in the form of more purchases of Japanese stocks, but it failed to expand bond buying or lower interest rates farther into the negative.
That failure to deliver on even greater stimulus hopes sent the yen (NYSEARCA:FXY) soaring, and Japanese stocks (NYSEARCA:EWJ) plunged on the news. The Nikkei fell as much as 4% at one point, though it closed with mild losses. The yen, however, is 2% higher, and threatening, once again, the 100 level.
This psychological barrier, should it be crossed, would represent a major bearish development for the market. Investors who borrow yen to buy US stocks would likely be forced to deleverage, selling US equities to limit their losses on the yen exposure.
In other news, crude oil (NYSEARCA:USO) continues its steady merciless slide, breaking under $41 this morning.

Click to enlarge
I'm fascinated by the market's complete lack of attention to this decline. Oil is fundamental to the global economy, and it speaks very poorly to the outlook going forward that there is no bid for oil, particularly with all the terrorism and negative geopolitical developments of late that would normally help support the price.
If you're buying oil company shares (NYSEARCA:XLE) here near 52-week highs for yield, caveat emptor. The European oil companies had generally lousy results earlier this week, and this morning Exxon (NYSE:XOM) was out with a big miss. Its stock is off smartly this morning. With refining - the last real profit center left in the energy sector at the moment - now seeing margins collapse, it's hard to see any rebound in earnings coming for the sector before 2017.
Finally, the GDP number this morning missed expectations by a wide mark. Stocks initially sold off on the miss; however, after further reflection, it seems that people concluded this reduced the odds of a near-term rate hike and happily bought stocks back up.
The FANG Stocks Bite Back
I must give credit where it is due. I was somewhat doubtful that the FANG stocks would repeat 2015's sizzling performance. And they did in fact start the year rather slowly.
However, this earnings season has been remarkable, with all four firms putting up positive numbers. Throw in the earnings beat from Apple (NASDAQ:AAPL) as well, and the tech stocks really did their part to spice up this quarter.
Amazon's (NASDAQ:AMZN) quarter was perhaps most impressive of all. A reading through the company's results is a parade of beats and better than expecteds. Top-line revenue growth was sensational, at 31%. Consider that for a moment, given the company's already massive size, 31% growth on top of such an already big base is simply outstanding. If anything, Amazon's growth is actually accelerating, 31% is above the company's 10-year average growth rate.
Amazon Web Services continues its rapid growth, up 58% this quarter. I remain skeptical that margins for AWS will ever be particularly meaningful, but I acknowledge that its strategy is to grow the cloud business quickly and it's certainly executing on that well.
And overall, the company even bothered to make a decent profit this quarter. Q2 EPS of $1.78 beat expectations by a huge margin and set the company on its way toward achieving its single most profitable year since going public. If profits remain at this clip, the company could settle in toward a 100 PE ratio going forward - still extremely expensive, but slightly less so than in past years.
Amazon wasn't the only one beating estimates. Alphabet (NASDAQ:GOOG) (NASDAQ:GOOGL) put up a really solid set of results. It was a reversal from last quarter, which didn't excite investors. However, mobile performed more strongly this quarter, leading to a solid beat.
While you can always find reason to be concerned with an Internet company's outlook, Alphabet is still at the top of its game. It now has seven products with more than a billion users. And the company's advertising strategy continues to perform strongly despite much concern about the online ad market elsewhere.
Say what you will about the overvalued tech stocks, with earnings this strong, they are unlikely to sell off over the next quarter.
Disclosure: I am/we are short VXX, UVXY.
I wrote this article myself, and it expresses my own opinions. I am not receiving compensation for it (other than from Seeking Alpha). I have no business relationship with any company whose stock is mentioned in this article.