Good News for Stocks: According to my reading of ECRI's data and today's output of the Atlanta Fed's "GDPNow Model, the US economy is not in danger of a recession in the next six months which should be good news for stocks. Table 1 below shows the S&P500 is down only 0.1% from its 7/20/16 record closing high.
As I wrote in my latest sentiment article, I have taken profits as my portfolio has made new record highs. Now I am looking for opportunities to use market weakness mixed with low investor sentiment and a strong economic outlook from indicators such as ECRI's Weekly Leading Index, WLI, to buy back shares. If there is no weakness and the markets continue higher, then that is fine since I am at my target allocation to equities, will continue to take profits as the market moves higher and will happily spend the money eventually.
Table 1: Market Comparison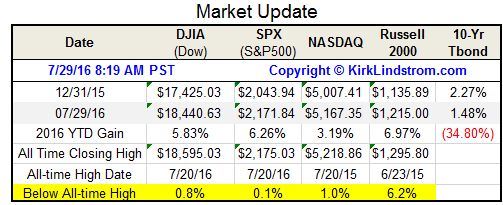 Chart 1: S&P500 Closing Values and Yield plus SPY adjusted for dividends.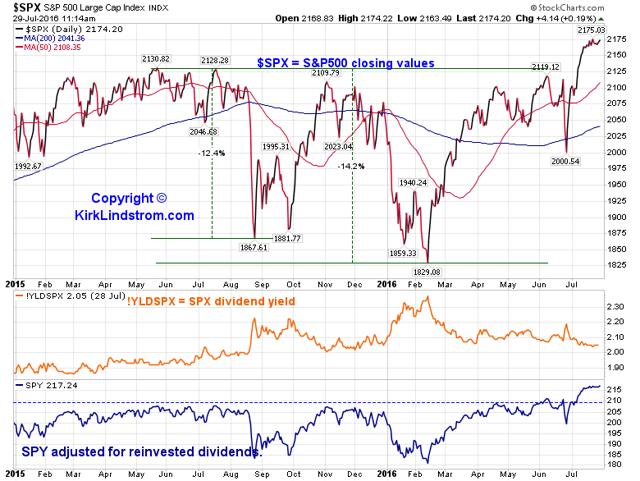 Click to enlarge
In my February 2011 article " How to Play Expected Inflation from the TIPS Spread," I wrote I was long SPY (at $133.11) as one way to benefit from expected inflation. "I also believe it is a good time to own equities including SPY, the exchange traded fund for the S&P 500, for both inflation protection and income."
With SPY up 63%, not counting dividends, since that article I have been correct to recommend SPY here on Seeking Alpha for over five years.
Table 2: SPY since 2/11/11 without Including Reinvested Dividends:

Chart 2 shows SPY adjusted for reinvested dividends.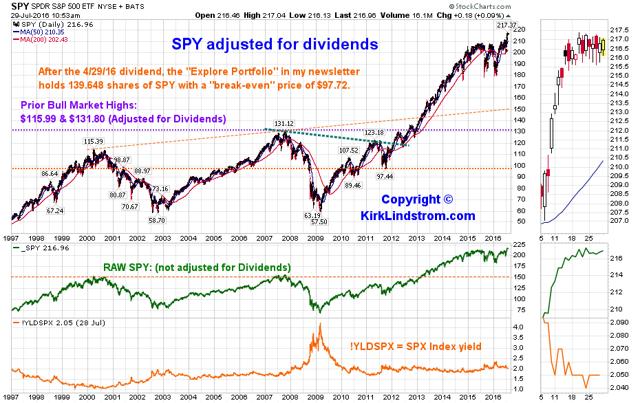 Click to enlarge
Today Friday July 29, 2016, the Economic Cycle Research Institute (ECRI), a New York-based independent forecasting group, released via email its latest readings for its proprietary Weekly Leading Index (WLI) for the period ending during the prior week. In the latest release, for the week ending July 22, 2016:
WLI was 138.0, down slightly compared with the prior week at 138.1.
The July 15, 2016 WLI reading of 138.1 was the highest reading in 450 weeks, or 8.7 years since November 30, 2007 when it was last 138.1.
The lowest reading for WLI on record was 105.3 for the week ending March 6, 2009.
WLI growth rose to plus 8.0% compared with the prior week of plus 7.5%.
This was the highest WLI growth reading in 180 weeks or 3.5 years, when it was positive 8.4% on February 8, 2013.
The lowest reading for WLI growth on record was negative 29.9% on Dec. 5, 2008. It turned higher months before the stock market bottomed on March 6, 2009, at 666.79 so this is a key indicator to watch for stocks.
Occasionally the WLI level and growth rate can move in different directions, because the latter is derived from a four-week moving average.
Chart 3: This a part of an email press release to me from ECRI today.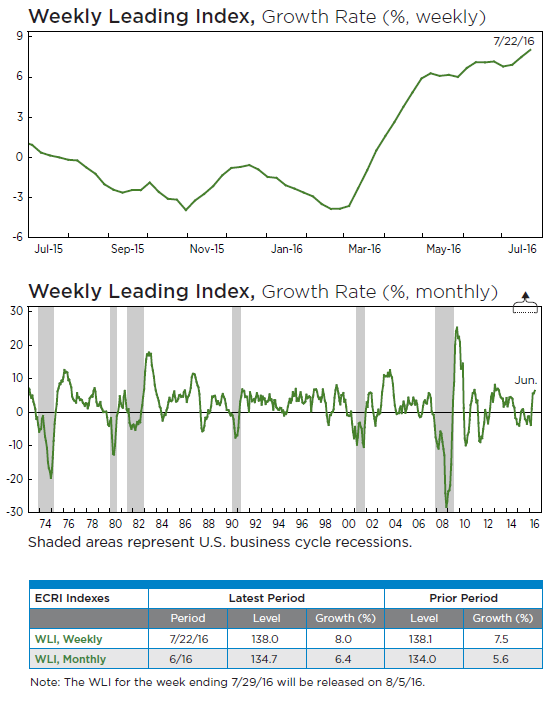 Chart 4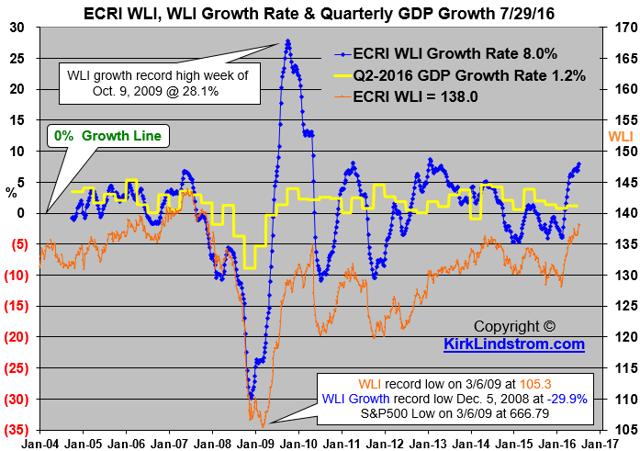 Click to enlarge
Chart 5: SPY vs. ECRI's WLI Growth Rate & US GDP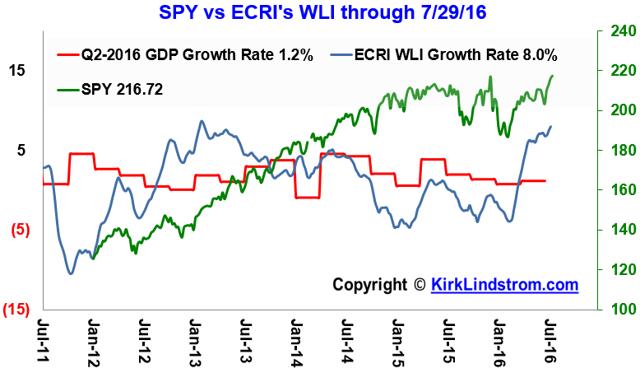 Click to enlarge
GDP Outlook:
Q1 GDP was only 0.8% and the first estimate of Q2 GDP is 1.2%. Yesterday's (7/28/16) output of the Atlanta Fed's GDPNow model predicted Q2 GDP would be 1.8% so a revision higher next month to Q2 GDP would not surprise me. My interpretation of ECRI's WLI growth, which predicts the direction of GDP by three to six months, was correct that Q1 GDP was a low.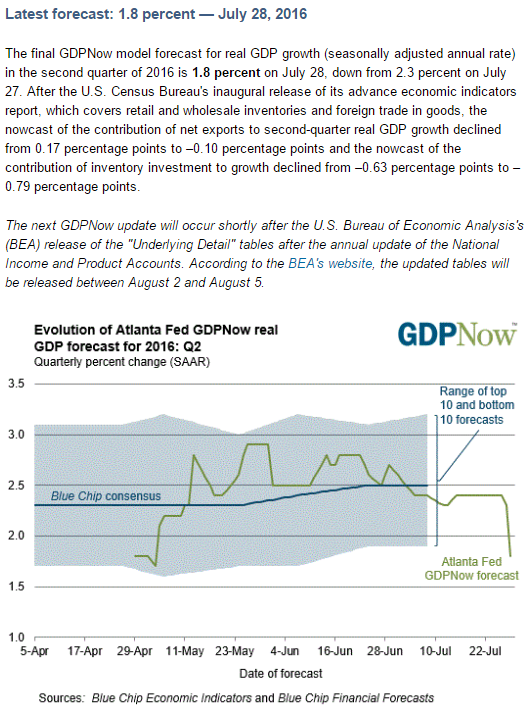 The above image is courtesy of the Atlanta Fed
Conclusion: Over the next 10 years, I expect the S&P 500 will keep up with inflation and the dividend it pays should grow with or even exceed inflation. An added benefit to owning equities is that the dividends and capital gains currently get favorable tax treatment.
With no recession on the horizon for the next six months and my May 12, 2016 sentiment article" SPY Found Support And Sentiment Fell Suggesting A Summer Rally To New Highs Is Now Possible," major pullbacks of the S&P500 should be opportunities to add to SPY and other positions.
Notes
I trade SPY around a core position in my newsletter's " Explore Portfolio" and with my personal account. With dividends reinvested, my newsletter's explore portfolio holds 139.648 shares of SPY with a "break-even" price, after the 4/29/16 dividend, of $97.72. I also have the index fund version of SPY in both my newsletter's "core" portfolios.
SPY is the exchange traded fund for the S&P 500 Index.
VTI is Vanguard's "Total Stock Market" exchange traded fund. If you want to invest in a single fund, that is my first choice over SPY. I recommend SPY and several other ETFs (or their index fund equivalents at Vanguard and Fidelity) in my core portfolios for more opportunities to rebalance between these funds.
VOO is Vanguard's newer (than SPY) exchange traded fund that tracks the S&P 500 Index. It is a lower cost alternative to SPY. I own and write about SPY, as I have many years of data for it, but VOO could do slightly better than SPY over time because it has a lower expense ratio.
ECRI uses the WLI level and WLI growth rate to help predict turns in the business cycle and growth rate cycle, respectively. Those target cycles are not the same as GDP level or growth, but rather a set of coincident indicators (including production, employment income and sales) that make up the coincident index. Based on two additional decades of data not available to the general public, there are a couple of occasions (in 1951 and 1966) when WLI growth fell well below negative 10, but no recessions resulted (although there were clear slowdowns in growth).
For a better understanding of ECRI's indicators, read their book, " Beating the Business Cycle

."
Disclosure: I am long SPY and own the traditional index fund versions of VTI and VOO bought long ago in various taxable and tax deferred accounts.
Disclosure: I am/we are long SPY.
I wrote this article myself, and it expresses my own opinions. I am not receiving compensation for it (other than from Seeking Alpha). I have no business relationship with any company whose stock is mentioned in this article.